Celebrate Thanksgiving 2021 with delicious dinners available for dine-in or takeout. Here are some locations in Cumberland Valley where you can get all the fixings for a perfect holiday meal without the hassles of shopping or cooking. And, don't forget the desserts. More to be added to the list as information becomes available.
10 S. Hanover St., Carlisle
Open 11 am to 4 pm on Thanksgiving Day featuring a Turkey Special for $24.94: oven-roasted turkey, mashed potatoes with gravy, green bean casserole, sage stuffing, and whole berry cranberry sauce. The full menu is available. Call 717-960-1000 x 1794 or book online with Open Table or www.1794dining.com.
51 S. Orange St., Carlisle
Accepting orders for homemade pies (8" and 9") and other baked goods through Saturday, November 20. Choose from 20 options including apple, pecan, coconut cream, egg custard, mincemeat, and shoofly.  Call 717-218-5258 with questions or to reserve. Pick up is available on Monday, 11/22, and Tuesday, 11/23 from 8 am to 4 pm; and Wednesday, 11/24 from 8 am to 2 pm. 
10 Mooney Rd., Shippensburg
Order your Thanksgiving Day pies now! Made in-house from scratch. Order before November 20 for pick up on November 24. 14 different flavors including pumpkin, pecan, mincemeat, apple, and more. Call 717-477-9339.
530 W. High St., Carlisle
Thanksgiving Dinner at the Cafe for dine-in or carryout. Your choice of turkey or ham plus 2 sides. Adults $14.95. Children 9 and under $7.95.  Open 11 am to 3 pm. More details are posted on their Facebook page.
1400 Harrisburg Pike, Carlisle
Call 717-906-1765 for Thanksgiving meal pre-orders. Order deadline is November 19. Pick up is November 24. While supplies last. Order Early. Closed Thanksgiving Day. Family 4 Thanksgiving Feast for $54.99. Meal includes roast turkey with filling and cranberry salad and your choice of two sides: sweet potato casserole, mashed potatoes, green beans with ham, baked corn, buttered corn, or mac & cheese. Don't forget dessert. Add a pie for $16.99.
1803 Harrisburg Pike, Carlisle
Open 6 am to 8 pm on Thanksgiving Day. Thanksgiving dinner is available for dine-in or takeout. Three options for take-home meals. Each option is enough to feed 4 or 5 people. Pre-order by Monday, November 22. Call 717-574-2840. Visit the diner's Facebook page for details on the menus for takeout and in-house dining.
40 Noble Blvd., Carlisle
Place pie orders by noon on November 19. Choose from Apple, Apple Cranberry, Apple Caramel, Cherry, Blueberry, and Mixed Berry with lattice, crumb, or full crust top options. Other flavors include pumpkin, sweet potato, pecan, and chocolate chip pecan. Pies by the slice and whole will also be available in the case from now until Thanksgiving. Open Wednesday, 11/24, from 7 am to 12 pm for last-minute pickup. Call 717-462-6687.
Boiling Springs
Family Thanksgiving Meal available for pre-order. Feeds 4 to 8 people and includes reheat instructions. Family meals include 2lb Sliced Smoked Turkey Breast with double Mashed Potatoes, Stuffing, Gravy on the side, choice of Green Beans or Sweet Corn, 6 Dinner Rolls, 6 individual Cranberry Sauces. Sides are 22oz each except Cranberry Sauce.
Individual Thanksgiving Meals are also available and include 1/3lb Sliced Smoked Turkey Breast with Mashed Potatoes, Stuffing, Gravy on the side, Choice of Green Beans or Sweet Corn, Dinner roll-, Individual Cranberry Sauce. Sides are 4oz each except Cranberry Sauce. 
Preorder now at officialbbqllc.com or directly at https://official-bbq-llc.square.site. Available for pick up on November 24.
1216 S. York St., Mechanicsburg
Thanksgiving Dinner Heat & Eat Meal for One. Fully cooked fresh turkey with gravy, homemade corn filling balls, mashed potatoes, cranberry sauce, Brussels sprouts with bacon & a slice of homemade pumpkin pie Just heat and eat. Pick up at the Farm Market on Wednesday, November 24, from 12 pm to 4:30 pm. $16 per meal. Call 717-697-4330 or order online. Quantities limited.
1713 Market St., Camp Hill
Saturday, November 20 is the last day to place an order for Thanksgiving. Pick up on Tuesday, November 23, or Wednesday, November 24. Click here to see yummy Thanksgiving treats available for pre-order including an incredible variety of pies, cheesecakes, cookies, brownies, donuts, danishes, sticky buns, dinner rolls and bread, whoopie pies, tortes (example shown below), and more.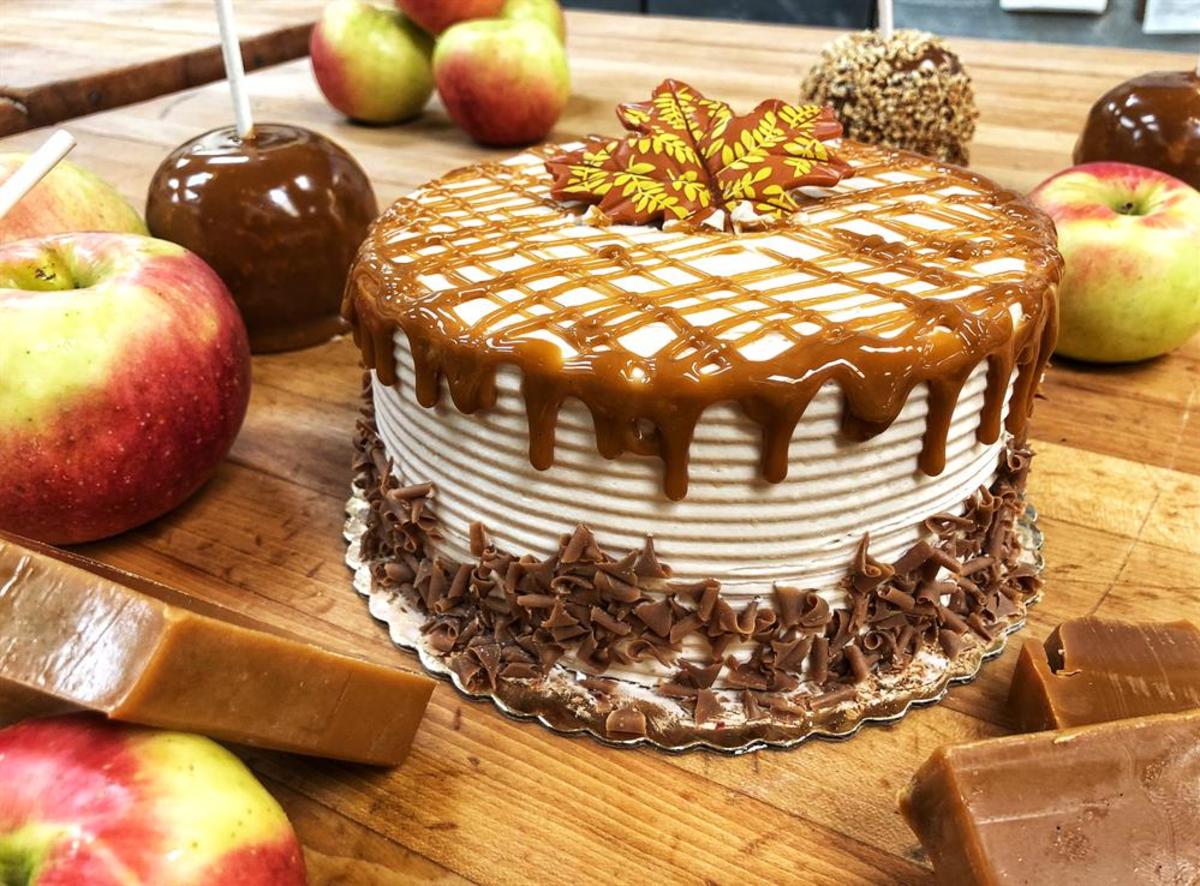 Pennsylvania Bakery Caramel Apple Torte
Smoked turkey family meals include your choice of half turkey or whole turkey, stuffing, and gravy plus a choice of two sides. Half turkey meal feeds 7 to 10 and whole turkey meal feeds 15 to 20. Call Natasha at (717) 525-9198 to reserve by November 19 or while supplies last. Pick up at Mechanicsburg location on November 24 from 11 am to 8 pm or Carlisle location from 3 pm to 8 pm.
30 S. Market St., Mechanicsburg
Pre-order a Charcuterie Board (example shown below) for your holiday dinner or event. Serves 6, 10, or 20 people. Call the shop at 717-795-4852 during business hours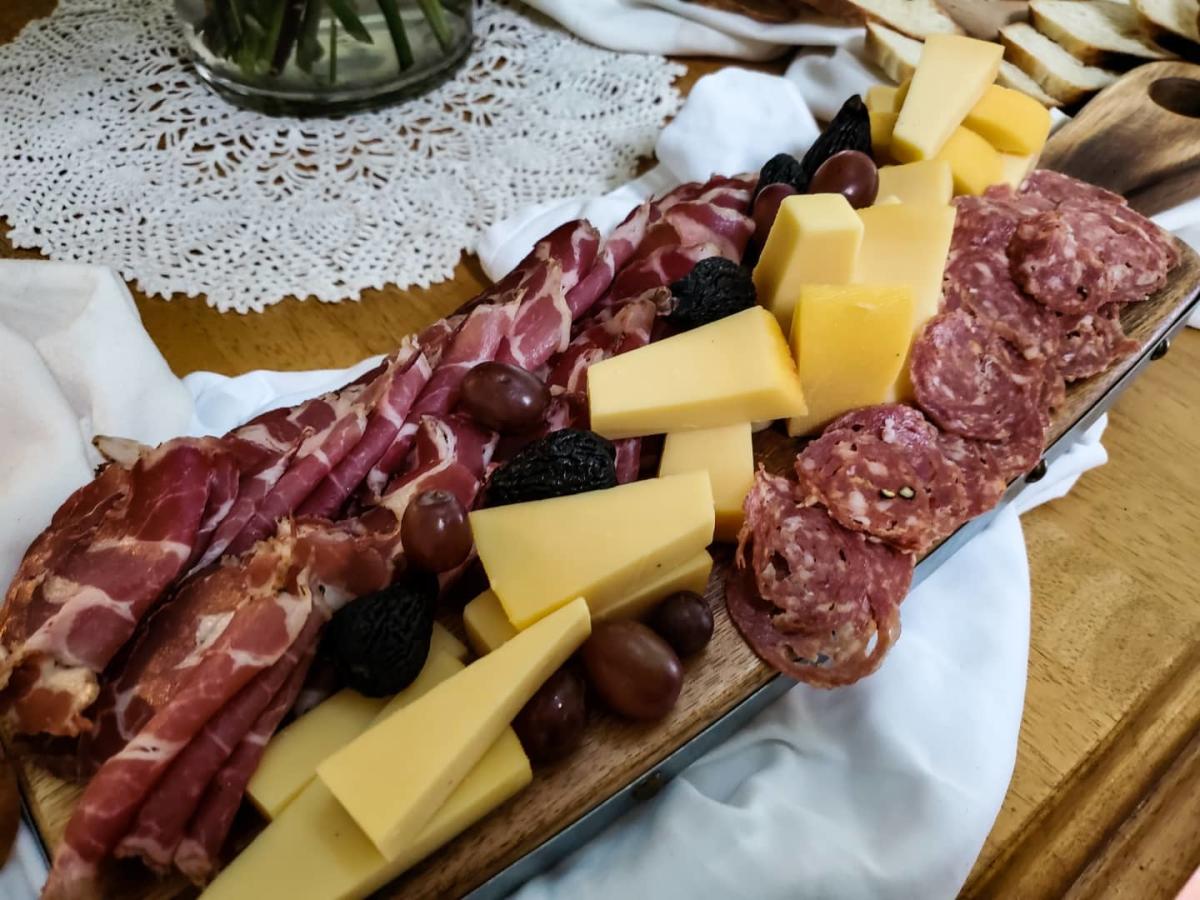 Smoke & Pickles Charcuterie Board
30 Erford Rd., Camp Hill
All Whole Turkey, Spiral Glazed Hams & Specialty Sides must be PRE-ORDERED online prior to Thanksgiving Day. Individual platters are available for pick up WITHOUT pre-ordering. Open on Thanksgiving Day between 9 am and 1 pm for pick up.
1619 W. Lisburn Rd., Mechanicsburg
Thanksgiving pre-orders include stuffing made with bread from Talking Breads, pumpkin pies and other baked goods, rolls, a French breakfast board, or a grazing board that serves up to 12. Click here to pre-order. Call directly if you need a board for a larger group.
896 W. Grantham Rd., Mechanicsburg
Thanksgiving Day Buffet from 11 am to 3 pm. Accepting reservations for any size party. Call 717-766-4200. Adults $19.99; ages 6-12 $12.99; 5 and under free.