Seasonal Festivals & Events
Cumberland Valley is home to an array of festivals and events covering interests ranging from history to crafts to food. Held in a variety of settings, all of these annual festivals and events are family-friendly and most are free! 
Pick Your Season
Spring | Summer | Fall | Winter 
Please note: Event dates are tentative. Please search for the event on the current Events Calendar before planning your trip.
The winter air sings of holiday fun and adventure. Check out Cumberland Valley's winter festivals and events below, and start planning your getaway to our winter wonderland with these fun filled​ trip ideas.
Car Show season kicks off with Spring Carlisle at the end of April. Other spring auto shows at the Carlisle Fairgrounds include Performance & Style and Import & Kit.
Every April join the town of Mechanicsburg for their lEarth Day Festival, honoring our planet with music, workshops, kid's activities and more.
Each Spring, the Appalachian Trail Museum Festival celebrates another season of hiker culture with guest speakers, kids programming and more.
If you enjoy Greek food, be sure to visit the Greek Fest of Holy Trinity. Whether you're partial to spanakopita, saganaki or gyros, you will find plenty of traditional choices to eat or take home. Be sure to tour the cathedral and enjoy a performance by the traditional dance troupes.
In May, learn about the Army's history through living-history exhibits, reenactments and special demonstrations at Army Heritage Days at the U.S. Army Heritage & Education Center.
Artists set up along the streets of downtown Camp Hill during the Plein Air Competition and Arts Festival at the end of May. Purchase freshly painted artworks, catch a theatrical performance, enjoy demonstrations and take in a musical performance during this event. There are plenty of activities for the kids too!
The hot sun means hot fun in Cumberland Valley. Check out some of our favorite summer festivals, events & activities below.
A juried arts festival, Foundry Day takes place along Children's Lake in the picturesque village of Boiling Springs. Held the first Saturday in June, there is also a quilt festival held in conjunction with Foundry Day every other year.
Pennsylvania Fly-Fishing Heritage Day is a special treat for outdoorsmen of all ages. Regionally and nationally known experts give presentations and demonstrations, vendors are available and antique tackle dealers are available for appraisals. The day also includes the crowd-pleasing rubber fish race! Held in June; children under 15 admitted free.
Newville Fountain Festival is a two day festival centered around the town fountain in Newville. Festivities include a parade, antique and craft stands, music, contests, kids' activities and delicious food. Held the third Friday and Saturday in June.
The Ford Parade is held the Saturday of the annual Ford Nationals auto show. All makes and models of Fords cruise down Hanover and High Streets in Carlisle, shops and restaurants offer specials and are open late and live music fills the streets.
Held in June, the Solstice Arts Festival features artists displaying, selling and demonstrating their art; live music, interpretive dance, drumming and open mic on the amphitheater stage; children's tent; Eco-Village and Wellness Circle; an Art Wall to be covered in paint by visitors and the culinary court full of delicious goodies.
Jubilee Day is the largest one-day street fair in the eastern United States. This all-day event is held the third Thursday in June, and features live music, food, arts and many local businesses.
Carlisle Summerfair is a ten day festival held over the Fourth of July weekend in Carlisle and Boiling Springs. Filled with (mostly) free, family-fun activities, the annual highlights include a parade, fireworks, community theater performances in the Carlisle Theatre, a craft festival, music, ice-cream social, performance by Harrisburg Symphony Orchestra and the Anything Floats Race.
The Corvette Parade is a downtown Carlisle staple. Held the Saturday of the annual Corvettes at Carlisle auto show, spectators line Hanover and High streets to watch over 400 Corvettes of all years and makes cruise through downtown. The night culminates into a street party.
Shippensburg Corn Festival is rated as the best one-day festival in Pennsylvania. This annual festival takes place the last Saturday in August and includes more than 300 craft and antique vendors, performances and every type of corn you can imagine!
The Annual Steam Engine Show in Mechanicsburg is a must for any railroad enthusiast. Watch steam engine and tractor parades, horse and tractor pulls, find a deal at the farmer's flea market or enjoy the nightly live music. There is a fee for this event.
Celebrate American Craft Week every October for a full week of Cumberland Valley events, occurring at galleries, museums and artisan shops.
The McLain Celtic Festival is held the first Saturday in September at the scenic Two Mile House in Carlisle. Highlights include the skirl of bagpipes, burly men in kilts competing in Highland games, Irish and Scottish music and dance, Border Collie demonstrations, Celtic goods and great food! There is an admission fee for this event.
Harvest of the Arts Festival takes place in downtown Carlisle on a Saturday in September. Featuring hundreds of juried and non-juried vendors, live music, children's activities and plenty of food.
New Cumberland Apple Festival features everything apple! Peruse over 250 vendors selling crafts and fine arts, children's activities and yummy apple-themed foods.  Held the last Saturday in September.
Held in Adams Ricci Park the second weekend in October, the Pennsboro Pumpkin Fest features craft vendors, custom and antique car show, live entertainment, children's activities and pumpkin-themed food.
Enjoy traditional Oktoberfest activities including a Volksmarch, live entertainment, children's games and great food and beer!
Set in the scenic Pine Grove Furnace State Park, Fall Furnace Fest boasts food and craft vendors, live entertainment, environmental education programs, historical demonstrations, guided hikes and food. Kids will love hayrides, pumpkin carving, scarecrow making and the annual "Hairy Hand" program where lit pumpkins are floated in the lake.
Find A Room
Call (877) 840-2923 to book by phone
Cumberland Valley Quick Links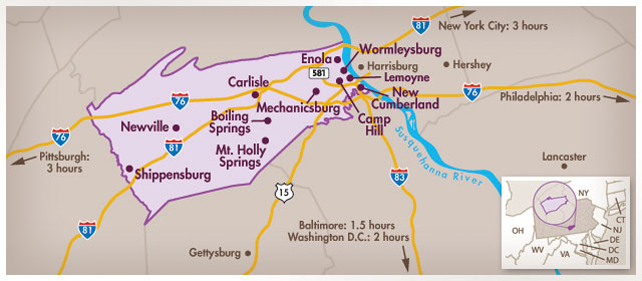 Explore the Valley using the map to the left or find activities and places to stay using the
Interactive Map