The Best Camping in Cumberland Valley
Here's a fact... camping in the Cumberland Valley can be habit-forming for active families. Our campsites invite you to enjoy wide-open spaces and scenic mountain vistas that provide the perfect backdrop for your camping adventure. Here's a quick list of tips to keep your Cumberland Valley weekend easy getaway on track. Start planning soon!
Where to Camp
State Parks
Whether you pitch a tent or park your RV, there is no place more scenic than Pine Grove Furnace State Park. Surrounded by hiking trails, two mountain lakes, and plenty of local history, the campground offers 70 tent and trailer sites in a tree-lined setting. Each campsite has a picnic table and a fire ring. A general store is located only 1/4-mile from the campground area. While at the park, be sure to visit nearby Twirly Top for some ice cream. (Learn more about the other locations along the Cumberland Valley Ice Cream Trail and sign up for a free digital passport.)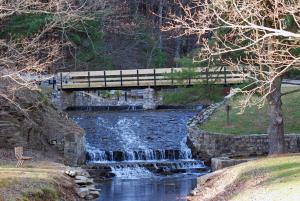 Colonel Denning State Park is off the beaten path and provides a 49-site tent and trailer campground. Guests can enjoy a 3.5-acre lake surrounded by 273 acres of woodland. The park serves as the gateway to the 96,000-acre Tuscarora State Forest. Each camping site offers a picnic table and a fire ring. Firewood and ice are for sale at the campground host site.
TIPS:
Camping is seasonal and is generally available from late March to mid-December. Reservations are highly recommended.
In our state parks, tents must be placed on the designated tent pad or the established stone/gravel camping area in order to protect the natural resources. If a designated pad or gravel area is not provided, the tent(s) must be contained within the campsite in an area that least disturbs the natural resources.
Campsite occupancy is limited to one family unit (persons living under one household) or one non-family unit limited to five persons per site. Anyone renting a campsite must be 18 years of age or older and must be present at the campsite.
Private Campgrounds
Cumberland Valley also offers an abundance of well-run private campgrounds, several of which also offer cabin and trailer rentals for those looking for a less rustic camping adventure. All are close to fishing, hiking, and historic sites, giving you and your family plenty of opportunities to explore. If you want to stay closer to the campground, these campgrounds all offer family-friendly activities on-site. View a complete list.
Cumberland Valley Adventure Awaits
Leave room for spontaneous fun but it doesn't hurt to plan ahead for activities you know your family will love.
Cumberland Valley is a  world-renowned fly-fishing destination, so be sure to bring your gear! If you forget anything, head to nearby TCO Outdoors in Boiling Springs or Precision Fly Fishing & Tackle in Mt. Holly Springs. TCO also offers one or two-day fly-fishing clinics if you are looking for a more in-depth experience.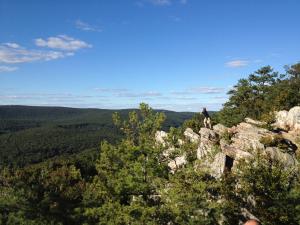 Hiking and biking are other popular outdoor activities for Cumberland Valley campers. With hundreds of miles of trails for all ages and abilities, you can escape the daily hustle and bustle and reconnect to nature with a hike or bike ride. If you want a pre-planned mountain bike adventure, Sacred Rides Michaux will get you off the beaten path as you enjoy a guided trip along the best local trails in Michaux State Forest. Or work with Adventure Explorations to create a custom outdoor adventure experience.
During your visit, don't forget to explore more than 250 years of Cumberland Valley history. You can mix and match some of our unique indoor museums (perfect for a rainy day) with scenic outdoor locations, such as Camp Michaux, where you can take a self-guided walking tour among the ruins of what was formerly a secret POW camp during WWII. Be sure to stop by the Appalachian Trail Museum which is the only museum in the country solely dedicated to hiking.
What to Bring
No matter which activities your family intends to pursue, having a packing checklist is a good plan. Here's a starter list:
Comfortable clothing
Toiletries, medications, and a basic first-aid kit (including sunscreen and insect repellant)
Hiking shoes and socks
Camping gear (tent, bedding, flashlights, lanterns, batteries, cell-phone chargers, weather radio)
Cooking gear
Outdoor gear (fishing tackle, binoculars, canoe/kayak, paddles, life vest, bikes)
If you are bringing a pet, don't forget to pack your pet's medical files, medications, food, toys, and bedding
Check local regulations and licensing requirements at the PA Fish and Boat Commission's website, where you can also find information on water trails for paddlers, fishing locations, and what type of bait works well in a specific area.
Camping with Pets
Some families like to bring their four-legged companions when they camp. Check the campground's website for their pet policy and be sure to mention you'll be bringing a pet when you make the reservation. Most campgrounds allow dogs if they are well-behaved and kept on a leash at all times.
Campgrounds at both Pine Grove Furnace State Park and Colonel Denning State Park allow pets in designated sites. Pets are only dogs, cats, and caged animals (such as birds and hamsters). Livestock such as horses, cows, pigs, sheep, and goats are not considered pets. Find more details about camping with pets in our Pennsylvania State Parks.
With a little bit of pre-planning, a Cumberland Valley camping getaway will make a treasured vacation memory for the entire family.
Read more about tips for backpacking and camping in the Cumberland Valley from a local outdoor enthusiast.