The Best Camping in Cumberland Valley
Here's a fact—camping the Cumberland Valley can become habit forming for active families. Outdoor adventures await, and there's no better time to camp in the Valley than early summer. Here's a quick list of camping tips to keep your vacation to Cumberland Valley, PA on track. Start planning soon to get the best campsites!
Where to Camp
The beauty of the Valley is the perfect backdrop for a camping vacation, whether you pitch a tent in an oak forest or park your motorhome in a cozy campground. If you enjoy state park camping, there's no place more scenic than
Pine Grove Furnace State Park
. Surrounded by hiking trails, two lakes and plenty of local history, the Charcoal Hearth campground offers 50-amp sites in a tree-lined setting. Another scenic state park setting is the campground at
Colonel Denning State Park
.
You'll also find an abundance of well-run private campgrounds in the area, many close to fishing, hiking and historic sites. Here's a link to plenty of choices for
campgrounds in the Cumberland Valley
.
Best Cumberland Valley Activities
Anything you can do outdoors, you can probably find a place to do it in the Valley. Leave room for spontaneous fun, but also plan ahead for activities you know your family will love.
Year-round stocking keeps trout levels high in the freestone streams of Cumberland Valley, PA, so if you're looking for fly fishing action, bring your gear! You'll also find largemouth bass in abundance, and both the Susquehanna and Potomac are popular smallmouth and walleye hotspots.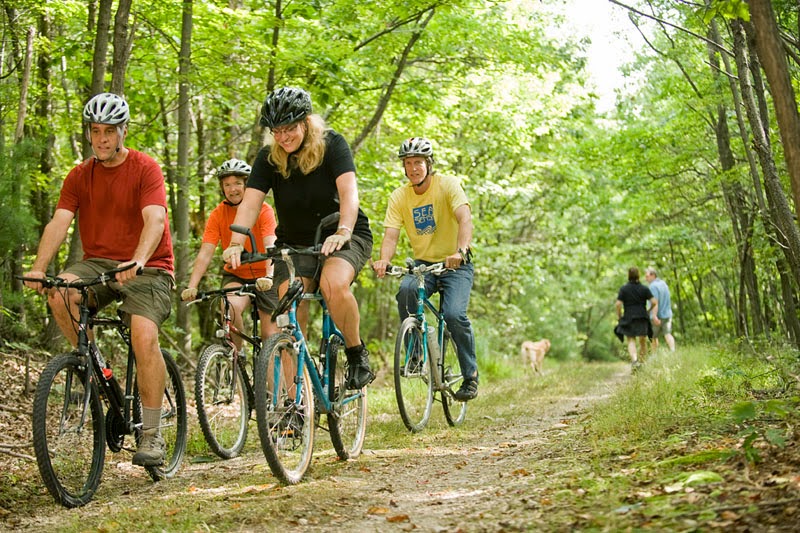 Another popular activity for Cumberland Valley campers is hiking, thanks not only to a portion of the Appalachian Trail that runs through it, but also to hundreds of miles of lesser trails that offer hiking access to all ages and abilities. Your biking family will find plenty of trails to follow, as well. Check this page before you come to plan
hiking and biking activity
.
One more idea for active families: let the kids learn a little history in the Pennsylvania countryside by visiting Cumberland Valley historic sites. You'll find spots related to the Civil War, Revolutionary War, African American and Native American history within easy day-trip distance.
No matter which activities your family intends to pursue, having a packing checklist is a good plan. Here's a starter list, just add what you'll need to have fun:
·

        
Comfortable vacation clothes for everyone
·

        
Toiletries, medications and a basic first aid kit (don't forget the sunscreen and insect repellant!)
·

        
Hiking shoes and lots of socks
·

        
Camping gear—tent and sleeping bags or RV bedding, flashlights, lanterns and batteries, cellphone chargers, weather radio.
·

        
Cooking gear—basic pots, pans, utensils, unbreakable dishware, flatware, groceries based on easy menus, dish soap and dishpan, paper towels, storage bags and containers and sponges.
·

        
Outdoor gear—fishing tackle, binoculars, boating and swimming gear, canoe or kayak, paddles, life vests, bikes, or whatever sports gear suits your family.
Check local regulations and licensing requirements at
PA Fish and Boat's website
. You'll also find information there on water trails for paddlers, where to fish and what kind of bait is working well in a specific area.
Bonus Tips: Camping with Pets
Some families like to bring their four-legged companions when they camp, and with a little planning that can work well. The key is to find out ahead of time whether they're allowed at campgrounds and other places you hope to visit. Check the campground's website for their pet policy and be sure to mention you'll be bringing a dog along when you make reservations. Most campgrounds allow dogs if they're well-behaved and kept on leash at all times.
Take time to do the same thing for state parks and attractions—some have restrictions concerning dogs on trails or inside buildings. Don't forget to pack your pet's medical file and medications along with food, toys and bedding.
Planning ahead means maximum camping vacation enjoyment, so why not start now? Cumberland Valley, PA promises treasured vacation memories for every family that loves to camp.
Joe Laing is the Director of Marketing for El Monte RVand has worked in the travel industry for over 20 years.  He has been exploring the outdoors most of his life and enjoys spending time camping throughout the United States.  Joe has also been involved with the RVIA's Go RV'ing committee, campground associations, and many travel industry associations.