Your vacation plans for the summer of 2020 might including staying closer to home. How about exploring the Cumberland Valley and discovering all there is to see and do in your own backyard! (TIP: As businesses continue to re-open, please be sure to check days and hours of operation.)
Day 1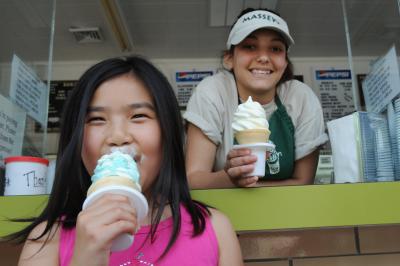 Get an early start and head to Kimberley's Cafe in Carlisle for an inexpensive and filling breakfast. Choose from pancakes, eggs, waffles, omelets, French Toast, and other breakfast goodies. After breakfast, burn off some calories by taking an early morning stroll around Carlisle. Walk around the beautiful campus of Dickinson College and then enjoy the quaint shops throughout downtown where you can find books, vintage clothing, artwork and jewelry, chocolate, or wine. Be sure to stop by our Visitors Center, located inside History on High-The Shop in downtown Carlisle. Our friendly volunteers are always happy to offer suggestions and provide free brochures and maps. If you have kids, head to LeTort Park where they can let loose on the playground. Or walk along the Nature Trail to see how many different types of birds you can find. End the afternoon with ice cream from Massey's or Leo's.
Day 2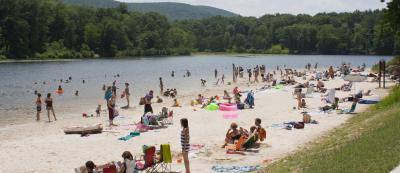 Today's the day to explore some natural wonders at one or more of the Valley's three state parks. Start by hiking along more than 20 miles of trails at Kings Gap. With over 15 different trails to choose from, you will be sure to find one for any skill level. Either before or after your hike, take in the scenic views of the Valley from the back porch of the mansion located at the top of the mountain.
Of course, after all that hiking, it's time for ice cream again. Enjoy some hand-dipped ice cream while sitting on one of the picnic benches outside the Kings Gap General Store.
End the day on a more relaxing note with a picnic dinner at either Fuller Lake or Laurel Lake at Pine Grove Furnace State Park. The kids will enjoy the sandy beaches and swimming in the cool waters.
Day 3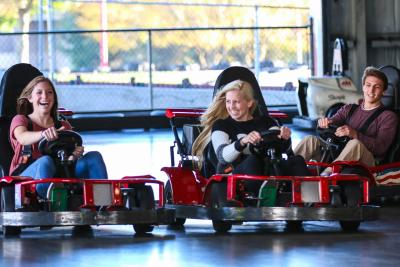 Oh no! It's raining. Not to worry. There are plenty of indoor activities to keep everyone occupied for the day. The kids will enjoy the arcade games and indoor go-karts at Carlisle Sports Emporium. Or head to Midway Bowling in Carlisle for a game or two of bowling. If the weather clears up, you might just be able to enjoy their new outdoor patio. Looking for a little bit more indoor excitement? Autobahn Indoor Speedway in Lemoyne has state-of-the-art, Italian pro-karts that can reach speeds of up to 50 miles per hour – ideal for teenagers and adults. Or, the kids can enjoy jumping to their hearts' content at Skyzone Indoor Trampoline Park.
Looking for a place to eat in-between all these activities? Why not try pizza from any number of our local restaurants including three different Pizza Grille locations in Carlisle, Lemoyne and Camp Hill.
Day 4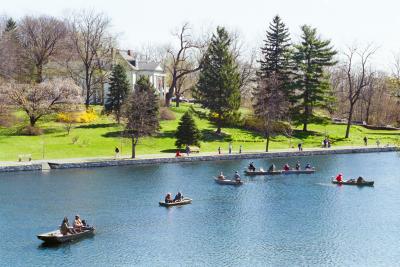 Grandma has the kids for the day so take time for you. After you sleep in, head to a local spa or salon. Facials are still not allowed (as of 6/14/20) but make an appointment at Tranquility Salon in Carlisle for an Ion Foot Detox Cleanse. Available for individuals or couples, this relaxing treatment is sure to promote a feeling of wellness. If you are looking for a different type of experience, try flotation therapy at Dissolve Float Spa in Camp Hill. Here you will unwind in your own private float pod filled with 900 pounds of Epsom salt.
After such a calming morning, enjoy some time with your friends or your significant other in Boiling Springs. Take a leisurely stroll around Children's Lake or along a portion of the Appalachian Trail. If you are considering exploring a new hobby, be sure to stop by TCO Outdoors where you can learn all about fly-fishing, a popular sport in Cumberland Valley which offers some of the finest fly-fishing streams in the country.
For dinner, head to Cold Springs Inn Brewing Company, where you can drink and dine al-fresco on a large deck with scenic views of the Yellow Breeches Creek. End the day with a glass or two of wine on the front porch of Castlerigg Wine Shop in Carlisle.
Day 5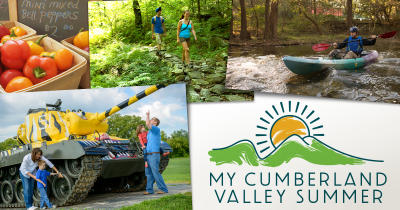 Yay! You made it through the week. Looking for more? Why not take a look at our online Calendar of Events to see what fun activities and events are being offered, plan a day on the water, visit a farm market for some fresh local food, or check out our My Cumberland Valley Summer bucket list and plan to explore some more fun locations and hidden gems.