By Kenneth Reaves of PerfectCaptain.com 
Cumberland Valley is part of the Great Appalachian Valley, and it offers stunning sights and experiences. If you're going to be in the Great Appalachian Valley, what better adventure to have than fishing one of their exciting, unique streams? 
These are our top 4 holes every angler should try in Cumberland Valley. Why not see if you can do them all while you're in the area? You won't be disappointed! 
1. Yellow Breeches Creek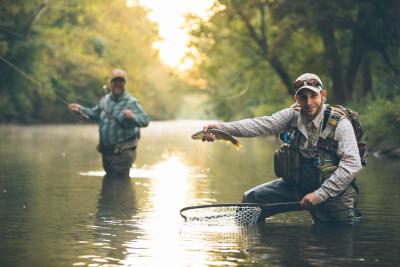 If you love fly fishing then Yellow Breeches Creek will be a treat for you, especially in the springtime. You can fish year-round in the C&R area but the most heavily fished area is near Boiling Springs. 
You'll be able to catch brown trout and rainbow trout, but if you want a challenge, try-catch a wild trout in the stream near Allenberry Resort in Boiling Springs. There's no shortage of bait, as Blue Winged Olives and Hendrickson hatch in the spring. However, it won't be easy to catch the fish. 
With most of the trout being stocked, you'll find some parts of the creek to be more challenging as the trout have become familiar with the insects that are part of the ecosystem. You'll have to make some creative imitations to fool the fish into biting.
The best advice I can give is to stick to the flat water pools and the shallow riffles. You can use nymphs, dry flies, and small streamers but make sure to keep your flies floating. 
For lunch, stop at the Cold Springs Inn and Brewery in Mechanicsburg where you can enjoy the view of the creek from either the upper or lower outside deck. Try the signature burger, the grilled Portobello salad, or the pit beef sandwich with an ice-cold beer. 
If you are looking for an overnight stay, Allenberry Resort is one of only three Orvis-certified fly-fishing lodges in Pennsylvania. Resort guests enjoy luxurious accommodations and direct access to the Yellow Breeches Creek, which runs through the resort.
2. LeTort Spring Run 
LeTort Spring Run deserves to be on any angler's bucket list of places to fish as it's considered to be one of the most challenging streams to fish. Plan your fly-fishing trip for the spring, when there are more hatches and the fish will want to be feeding. 
You could also make a trip in the summer when you'll find some sulphur mayflies and you'll find that the water stays cool even on the hottest of days. This is due to the large springs that feed into LeTort Spring Run.
Regardless of what time of year you come to fish, you're going to find fishing here to be a challenge as the trout have so many places to hide. There are thick beds of watercress that can make casting difficult and smart trout will hide in it. 
The fly-fishing specifically starts at Bonnybrook and ends at LeTort Park. If you're looking for a lunker of a trout, you'd have to fight your way through heavy vegetation in the upper reaches of the stream. If you stick to riffle areas or lower areas of the stream, you should find that you're able to snag one. 
You can stop for breakfast or lunch at Kimberly's Cafe and Creamery in Carlisle where you can try the stuffed french toast or eggs Florentine with spinach and hollandaise sauce. 
3. Susquehanna River Trail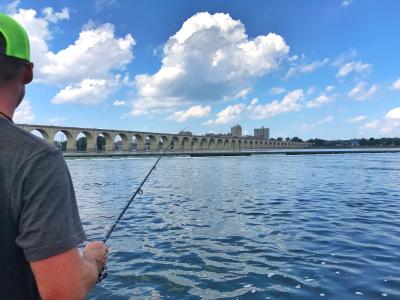 The Susquehanna River Trail offers a variety of fish for anglers to pursue. It's also one of the best fishing spots for smallmouth bass. You can also try and catch muskies, walleye, panfish, carp, northern pike, and catfish. 
For a fishing experience you won't forget, try your hand at night fishing where you have a chance of catching a monster catfish. You'll find fishing here during spring, summer, and fall to be a challenge. 
If you want to fish for rainbow, brown or brook trout, then you want to try one of the creeks like Mahantango Creek or Penn's Creek where you'll find a lot of trout. To catch smallmouth bass, you want to head to the secluded islands and many bends between Harrisburg and Shamokin. 
Live bait like minnows would work well to catch smallmouth bass. You can also use plastic imitations, poppers, and rubber worms. Once you're ready to take a break from fishing, you'll find that you're spoilt for choice with the restaurants along the river. 
Dukes Bar and Grille in Wormleysburg is right on the water, and you'll find their boneless buffalo wings to be a real treat! You could also treat yourself to fish tacos, crab cakes, or ribs. 
4. Conodoguinet Creek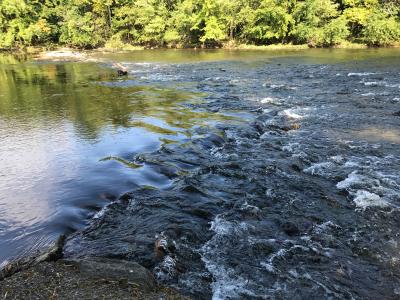 Conodoguinet Creek has a variety of fish for the avid angler to choose from. You'll find rock bass, smallmouth bass, tiger muskellunge fingerlings, brook trout, sunfish, and largemouth bass. 
You're able to fish here year-round and it's a great opportunity to use your kayak to reach the fish. This will let you navigate the many bends of the creek while you search for fish. 
The best time for fishing would be during the spring, summer, and fall months. If you want to have a successful fishing trip, go early in the mornings or mid-week. Exercise patience, as you'll need to make well-placed presentations and you'll have to make slow approaches otherwise you'll only catch the streak of the fish going past you. 
The fish respond nicely to topwater baits, soft plastics, spinnerbaits and jerk baits, and if you're lucky you'll see a Muskie or Northern Pike following your bait. In the summer months, you'll find the trout under the bridge piers or in the cooler streams where you can try your hand at catching them. 
After a long day of fishing, grab a bite to eat at John's Hideaway Restaurant in Carlisle. It has a vintage feel and atmosphere and you'll be served home-cooked food. Try the chopped steak dinner or the hamburger steak with fries, gravy, and a cucumber salad. 
Conclusion 
If you're in Cumberland Valley, don't miss the chance to fish at least one of these holes. It may be best to choose which fish you're after and make your location decision based on that. 
Although these are our top four, there are still plenty more to fish once you've experienced these! Do your research, gear yourself up, and head out for a fishing adventure.
Kenneth Reaves is an outdoor guru who loves fishing. He has been exploring nature and having great fishing adventures since he was 5 years old. Currently, he is busy sharing his passion for exciting adventures and fishing to amateur anglers through his blog, www.perfectcaptain.com