Rock Climbing • Kayaking • Skydiving • Backpacking • Mountain Biking
Tired of the same old leisurely outdoor activities? Want to get your adrenaline pumping? With over 200 miles of trails, three impressive state parks, and two state forests, Cumberland Valley has plenty of options to satisfy thrill-seekers and to get an adrenaline fix. Finding an exhilarating outdoor adventure in Cumberland Valley will be the easy part of your excursion. The hard part is taking that leap of faith to be a little more adventurous.
Half Day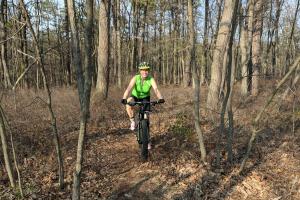 Land Recreation: If you liked climbing the monkey bars and big trees as a kid, you'll love rock climbing at Whiskey Springs, White Rocks Trail, and others. Safety equipment is necessary. Enjoy a picnic lunch surrounded by the natural beauty of the Appalachian Mountains. 
Or explore the Valley on a mountain bike, with a customized trip through Michaux State Forest. Sacred Rides Michaux offers half-day to 1 or 2-day guided tours.
Water Recreation: A scenic canoe or kayak trip is the perfect way to cool down or to begin your day. If you have your own canoe or kayak float down the Conodoguinet Creek or Yellow Breeches Creek, a PA Designated Scenic River. If you need to rent a boat, head to Blue Mountain Outfitters. They will shuttle you and the boat to your starting point and arrange transportation back to their store at the end of their trip. They also have multiple trip opportunities for paddling down the Susquehanna River.
Full Day
Most of us love admiring clear blue skies. Some of us wish we could fly. Others jump out of planes and experience both. Chambersburg Skydiving is a world-renowned skydiving instructional institution and jump site located a drive from Cumberland Valley. See the beautiful Valley and mountains in a different and thrilling way while having the time and ride of your life. Hold onto your hats. 1. 2. 3. Jump! TIP: Call ahead to book your jump. Bring a packed lunch since you may be there for 5-6 hours depending on the weather.
If jumping out of a plane is too extreme and you'd rather be tethered to a line to fly through the air – try the Vertical Trek Canopy Tour at Roundtop Mountain Resort. For a totally unique ride try rolling down the mountain suspended inside an 11-foot diameter OGO Ball. In the colder months, unleash your best skiing or snowboarding moves on Roundtop's pristine powder.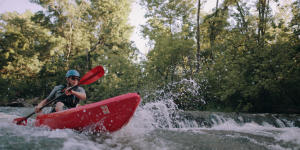 Or customize your guided adventure with Adventure Explorations. They offer the highest quality gear to create the very best experiences Combined with their safety-first approach, your adventure -- designed for your skill level -- will create extraordinary moments of clarity and connection. You'll feel the fish tugging at your fingers to shake free, the water on your feet as you rush through a rapid in your kayak, and the road change its incline as you ride. Each trip promises to be a memorable one. 
Make it a Weekend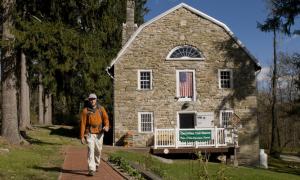 Ever wondered what it would be like to hike the Appalachian Trail? Visit the Appalachian Trail Museum for some inspiration. You'll probably bump into a thru-hiker with exciting trail stories that just might motivate you to start your 2,200-mile journey. Click here for more information on what you need to know to plan an overnight hike along the A.T. in the Cumberland Valley.
Whatever exciting activity you choose, plan to end the day at one of our comfortable and affordable hotels or B&Bs where you can rest easy before your next adventure begins.