Cumberland Valley is home to a diverse collection of artists and artisans who share their craft with those who appreciate handmade and homespun. Follow the trail below to find one-of-a-kind items and gifts. Your purchases will serve as unique souvenirs to remind you of your Cumberland Valley experiences.
Shippensburg & Carlisle
Downtown Shippensburg is home to The Cumberland Shop, dedicated to promoting the work of artisans with ties to Cumberland Valley. Displaying and selling the work of over 40 local artists, customers will find an ever-changing inventory of unique items.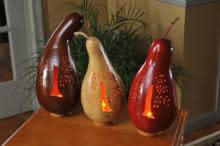 Drive out into the back roads of Carlisle and visit Meadowbrooke Gourds. The retail shop features hand-crafted gourds for all seasons and purposes. Stop by during an open house to get a behind-the-scenes peek at how the gourds are harvested, cleaned, prepped, and painted.
Head back into town and discover the cluster of artisan shops in walkable downtown Carlisle. On High Street, you can explore History on High - The Shop. History on High features local artists' work, including paintings, fine jewelry, textiles, pottery, metalwork, wood carvings, clothing, and food items. 
Hanover Street features the greatest gift. This shop lives up to its name with a unique collection of gifts crafted by innovative artisans. No Common Scents and Glitz Soap Co. on Hanover Street offer artisan bath and body products, including soaps, lotions, scrubs, lip balms, and candles with creative scent combinations. Glitz also has a location in downtown Mechanicsburg.
Also on Hanover Street are two adjacent galleries: Nancy Stamm's Galleria, which features her whimsical works, and The Garden Gallery, which is home to artwork and sculptures from locally and nationally recognized artists.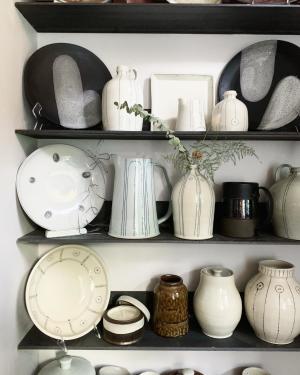 After exploring these two streets, head over to Pomfret Street and pop in and out of their funky galleries and shops. Pat Craig Studios offers handcrafted jewelry and other accessories, and Mummert Chocolates features locally-made artisan chocolates. K. Olson Ceramics features beautiful utilitarian pottery made on-site.
Another hotspot on Pomfret Street is the Carlisle Arts Learning Center. This gallery space features changing exhibits and a small gift shop. It is also home to various classes to get your creative juices flowing.
Tucked in the alley of Chapel Ave., you'll find Earth Artisan & Outfitter (EAO), featuring nature-based art, photos, and gear.
Boiling Springs
In the charming village of Boiling Springs, you'll find Village Artisans Gallery, a fine art studio located in a renovated church. This gallery is nationally recognized as a treasury of American craftsmanship and artistry and features works from over 200 artists. 
Mechanicsburg, Camp Hill, and the West Shore
As you head toward Camp Hill, look for Brain Vessel (The Gallery), where you can find unique handmade gifts such as dice, playing cards, and investable art.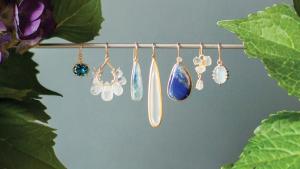 While in Camp Hill, visit Meeka Fine Jewelry. This small shop on Market Street features fine jewelry crafted by several artists, including the owner, Monika Krol. If you are lucky, you might be able to watch Monika create one of her handcrafted pieces in the shop.
In Lemoyne, Art & Soul Gallery in the West Shore Farmers Market features the artwork of award-winning Central Pennsylvania artists, and K Novinger Jewelry Design specializes in carefully crafted custom jewelry.
In New Cumberland, visit Tickle My Senses Gallery for one-of-a-kind pieces in mediums including ceramics, glass, wood, mixed media, metals, and jewelry from over 125 local, regional, national and Canadian artists. Next door, Moss Creek Art is known for their popular hand-made cremation jewelry, which incorporates a small amount of hair or ashes from a deceased loved one or pet. Creative Spark Arts is a retail gallery featuring Pennsylvania's emerging and seasoned artists of every medium.
Make it a Weekend
After all this shopping you'll be hungry. Enjoy the artistry of food at one of the Valley's authentic dining establishments. With over 20 options downtown alone, Carlisle features flavors from across the globe. Or, enjoy a meal with a view of the Susquehanna River with the waterfront restaurants in Wormleysburg. You can view all your dining options here.
When it's time to settle down at night, the Valley's charming bed & breakfasts offer a cozy overnight stay. Many feature beautiful artwork and antiques.
If you're looking for another trail to tackle, view our Antiques and Vintage Trail for more shopping fun.