Cumberland Valley is home to a diverse collection of artists and artisans who share their craft with those who appreciate handmade and homespun. Follow the trail below to find one-of-a-kind items and gifts. Your purchases also serve as unique souvenirs to remind you of your Cumberland Valley experiences.
Stop 1: Carlisle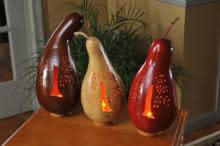 Drive out into the back roads of Carlisle and visit Meadowbrooke Gourds. The retail shop features hand-crafted gourds for all seasons and purposes. Stop by during an open house to get a behind-the-scenes peek of how the gourds are harvested, cleaned, prepped and painted.
Head back into town and discover the cluster of artisan shops in walkable downtown Carlisle. On High Street, you can explore History on High - The Shop. History on High features local artists' work including paintings, fine jewelry, textiles, pottery, metalwork, wood carvings, clothing, and food items. 
Hanover Street features a variety of galleries and artisan shops as well. Start at Kindred Kaboodle where you will find a "kaboodle" of handcrafted creations by Pennsylvania artisans. Then head to American Artisan Gallery for an assortment of arts and crafts fashioned by American artists. Continue down Hanover Street and visit the greatest gift. This shop lives up to its name with a unique collection of gifts crafted by innovative artisans. There's also No Common Scents on Hanover, which offers artisan bath and body products including organic soaps, lotions, scrubs, lip balms and candles with creative scent combinations.
Also on Hanover Street are two galleries right in a row -- Nancy Stamm's Galleria which features her whimsical works, and The Garden Gallery which is home to artwork and sculptures from locally and nationally recognized artists.
After exploring these two streets, head over to Pomfret Street and pop in and out of their funky galleries and shops.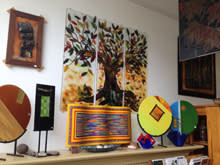 Pat Craig Studios offers handcrafted jewelry and other accessories and The Pond: Art Studios and Gallery houses local artisans who welcome the public to visit them at work in their studios. Just down the street, Marjorie's Gems sells vintage costume jewelry, fine estate jewelry and other fun pieces. 
Another hotspot on Pomfret Street is the Carlisle Arts Learning Center. This gallery space features changing exhibits and a small gift shop. It is also home to a variety of classes so you can try your hand at crafting. 
Tucked on the alley of Chapel Ave., you'll find Feathers in the Nest and Earth Artisan & Outfitter (EAO). Feathers in the Nest features upcycled furniture and vintage décor, while EAO has nature-based art, photos, and gear.
Stop 2: Boiling Springs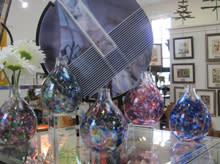 Stop for lunch at Caffe 101. Enjoy tasty Mexican food with a view of the scenic Children's Lake.  
Next, you'll find Village Artisans Gallery, a fine art studio located in a renovated church. This gallery is nationally recognized as a treasury of American craftsmanship and artistry, and features works from over 200 artists. Be sure to check the events calendar so you can time your trip to see an Artist-in-Action.
Stop 3: Mechanicsburg
Before you get to downtown Mechanicsburg, make a pit-stop at the Art Center School & Galleries. Housed in an old barn, this organization offers art lessons and gallery exhibits.  
In downtown Mechanicsburg, you'll find Metropolis Collective offering a collection of contemporary fine art along with musical and artist performances. 
If you're in the mood for a snack, stop at Brittle Bark and stock your shopping bags with gourmet brittles and other homemade artisan chocolates.
Next, pop into Hershey Violins to marvel the finely crafted instruments. If your timing is right you may even catch the master craftsman in action. 
As you head toward Camp Hill, look for Brain Vessel (The Gallery), where you can find unique handmade gifts such as dice and playing cards, plus investable art.
Stop 4: West Shore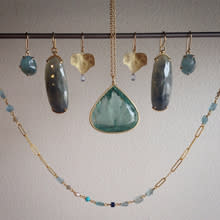 While in Camp Hill visit Meeka Fine Jewelry. This small shop on Market Street features fine jewelry crafted by several artists including the owner, Monika Krol. If you are lucky, you might be able to watch Monika creating one of her handcrafted pieces in the shop.
In Lemoyne, Art & Soul Gallery in the West Shore Farmers Market features the artwork of award-winning Central Pennsylvania artists and K Novinger Jewelry Design specializes in carefully crafted custom jewelry.
In New Cumberland, visit Tickle My Senses Gallery for one-of-a-kind pieces in mediums including ceramics, glass, wood, mixed media, metals and jewelry from over 125 local, regional, national and Canadian artists.
Around the corner on Third Street sits 3rd Street Gallery and Half Moon Handwerks. 3rd Street features artwork, apparel from Starry Night Alpaca Farm and hosts classes. Half Moon Handwerks sells a variety of quilting embellishments.
Make it a Weekend
After all this shopping you'll be hungry. Enjoy the artistry of food at one of the Valley's authentic dining establishments. With over 30 options in downtown alone, Carlisle features flavors from across the globe. Enjoy a meal with a view of the Susquehanna River with the waterfront restaurants in Wormleysburg. You can view all your dining options here.
When it's time to settle down at night the Valley's charming bed & breakfasts offer a cozy overnight stay. Many feature beautiful artwork and antiques.
If you're looking for another trail to tackle, view our Antiques and Vintage Trail for more shopping fun.