Spark your inner treasure hunter and spend an afternoon, a day, or an entire weekend browsing through the collection of antique and vintage stores in Cumberland Valley. We've pulled together our top locations in a convenient trail that you can follow from Shippensburg through Carlisle and Mt. Holly Springs to Mechanicsburg and the West Shore. What will you say you found in Cumberland Valley?

Shippensburg
Stop 1: WM and Mary Antiques - Located in downtown Shippensburg, this small store offers a wide array of quality antiques. Address: 58 E. King Street, Shippensburg
Stop 2: B&H Bikes and Antiques - At its current location for 30 years, B&H Bikes is filled with antique bicycles, antique furniture, and collectibles. They also offer bike repair. Address: 44 E. King Street, Shippensburg
Stop 3: Interstate 81 Antiques - Conveniently located just off I-81, this 10,000-square-foot building features an ever-changing inventory with over 50 vendors. Address: 15 Hershey Road, Shippensburg

Carlisle
Stop 4: Lutz's Antiques - Stop by this family-owned and operated antique shop in Carlisle for a collection of furniture, collectibles, and rare advertising and signs. Address: 1233 Ritner Highway, Carlisle
Stop 5: Antiques on Hanover - Located in downtown Carlisle, this shop focuses on 1820's to 1920's formal furniture. The 7,000-square-foot space also offers a collection of clocks, lighting, home decor, and other items. Address: 17 N. Hanover Street, Carlisle
Stop 6: Miss Ruth's Time Bomb - Across the street from Antiques on Hanover, this funky shop sells vintage men's and women's clothing as well as jewelry and glassware, along with a selection of new clothing, scarves, and socks. Address: 24 N. Hanover Street, Carlisle
Stop 7: Carlisle Antique Mall - Down the block from Miss Ruth's Time Bomb, you'll find the Carlisle Antique Mall featuring 35,000 square feet in a recently restored, three-story 1920's era building that recreates the atmosphere of a vintage department store. CAM is also home to the Carlisle Artisan Market. Address: 164 N. Hanover Street, Carlisle
Stop 8: Bedford Street Antiques - Travel around the corner to Bedford Street and visit this must-stop location. This uniquely shaped brick building, which has been a church, garment company, and auction house, is filled with antiques and collectibles. They currently boast over 100 dealers and 24,000 sq. ft. to explore. Address: 44 N. Bedford Street, Carlisle 
Stop 9: Northgate Antique Mall - Head back down Hanover Street to browse through this shop in Carlisle. They have over 70 dealers and tons of floor space to cover. Not a corner of Northgate Antiques is wasted, and you could spend an entire afternoon perusing through stoneware, clothing, jewelry, and books. Address: 726 N. Hanover Street, Carlisle 
Stop 10: Marjorie's Gems - If jewelry is what you seek, look no further. Here you can find vintage costume jewelry to higher-end pieces at reasonable prices. Marjorie's also sells vintage men's jewelry, including cuff links, rings, and pocket watches. Address: 44 S. Hanover Street, Carlisle
Stop 11: Stonehouse Road Vintage Antiques & Found Goods - You can find this 4,000-square-foot barn on the Holly Pike, halfway between downtown Carlisle and Mt. Holly Springs. Once inside, there are treasures galore, including vintage and antique clothing and home and garden items. Address: 1554 Holly Pike, Carlisle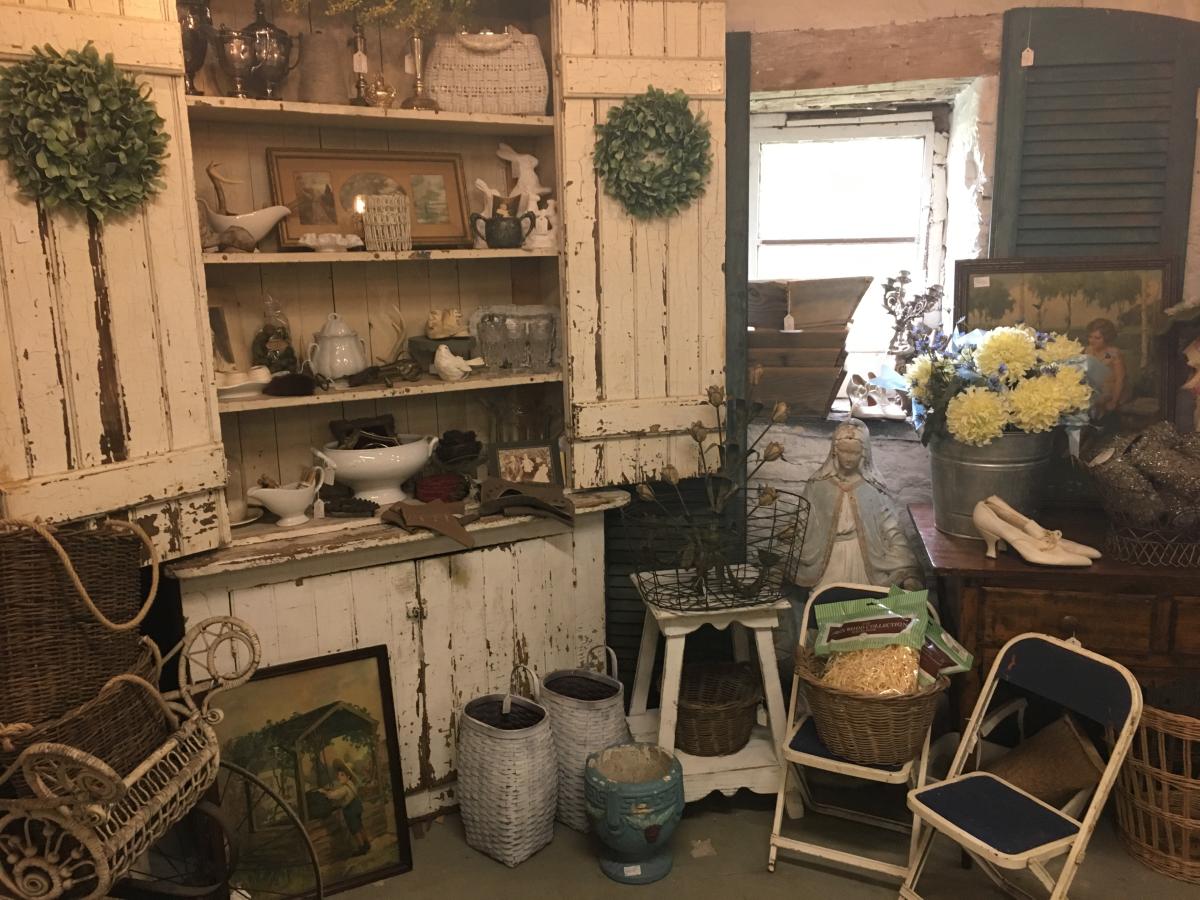 Mt. Holly Springs
Stop 12: Stand Alone Furniture and Collectables - This store is filled to the rafters with antiques, furniture, figurines, glassware, and framed prints. Inventory changes weekly, so you'll never know what one-of-a-kind treasure is waiting for you. Address: 242 N. Baltimore Street, Mt. Holly Springs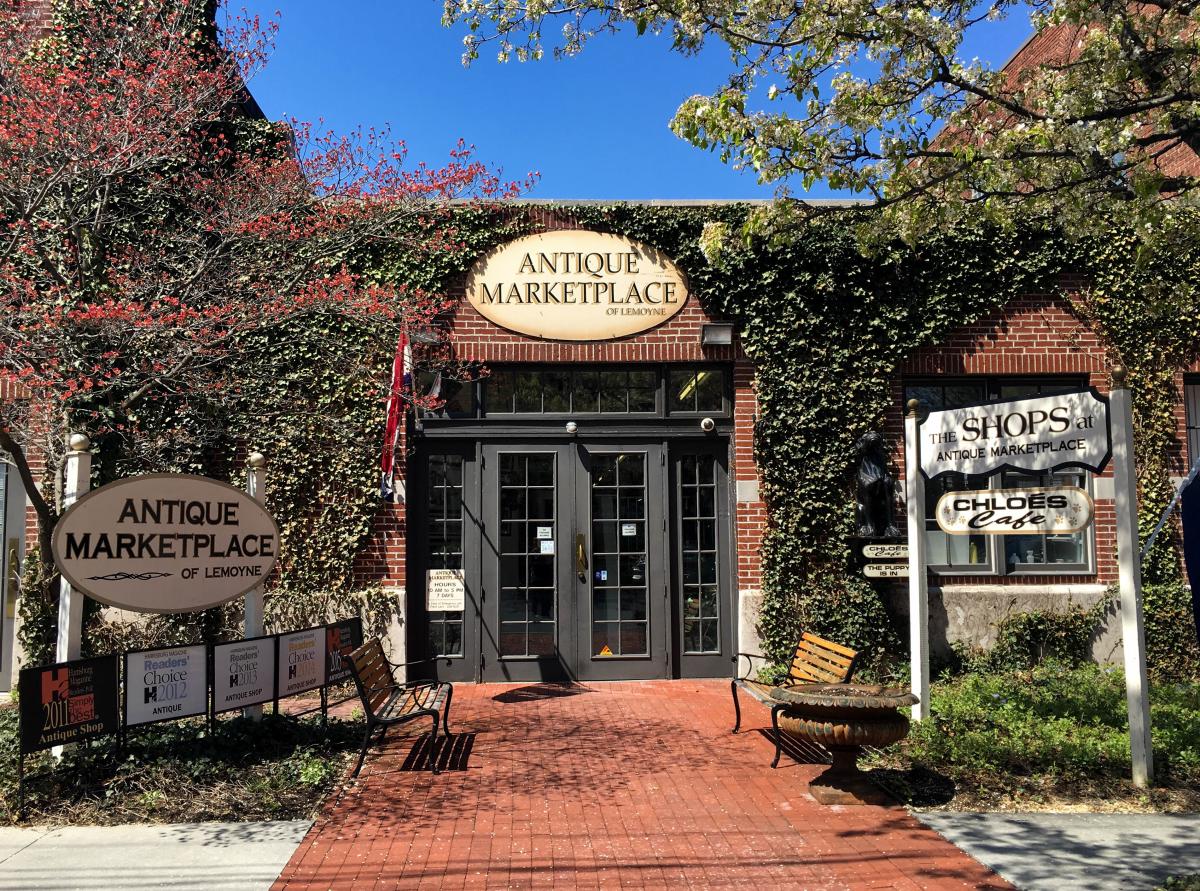 Mechanicsburg & the West Shore Area
Stop 13: Vintage Etc. - Located in the heart of downtown Mechanicsburg, this 2,500-square-foot store offers fun vintage items for every room of your house. There's a lot to explore on two floors of this 1850's house. Address: 70W. Main Street, Mechanicsburg
Stop 14: Antique Marketplace of Lemoyne - The perfect ending point for your search for the ultimate collectible is the Antique Marketplace of Lemoyne. Once you walk into the ivy-lined brick building, you will be greeted with a huge floor of distinct antique sections. This 32,000-square-foot store features antiques from 150 vendors and includes furniture, coins, PA Railroad memorabilia, postcards, and Civil and Revolutionary War items. Address: 415 Bosler Avenue, Lemoyne
Stop 15: Retro & Rad - Fans of nostalgia from the 80s and 90s will find vintage toys, video games, pop culture items, and more.
Find even more places to uncover one-of-a-kind items by browsing our full list of antique shops and stores.
Make it a Weekend
Continue your journey to find the ultimate collectible in Cumberland Valley by staying the whole weekend. Expand your search to include the local art galleries and artisan shops in your hunt for the perfect gift or home decor item. Check out the Craft Your Artisan Adventure trip idea to include some of these locations in your stay.
When it's time to unwind, the Valley's collection of great dining ranges from hometown favorites to flavors from around the world. View the assortment of dining options in Carlisle or find a place to eat anywhere in Cumberland Valley with our complete list of restaurants. 
When it's time to take a break at night, visit one of our charming bed and breakfasts. View and compare rates for all our lodging options.