The Cumberland Valley has a strong agricultural heritage with an abundance of orchards and farms that invite you and the family to experience the beauty and bounty of each season. Discover even more places to find fresh produce on our Fresh Picked Fun trip idea.
Orchards
The Valley's orchards provide delicious fruits throughout the seasons from juicy summer peaches to crisp fall apples. Stop by one of these farm stands for freshly picked fruit and beautiful views of rolling fields of trees.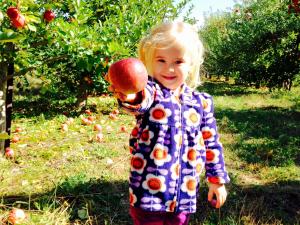 Paulus Orchards - orchards and farm store with various produce, u-pick options, and kid-friendly attractions; during weekends in the fall, families can roam through a themed five-acre corn maze. Choose from over 25 varieties of apples and search through acres of pumpkins during your visit.
The Peters Orchards - farm stand located at orchard selling apples, peaches, pears, cherries, apricots, and more; enjoy scenic views of northeastern Adams County, the largest producer of apples in Pennsylvania and nicknamed "Apple Capital USA."
Boyer Nurseries & Orchards - surrounded by acres of fruit trees and located in an original barn on the property, the fruit market features 20 varieties of apples from the orchard as well as other fresh fruits and vegetables in season; the garden center staff can provide you with all the information you need to start your own backyard orchard. As an added bonus, relax in their tasting room featuring scenic views of the orchard. Guests can enjoy wines and hard ciders from Great Shoals Winery, crafted with apples, pears, and cherries from Boyer and other local producers.
Hollabaugh Brothers Fruit Farm & Market - the year-round retail farm market sells a variety of home-grown fruits and produce -- from asparagus in the spring to strawberries in May and apples & pears in the fall. Visitors especially love the Bin Porch where they can fill their own bag with mix and match varieties of fruits, including more than 20 varieties of apples in season, for one low price. The more you buy, the lower the price per pound you pay! The Bin Porch opens during peach season and stays open through apple season and into the winter as long as there are apples to sell. TIP: Be sure to check their website for current availability.
U-Pick Farms
We've organized our U-pick locations by season and item you can pick to taste these delicious fruits and vegetables at their peak. Find more farm stands and markets, along with a produce availability chart in our Local Food, Farm & Outdoor Attractions Guide.
Fall
Beans - Oak Grove Farms
Apples - Paulus Orchards, Strites Orchard Farm Market & Bakery, Boyer Nurseries & Orchards, Hollabaugh Bros. Fruit Farm & Market
Pumpkins - Paulus Orchards, Strites Orchard Farm Market & Bakery, Paulus Farm Market, Maplewood Farm Market, Warehime's Pumpkin Patch
Sunflowers - Warehime's Pumpkin Patch
View our fall fun page for more fun things to see and do.
Winter
Christmas Trees - McCurdy's Tree Farm & Landscaping, Conifer Hill Tree Farm, Conaway's Pine Haven Farm
View our winter seasonal page for more fun things to see and do.
Summer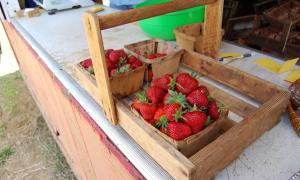 Strawberries - Strawberry Lane, Strites Orchard Farm Market & Bakery, Oak Grove Farm, Paulus Farm Market, Paulus Orchards, Maplewood Farm Market, Bricker's Strawberries (only open in June)
Blackberries - Strites Orchard Farm Market & Bakery, Paulus Orchards, Threefold Farm, Yellow Hill Farm
Raspberries - Strites Orchard Farm Market & Bakery, Oak Grove Farms, Threefold Farm, Yellow Hill Farm
Sweet/Sour Cherries - Strites Orchard Farm Market & Bakery, Boyer Nurseries & Orchards
Peas - Oak Grove Farms
Blueberries - Strites Orchard Farm Market & Bakery, Paulus Orchards, Boyer Nurseries & Orchards, Hollabaugh Bros. Fruit Farm & Market, Yellow Hill Farm
Flowers - Strites Orchard Farm Market & Bakery, Paulus Farm Market, Threefold Farm, Yellow Hill Farm
Herbs - Yellow Hill Farm