Cumberland Valley has long been known as a transportation hub. Intersected by the Great Road, the county has a long heritage of hospitality as taverns dotted the rolling farmland to accommodate early travelers.
In 1798 Carlisle, the county seat, had 24 taverns and a population of less than 2,000. Records show that at least 55 taverns have stood in Carlisle, scattered throughout the sixteen block area of old town. Of these taverns, 45% were stone, 24% log, and 15% were brick. Only about 10 of these buildings still stand today.
Walnut Bottom Road, a 20-mile stretch of free road between Carlisle and Shippensburg, was very popular with freighters (Wagoners) and drovers. Originally following an old Indian trail, this route was heavily traveled because it was not a toll road like the Great Road. By 1825, there were 15 taverns along this route.
The oldest town in Cumberland County, Shippensburg, was established by Edward Shippen in 1733 on the main road from Philadelphia to Pittsburgh. By 1820 it had a population of 1,410 with 13 taverns. By 1840, after the coming of the railroad in the late 1830s, that number dropped to eight. A toll booth for the Harrisburg/Chambersburg Turnpike stood near the intersection of Walnut Bottom Road and King Street (the Great Road as it passed through the town.)
The information below was compiled by the Cumberland County Historical Society. Photos, unless otherwise noted, were also provided by the Cumberland County Historical Society. To learn more, stop by History on High - The Shop, to purchase Taverns of Cumberland County Pennsylvania: 1750-1840.
Carlisle to Shippensburg
The Western part of this two leg tour winds through rural farmlands along Walnut Bottom Road. Most of the taverns are private residences. Please respect the privacy and property of these former taverns. Download now. Additional information can be found for taverns below, as well as a list of additional taverns not included in the brochure. See Tavern Tours East - Carlisle to Dillsburg.
Two Mile House - 1189 Walnut Bottom Rd, Carlisle 17015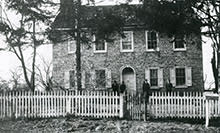 Also known as Sign of the Mermaid. The land was patented in 1793 by Ephraim Blaine: in 1798 the land was owned by Blaine, John Steele and James and John Hunter. James Given purchased 194 acres in 1814 from the estate of John Steele and in 1816 an additional 113 acres from James Hunter. Given built the current two-story stone structure around 1820, previously it may have been a very simple structure, likely made of logs. He is listed with a tavern stand on the 1826 tax list, and continued to operate his tavern into the 1850s.
Tavern Keepers: John Hunter (1799), William Eaken (1802) and Robert Armstrong (1805).
Currently, the tavern is owned and operated by the Cumberland County Historical Society. The Tavern is open during special events and tours can be scheduled for groups of ten or more. 
Mount Rock - 2799 Ritner Highway, Carlisle 17015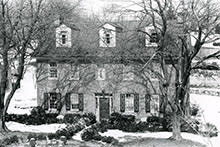 This tavern was licensed as early as the 1740s, but not in the current building. It is believed to be the second oldest tavern in Cumberland County, after the Hendricks Tavern in present-day Camp Hill. Mount Rock Tavern is the first surviving tavern building on the Great Road. Robert Dunning claimed the property in 1735. John Miller bought 500 acres in 1766. In 1798 Miller placed an ad to sell the property: the original building on the property, a two story stone structure, a log house, a log kitchen, a still house and a spring house on a large never failing limestone spring. The sale did not occur and Miller again tried to rent the property in 1818 including 100 acres, a distillery, a blacksmith shop and dwelling house, and the tavern. By 1833 the stone tavern was gone and the current brick house stood in its place. John Trego applied for a tavern license in 1833. The current building is a traditional center hall design with one room to the west and two rooms to the east on the first floor. The current owner has reconstructed a cage bar in the western room.
During the Whiskey Rebellion in 1794, troops marching west camped at the tavern. Miller applied for redress for a number of items taken during the troops' stay. During John Wilt's time he changed the name of the Sign of the Spread Eagle. Daniel Goebel called it the Sign of the Horse. The property was listed for sale in 1825 with 451 acres, 2 distinct farms, tavern house, stone shed, stone stable, log barn, dwelling house, blacksmith shop and distillery.
Tavern Keepers: Widow Tennant (1752), John Miller (1759, 1794-1800, 1820-1825), Robert Darlington (1770s), Robert Semple (1782-1793), John Wilt (1801-1806), Daniel Goebel (1808-1811), John Woodburn (1812-1817), John Bigler (1820), Martin Bibhauer (1826), Jacob Beltzhoover (1829) and John Trego (1833).
Dunlaps - 3301 Ritner Highway, Carlisle 17015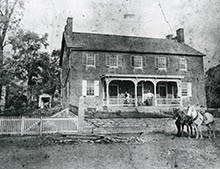 The original portion of the building included the three bays to the right. It also originally included a large center hall with two large rooms on each floor. No tavern license could be found after the 1790s until 1826 when John Dunlap applied for one. The tavern continued in operation until at least 1847. The building is now an apartment complex.
Tavern Keepers: James Dunlap (1826-1830) and John Dunlap (1833-1835+).
Sign of the Indian King - 2155 Ritner Highway, Shippensburg 17257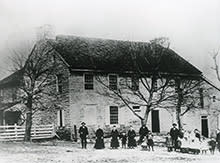 In 1802, Nicholas Stough purchased 200 acres of land from James Lowrey where Stoughstown is now located. The original tavern contained two rooms on each floor with back-to-back corner fireplaces. John Stough took over the tavern in 1813 and added the stone section on the left of the present building.
A village grew up around the tavern and was named for the Stough family. John Stough became the post master in the 1820s. He kept the tavern until his death in 1839. The property was advertised for sale in 1842 including a two-story stone house and kitchen, a large bank barn, two frame stables and other out houses.
In more recent history, the tavern was operated as a Bed & Breakfast.
Tavern Keepers: Nicholas Stough (1802-1813) and John Stough (1813-1839).
Sign of the Spread Eagle - 427 E. King St, Shippensburg 17257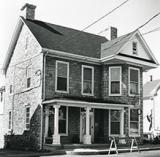 This two-story stone building was built about 1780. Robert Porter bought the lot from Francis Campble in 1795. Stephen Cochran purchased it in 1824.
Tavern Keepers: Robert Porter (1789-1824) and Stephen Cochran (1825-1842+).
Widow Piper's Tavern - E. King St & S. Queen St, Shippensburg 17257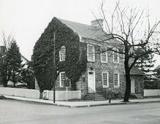 The structure was built in 1735 by Samuel Perry and was used as his family dwelling. In 1740 it was being used as a tavern run by a widow, Janet Piper. Francis Campble's 1740 journal notes, "The stone house of Samuel Perry in which the Widow Piper now keeps tavern together with than of Daniel Duncan, just finished, a good substantial two-story houses." He mentions the tavern again in 1741. Janet Piper's 1750 license is the oldest surviving tavern license in the county records.
In 1750, Cumberland County was formed and the tavern was then used as a court house for one year between 1750 and 1751, at which time the court house was moved to Carlisle. Later in 1819, the building again became a family dwelling and was so until it was purchased in 1926 by the directors of the Beistle Company. They turned over the old Court House to the Civic Club in 1927 for the purpose of preservation and maintenance.
Brewsters Tavern - Walnut Bottom Rd & Firehouse Rd, Walnut Bottom 17266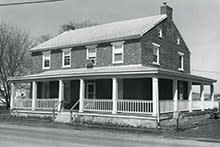 Also known as the Sign of the Union Flag and Parks Hotel. The first of the Walnut Bottom Road taverns still standing is the Brewster tavern in Jacksonville (Walnut Bottom). The original log building was replaced with the current brick structure in 1855 when it was known as Park's Hotel. Henry Cooper obtained the land from Peter Thrush in 1799. Henry Cooper applied for a tavern license in 1801 on the Great Road and indicated in his application that he had previously (1802) operated a tavern five miles from Shippensburg known as the Sign of the Union Flag. Cooper sold the property to Simon Ross in 1807. James A. Mitchell was in possession of the property in 1812. Charles Brewster bought the property in 1816 from Samuel M. Ross.
James McFarlane's received a tavern license in 1831; McFarland died in 1833 owning 44 acres and a large two-story dwelling house, weatherboarded and occupied for many years as a tavern with extensive stabling, two tenant houses and a blacksmith shop. The property was sold to Thomas Brewster. In 1833 James Brown applied for a tavern license stating that he was going to operate a tavern in the double two-story house which has been kept for 20 years as a tavern by Charles Brewster, McFarlane and others and now occupied by Andrew Heagy. Brewster sold the property to William Parks in 1839. Parks's son took over the business and built the new hotel in 1855. It had closed by 1872.
Tavern Keepers: Henry Cooper (1801-1807), John House and James Gray (1807), John and Charles Gray (1808), John Torrance (1810), Robert Douds (1810-1814), Samuel M. Ross (1814), Joseph Pearson (1815), Charles Brewster (1816-1821), Jacob Stough (1821), Thomas Brewster (1823-1827), James McFarland (1828-1830), Andrew Heagy (1832-1833), James Brown (1833), Peter Thrush (1834-1835), John H. Kelso (1836), William Parks (1839-1855) and Samuel Parks (1855-1862).
Brick Tavern at Silver Hill - 1777 Walnut Bottom Rd, Newville 17241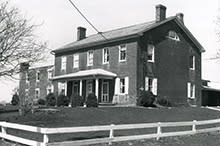 This two-story brick structure was built by Henry Snyder in 1824. It is located on the hill just west of Centerville. It is a large imposing house built between 1820 and 1824. The wagon making and blacksmith shop on the site have been replaced with a large barn with three cupolas and other outbuildings.
The site of the tavern was especially convenient for wagoners since they could get an easy start in either direction when they were ready to leave. In 1832, its use as a tavern terminated and William Gillelland converted it for use as his home. During the Confederate Invasion of 1863, the site was used for a time by Confederate General Ewell. Two local men were interrogated there after they were detained on suspicion of spying for the Union.
Tavern Keepers: Michael Wise (1824-1825), Samuel Lamb (1826-1829) and John Gregory (1829-1832).
Plough and Sheaf of Wheat - 1879 Walnut Bottom Rd, Newville 17241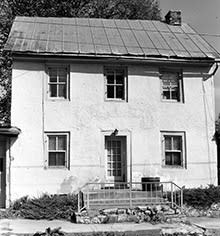 The two-story stucco over stone building was a small 25 feet square building when constructed. The only tavern keeper was Benjamin Smith who acquired the property including 45 acres in 1803. He continued to operate the tavern until about 1830. There is some question regarding when the tavern was built. According to family lore, Smith built it, but records show he acquired it in April of 1803 and was granted a tavern license in May of that year. It is possible there was another building on the site, possibly the log house next door (also on the property) that was originally used for the tavern or that the stone building was already there when Smith purchased the property from Thomas Norton.
Tavern Keeper: Benjamin Smith (1803-1830).
Weakley's Tavern - 2675 Walnut Bottom Rd, Carlisle 17015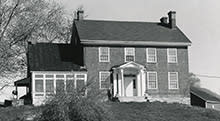 Also known as Brick Tavern and Pennsylvania Coat of Arms, the Weakley house is significant architecturally and historically as the earliest extant brick tavern house in western Cumberland County. The 1798 glass tax describes the house as a two-story brick structure with a one-story brick kitchen, stone mill house and a stone smoke house. The house retains many of its original features and recently underwent extensive restoration. The oldest section of the house is the one and one-half story section on the west side.
Joseph Islet applied for a license in 1805 in the old stand of Samuel Weakley. Robert Walker requested a license in 1806 in the house called "Walnut Bottom" formerly occupied by Mr. Isett. In 1809, Walker called it the Brick Tavern and in 1812 he called it the Pennsylvania Coat of Arms. An old post card of the building called it the Centerville Hotel.
Tavern Keepers: Samuel Weakley (pre 1805), John Isett (1805), Robert Walker (1806-1809), John Weakley (1810-1826) and James Weakley (1826-1833).
Cumberland Hall - 2408 Walnut Bottom Rd, Carlisle 17015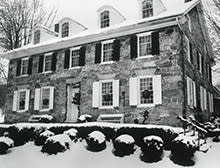 Also known as Stone Tavern or Stone House, this two and one-half story stone dwelling was built by James Moore in 1788. James Moore died in 1814 and his executors ran the following ad in Kline's in 1815: "To be rented that noted tavern stand belonging to the estate of James Moore, Esq. deceased situate in Dickinson Township about eight miles from Carlisle and lying on the Walnut Bottom Road, the route now used by the Mail Stage from Philadelphia to Pittsburgh. The tenant will have the privilege of fire-wood and of farming about 70 or 80 acres of excellent cleared land. At the present the tavern is occupied by Mr. Daniel Smith; also a Blacksmith shop together with a small dwelling house and garden, near the tavern now in the tenure of Jacob Worley."
James Moore was indicted in 1812 for keeping his office as a justice of the peace in the tavern. In 1827 the tavern was the site of a Camp Meeting for Christians of every denomination. The tavern remained in business until 1885.
Tavern Keepers: William Eaken and Benjamin Smith (1798), Samuel Galbraith (1801), Stephen Foulk (1803), Jacob Voight (1804), James Long (1805), James Moore (1807, 1809), Robert Walker (1810), Andrew Eakin (1811-1812), John Carothers (1813), Daniel Smith (1814-1815), Jacob Gehr (1815), Stephen Cochran (1816-1818), John Boileau (1822), David Ferguson (1823), Jacob Switzer (1824-1827), Juliana Switzer (1829), George Wolf (1830-1834), Joseph Stayman (1836-1837) and Jacob Treg (1838-1947).
Additional Taverns
The following taverns are not listed on the brochure.
White Horse - 2 miles from Carlisle
Philip Weaver's 1817 petition stated that he was in the former John Hunter tavern on the Great Road, two miles west of Carlisle. John Hunter had formerly been at Two Mile House.
Tavern Keepers: John Hunter (1809-1813) and Philip Weaver (1817-1818).
Cumberland Wagon - Location likely at Burnt House Road, Carlisle 17015
Also known as Sign of the Wagon. This two-story stone house was 36'x27' according to the 1798 Glass Tax. John Garber sold 47 acres adjoining the land of Andrew McCallister to Joseph Showalter in 1795. Showalter sold the property to Daniel Cerfess. The tavern has since been demolished.
Tavern Keepers: John Garber (1793), Daniel Cerfass (1794-1802), Mary Cerfass, widow (1802-1810), Jacob Cormany (1812) and John Paul (1830-1836).
Grand Turk - 3209 Ritner Highway, Newville 17241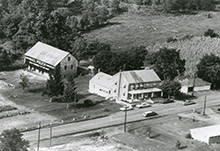 A traveler in 1810 described her stay, "It is a log hut built across the road from the tavern for MOVERS - that the landlord need not be bothered with them...We have a good fire, a long dirty table, a few boards nailed up for a closet, a dozen long boards in one side and as many barrels in the other - two benches to sit on, two bottomless chairs and a floor containing dirt enough to plant potatoes."
Tavern Keepers: Jacob Palm (1799-1835) and Jacob Palm Jr. (1835+).
McCracken's Tavern - 14 miles from Carlisle at what is now Stoughstown or Springfield
It is unclear where this tavern was located. It was first kept as a tavern c. 1767 by William McCracken.
Sign of the Rising Sun - Hammond Road, Shippensburg 17257
An 1818 road draft for the proposed Hammond Road shows McCollom's property on the southwest corner of Hammond and Mt. Rocks Roads. (Mount Rock was another name for the Great Road.)
The tavern keeper, John McCollom, was indicated in 1810 for keeping a tippling house (an unlicensed tavern) and for threatening to shoot John Right, Jr. of Southampton Township. McCollom died in 1814.
Tavern Keeper: John McCollom (1805-1814).
The Sign of the Indian Queen Tavern - Reported to stand across from the Shippensburg toll booth
Francis Campble came to Shippensburg in 1737 having made the acquaintance of Edward Shippen. Little could be found regarding the history of the tavern, but Rev. Thomas Barton (St. Johns Episcopal Church in Carlisle) recorded in his journal staying at the Indian Queen, kept by Mr. Campble in July of 1758. John McCurdy (local historian) wrote that Mrs. Nancy Piper in 1821 kept a tavern at the site.
Tavern Keepers: Francis Campble (before and after 1758) and Agnes (Nancy) Piper (1818-1827).
Other Shippensburg Borough Taverns:
• Unknown tavern - Lot 11, Shippensburg 17257
• Reynolds - Lot 18 on E. King St, Shippensburg 17257
• General Washington - Lot 32, 332 E. King St, Shippensburg 17257
• Unknown tavern - Lots 55 or 56, E. King St, Shippensburg 17257
• Sign of the Blue Bell - Lot 61 or 62, E. King St, Shippensburg 17257
Lee's Tavern - Lees Cross Rd, Shippensburg 17257
This tavern was a log structure on the south side of the road. It was built by a man named Conrad Muterspaugh from whom Mr. Lee purchased it prior to 1819. When Sarah Lee left the Leesburg location, she operated a tavern in Springfield and then the Brick Tavern on the Walnut Bottom Road in 1834.
Tavern Keepers: George Lee (1817-1824), Sarah Lee, widow (1824-1830), William Maxwell (1831-1835) and Francis T. Neir (1836-1839).
Brick Tavern - Five miles from Shippensburg
This two-story brick structure was purchased by Charles Brewster with 88 acres from Samuel M. Ross in 1816. Brewster died in 1823 and the property was divided among his children. The portion with the tavern went to Margaret and her husband Jacob Stough. The property was later purchased by David Shields in 1835. The property is also associated with Dr. Nevin. According to the 1858 Map of Cumberland County, it was located across the road from Brewster's Tavern. 
Sign of the Golden Lamb - Jacksonville
This two-story log structure has been demolished. John McCashlin's property was sold at a sheriff's sale in 1825 with two acres and a log house and log stable. Jane McCashlin bought the property and kept it for the rest of her life. Her administrators sold it to Margaret A. Waddle in 1863. Waddle is shown as the owner in 1872 on the Atlas of Cumberland County.
Tavern Keepers: Stephen Cochran (1821), John McCashlin (1822-1823) and William Stough (1823-1824).
Byerly's Tavern - 13 miles from Carlisle and 7 miles from Shippensburg
This two-story log structure was 25'x24' according to the 1798 glass tax. John Skinner's 1795 application describes a lately built large house on Walnut Bottom Road seven miles from Shippensburg and that there is no other tavern on the road excepting one six miles from Carlisle (referring to Cumberland Hall). By 1798 Andrew Byerly had purchased the property from Skinner. In 1800 Byerly was sued by Skinner for debts and he petitioned to be declared an Insolvent Debtor. In 1801 he advertised for sale or rent the well-known stand for a Tavern upon the Walnut Bottom Road now in the tenure or Robert Linch. In 1802 William and John Skinner sold the Skinner's or Byerly's Tavern at public venue together with his 113 acres of land to Peter Fry who lived there until his death in 1825. The property was then sold to John Severs. By 1879 it had been torn down.
Tavern Keepers: John Skinner (1795), Andrew Byerly (1798-1800), Patrick McKinney (1803), Thomas Evan (1804), Thomas Norton, Jr. (1808), Patrick McKinney (1810), Peter Fry (1811) and Michael Hawk (1814-1820).
Long Meadow Hotel - Walnut Bottom Rd and Quarry Hill Rd, Shippensburg 17257
Also known as Esyter's Tavern and Sign of the Black Horse. This two-story stone building built in 1780 by J. Ewing. The original building has been removed and replaced with a late Victorian style structure, but the original 1780 date stone has been retained in the new building. David Seaver bought the property in 1830 from Ewing and sold it to Elias B. Eyster in 1842. By 1858, Eyster had changed the name to Long Meadows Hotel. The hotel was still standing in 1901 according to a county history written at that time.
Tavern Keepers: John Hays (1794), William McDonald (1803-1806), Charles Brewster (1809-1811), George Wilson (1812-1815), Stephen Cochran (1818-1820), Joseph Pearson (1821), George Wilson (1822-1829), Samuel Lamb (1819-1820) and Elias B. Eyster (1842+).
White Bear - Hockersville
Also known as Rising Sun, this tavern is listed in Hockersville, which is difficult to place exactly. It was a brick structure probably located on the north side of Walnut Bottom Road. Jacob Hocker purchased the land in 1814 from John Bisbing and then applied for a tavern license. In his 1816 petition he called it the Sign of the White Bear. Charles Bisbing leased the property in 1819. Jacob Hocker sold the property to Martin Hocker in 1820. In 1826, Peter Hocker applied for a tavern license indicating that it was the tavern recently occupied by Peter Grove. The stand consisted of a two-story dwelling house and kitchen with necessary out house and a large convenient stable. Anthony Greiner purchased it in 1828. The 1835 tax list shows Greiner with a brick house, log barn, and a lot with a log house and stable. By 1847, John Hocker had 111 acres, brick and frame house and a log barn. The 1858 Atlas of Cumberland County shows the Hockersville Hotel on the north side of the road.
Tavern Keepers: Jacob Hocker (1820), Michael Wise (1823), Joseph Pearson (1824), Peter Grove (1825), Peter Hocker (1826-1828), Anthony Greiner (1828-1838) and John Hocker (1838+).
Brick Tavern in Sporting Hollow - 1805 Walnut Bottom Rd, Newville 17241
This two-story brick structure is now used as an apartment house. Samuel Beetem acquired the property in 1808 and it is believed that he built the brick tavern.
In William Hite's application he stated that he had rented a large two-story brick dwelling house, kitchen, out houses and large stable occupied as a tavern for several years by Samuel Beetem. John Philips purchased the property in 1826. The property was sold by Hathorn Freeland to Hugh Wallace in 1831. In 1855 it was sold to Jacob Redsecker who was the last owner of the property to operate a tavern there. The tavern was used for the seat of Penn Township's government after the new township was created from the western section of Dickinson Township in 1860.
Tavern Keepers: Samuel Beetem (1818-1820), William W. Hite (1823-1826), Andrew Heagy (1830), Hugh Wallace (1831-1834), Andrew Bushman (1835-1837), Andrew Miller (1838-1839) and Jacob Redsecker (1855-1860+).
Wise's Tavern - A few hundred yards west of Cumberland Hall (2408 Walnut Bottom Rd, Carlisle 17015)
A now demolished two-story log structure was kept by Jacob Wise, 1822-1829. He applied for a license in 1821 stating that the house was on the opposite side of the road from where John Meisell formerly lived. He purchased the property from John Shaffer and went to considerable expense repairing the house and making necessary alterations therein. He built a large shed and sunk the well considerably deeper than it was when he took possession. In 1822 a tavern license was approved. In 1827 when the tavern was offered for sale by Wise, it was described as a 120-acre site with a two-story log dwelling house occupied as a tavern.
Tavern Keeper: Jacob Wise (1822-1829).
Five Mile House - Walnut Bottom Rd, Carlisle 17015
The tavern was a long low-storied weatherboarded structure with a long porch in front, with dormer windows in the roof on the western slope of a hill, five miles from Carlisle on the Walnut Bottom Road, immediately west of the property of the late George Kissinger. In modern times it was known as Kenyons for Samuel Kenyon who was the last owner whilst being occupied as a tavern.
Tavern Keepers: Philip Kosht (1826), John Myers - former sheriff of the county (1827-1829), John and/or Jacob Ricker (1833-1836), Robert Y. Smith (1837), Elias Gardner (1839-1840), John Myers (1840-1844) and Samuel "Squire" Kenyon (1846-1949).
Green Tree Tavern - Burnthouse Rd, Carlisle 17015
This tavern burned c. 1833. An 1819 road draft shows the location of the tavern and a blacksmith shop. Thomas Trimble purchased the property from his father-in-law, Samuel Woods, Sr. in 1814. Trimble advertised in the American Volunteer in 1920: "...that commodious tavern stand, Sign of the Green Tree, situated on the Walnut Bottom Rd, Dickinson Township, four miles from Carlisle, at present occupied by Joseph Pearson. Also a blacksmith shop and house at the same place, the whole will be let together or separately as may suit tenants." Trimble suffered financial losses and petitioned to be declared insolvent in 1821. Following the fire in 1833, the property was sold by the sheriff to Samuel Woods, Sr.
Tavern Keepers: Joseph Pearson (1820), John Kealy (1824) and David Ferguson (1824-1825).