Tina Weyant's passion for growing grapes and making wine is obvious from the moment you speak with her. She and her husband, Jeff, started a vineyard on their farm 10 years ago that has morphed into The Winery at The Long Shot Farm, Cumberland Valley's first winery to grow, process, and bottle their own grapes.
In 2013, the Weyant's obtained a federal license to produce commercial wine. After that, the family worked hard to ramp up production and build inventory culminating in the opening of their tasting room in March 2019.  Housed in a renovated stone and wood barn dating back to the early 1800s, the cozy and inviting indoor space also offers a large outdoor deck allowing visitors to savor both their wine and picturesque views of the North Mountain and Cumberland Valley. The renovations were funded, in part, by a Tourism Product Development Grant from the Cumberland Area Economic Development Corporation (CAEDC).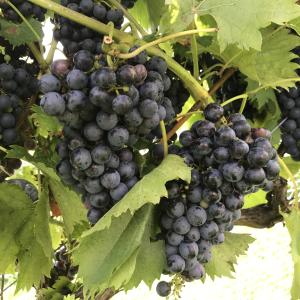 The farm is located in the Cumberland Valley Viticulture area with shale soil that is better for fruit and grape growing instead of the limestone soil that is typical of most of the Valley. Tine notes that they use French-American hybrids and vinifera grapes that are more disease resistant and winter hardy, making them a better option in this climate. According to Tina, the grapes ripen and are hand-harvested in September or October, after they are tested for the correct sugar content. The harvest starts very early in the morning and the grapes are processed on-site the same day for each batch that is harvested.
Tina says that guests can enjoy "some interesting blends because we don't have that many varieties yet. We have our own blackberries that we grow here and we purchase apples from Adams County. And, so we have apple wine and blackberry wine. We blend some of them with our grapes as well to offer some different tastes." She also notes that the wine slushies are a customer favorite.
The Weyant's venture that started in 2009 now features 13 acres of grapevines and fruit crops across three family-owned farms and they continue to expand every year. In the future, the Weyant's plan to offer more wines on the very sweet spectrum in response to customer demand. They also want to partner with one of the local breweries to sell craft beer. Visitors will not want to miss this must-stop destination while traveling in the Cumberland Valley.