Cumberland Valley's lodging options make it easy for you to find your home-away-from-home during your visit. Our hotels fit every style and budget and our unique B&Bs are a great choice for travelers seeking a more intimate and personalized experience.
But if you are looking for something out of the ordinary, settle in at one of these charming locations for a fun weekend getaway in Cumberland Valley.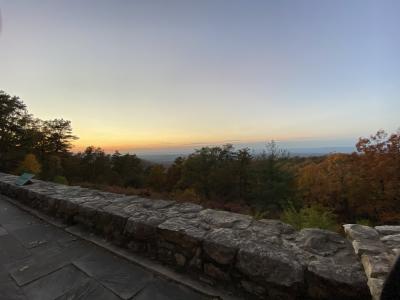 Spend the weekend at this historic mansion atop South Mountain. Located in Kings Gap State Park, the elegant mansion greets you at the end of a scenic and winding 4-mile drive to the top of the mountain.
The mansion was built as a summer home around 1908 and was designed to resemble an Italian villa with its flat roof, huge windows, and flagstone terrace. It is built of native Antietam quartzite and is approximately 200 feet long with 32-rooms. The mansion offers sweeping views of the Cumberland Valley that are impressive any time of the year.
Guests will enjoy a tranquil escape among the wide-open spaces and 25 miles of hiking trails within the park. Relax in the garden area located directly across from the mansion. Surrounded by a low stone wall, the garden is divided into three sections: an herb garden, a wildlife habitat garden featuring native plants, and a compost demonstration garden. The peaceful setting and vibrancy of the colorful blooms are a perfect way to slow down and reconnect with nature.
Historic downtown Carlisle is a short 15-minute drive from the mansion. Here visitors can enjoy strolling from shop to shop along tree-lined streets, dining at local restaurants, and enjoying a drink or two at a number of locations along the Cumberland Valley Beer Trail.
Guests can book weekend stays at the mansion from April through mid-November. There is a two-night minimum stay (Friday & Saturday nights). This historic building is not short on amenities. Continental breakfast is included. All suites and rooms come with a queen bed (plus a queen sofa bed in the suites), mini-fridge, Keurig coffee maker and coffee/tea, iron and ironing board, hairdryer, linens, and toiletries. Each two-person room features a private full bathroom with a clawfoot tub. Each four-person room features a private full bathroom with a clawfoot tub or shower. To book a room, call 888-PA-PARKS or visit https://pennsylvaniastateparks.reserveamerica.com/.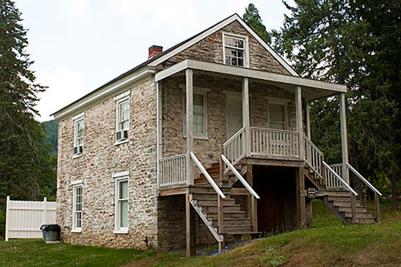 If you want to enjoy a rustic experience but seek more amenities than those offered at a campground, the Paymaster's Cabin at Pine Grove Furnace State Park is the perfect option. Available for rent year-round, this small two-story, historic stone building has been renovated into a modern lodging for six people.
The main floor features a modern kitchen, dining area, and living area with a couch, loveseat, chair, and end tables. The kitchen and dining area have a table, chairs, sink, refrigerator, stove/oven, and microwave. Two bedrooms and a full bathroom are on the second floor. One bedroom has a queen bed and the other has two sets of bunk beds.
Guests should bring sheets, blankets or sleeping bags, pillows, and linens; all cooking, serving, and eating utensils (such as a coffee pot and toaster); plus all toiletries. Fans and air conditioners are provided in the summer. The cabin is not equipped with a telephone, internet, cable, TV, or radio making it easy for you to unplug and unwind.
In the evenings, enjoy an outdoor dinner at the picnic table followed up with s'mores at the fire ring for dessert.  If it's too warm for a fire, head to nearby Twirly Top for some of the best soft-serve ice cream in the area. Pick up any forgotten essentials at the park's General Store (open seasonally) which is right across the cabin.
Guests will find the 696-acre park steeped in natural and historical features. Swim, paddle, or fish at two mountain lakes… or just sit quietly on the sandy beach with a book. Bike on the two-mile Biker/Hiker Trail or hike along several miles of trails, including the iconic Appalachian Trail which runs through the park.
Combine your outdoor adventures with some history. Located in a 200-year-old grist mill, the Appalachian Trail Museum (open seasonally) is just a short walk from the cabin. It portrays and preserves the history and the physical, emotional, and spiritual experiences of the A.T. It is the only museum in the country dedicated to hiking.
Two miles northwest of Pine Grove Furnace State Park, Camp Michaux has been a church camp, Civilian Conservation Corps Camp (CCC), a secret POW camp during WWII, and a working farm with links to the iron industry in the late 18th, 19th, and 20th centuries. Download the self-guided walking tour and follow the trails to each marker to learn more about the interesting history of this quiet location nestled in the ridges of the South Mountain. Along the way, you will see the remains of buildings from the POW era.
The cabin has a two-night minimum and a 14-night maximum stay in the non-peak season. In the summer peak season, from the second Friday in June to the third Friday in August, rentals are weekly (Friday to Friday). To book a room, call 888-PA-PARKS or visit https://pennsylvaniastateparks.reserveamerica.com/.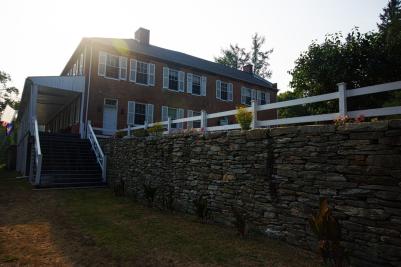 Also located in Pine Grove Furnace State Park, the Ironmaster's Mansion serves as a hostel, providing dormitory-style lodging for thru-hikers along the Appalachian Trail as well as for the general public. The historic mansion was built in 1829 and was renovated and re-opened to the public in 2011.
There are two bedrooms -- one for men and one for women – each with 7 bunk beds. There are ADA-compliant shared restrooms -- one for men and one for women -- on the first floor. Two additional bathrooms are on the second floor. In spring 2018, the hostel debuted a private suite that may be booked independently or as part of a larger wedding, meeting or special event being hosted at the Mansion. The upstairs bedroom suite has a fully renovated bathroom, period furnishings, microwave, mini-fridge, and a television.
Accommodations also include a kitchen plus dining and living areas. Guests have access to a washer and dryer. The large covered porch invites you to settle down to enjoy the scenic views and cool mountain breezes.
Guests can enjoy all the outdoor recreational opportunities available in Pine Grove Furnace State Park or travel to nearby Mt. Holly Springs to dine at Cassell's Grille or hike the trails at the Mt. Holly Marsh Preserve.
The Ironmaster's Hostel is operated by the Appalachian Trail Museum. During hiker season, the hostel is open daily from 5 pm to 10 pm for overnight stays. Reservations are not required but you can call at 717-486-4108 or inquire about availability.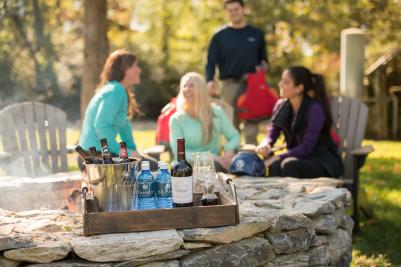 Treat yourself to a romantic weekend getaway full of pampering at Allenberry Resort. Located in the charming village of Boiling Springs, Allenberry is a premiere destination for relaxation and tranquility amidst 57 wooded acres. With 20 different lodging accommodations – ranging from rustic cottages to an elegant stone mansion to a scenic lodge -- the resort provides comfortable and luxurious rooms for every occasion. The grounds offer a number of amenities including an outdoor pool, on-site dining, theatrical and musical performances at The Playhouse, an outdoor pool, and access to the Appalachian Trail.
The resort is also one of only three Orvis-certified fly-fishing lodges in Pennsylvania. Experience fly-fishing at its finest along the world-renowned Yellow Breeches Creek, which runs through the resort, or along other nearby streams and creeks. Guests can also arrange to participate in a number of other outdoor recreation opportunities including trap shooting and sport clays, golf, rock climbing, and kayaking.
The on-site restaurant offers exquisite dining in an elegant but relaxed setting. Savor dishes created with locally sourced ingredients on Thursday through Sunday for dinner or for Sunday brunch. The menu is complemented with a nice selection of wine plus signature and seasonal cocktails.
While you don't ever need to leave the grounds during your stay, we encourage you to explore the surrounding village of Boiling Springs. Take a leisurely stroll around Children's Lake or shop at the nearby Village Artisans Gallery where you can find the best in American hand-made fine art. Load up on hiking or fishing gear at TCO Outdoors, where helpful staff will be sure you have everything you need for your outdoor adventure. Or sign up for their one or two-day fly fishing schools taught by instructor Dusty Wissmath.
Visit allenberry.com for current packages or call 717-543-4496 for more information or to make a reservation.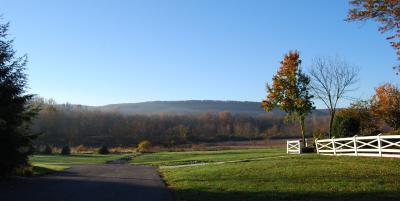 Nestled on over 300 acres, Linwood Estate's tranquil setting is ideal for a weekend getaway. With beautiful furnishings and specially selected linens, the upscale accommodations are designed for the comfort of each guest. Choose from rooms in the majestic and historic Mansion, the warm and inviting stone ranch Cottage, the beautifully restored Whitaker Farmhouse (across the lane from the estate), or the comfortable and charming South Mountain Suites. On the property, the Gardens are an inviting place to wander. Graced with Grecian-style sculptures, lovely roses, a small pond, and a waterfall hidden among the maze of flowers and foliage, it a beautiful spot for one-of-a-kind photos and the ideal place to reconnect with nature. While the serene setting feels far away from the hustle and bustle of everyday life, you are within a short drive of nearby hiking trails, wineries, restaurants, and shopping. 
Visit LinwoodEstate.com to inquire about pricing and reservations.