Cumberland Valley is the perfect spot for those travelers looking to try a new dish or flavor. Our restaurants offer delicious international cuisine as well as fresh and local fare straight from the heart of central Pennsylvania. Paired with our wines & ciders, your relaxing and delectable dinner will be one of the highlights of your visit. Or stop by our abundance of farm stands and markets to experience the bounty of Cumberland Valley. If you are feeling adventurous, try your hand at a cooking class, where you can savor the results of your hard work.
NOTE: Due to COVID-19 regulations imposed by the state, restaurants have limited occupancy for indoor dining. If possible, takeout is encouraged.
Trip Ideas
Dine Around the World: Introduce your palate to a variety of delicious culinary styles from around the globe at restaurants all located within a few short blocks at each other in Carlisle. Pick a few of your favorite from the list of 16 restaurants and go on a foodie adventure.
Fresh-Picked Fun: Spend a day enjoying some fresh-picked fun in Cumberland Valley. Some of the locations are open seasonally, but there are year-round options for fresh food.
Things to Do & Events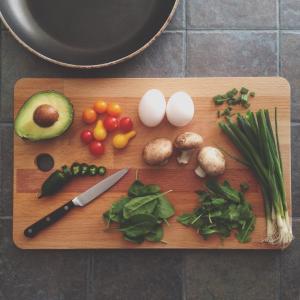 Cooking Classes: A huge variety of year-round cooking classes accommodate all skill levels and provide a fun and foodie-friendly experience.
New Cumberland Apple Festival: Held annually on the last Saturday of September in New Cumberland Borough Park.
PA Greek Fest: Held annually in mid-May at Holy Trinity Greek Orthodox Cathedral in Camp Hill.
Click here to check out a complete list of events.
Highlighted Restaurants & Wineries
Hellenic Kouzina Greek Cafe: Authentic Greek food at its finest. During the warmer months enjoy al fresco dining in their lovely courtyard.
1794 The Whiskey Rebellion: A strong emphasis on locally-sourced food and sustainability with a menu that reflects the roots of the community.
Yak 'N Yeti: Authentic Bhutanese and Nepalese food located in the heart of historic downtown Carlisle.
Tatiana's Restaurant: Mediterranean and Ukrainian cuisine.
Smoke & Pickles Artisan Butcher Shop: Combines the best of a traditional hometown butcher shop with the modern locally-sourced food movement. The menu is rooted in local and sustainable food and offers Old World charm with a refreshing twist of modern culinary artistry. 
The Winery at The Long Shot Farm: Offers more than 10 wines all made from grapes grown, processed, and bottled on-site.
Grand Illusion Hard Cider: The first cidery in Pennsylvania to have 100% of its front-of-house staff qualified as cider certified professionals.
Click here for a complete list of restaurants.
Highlighted Shops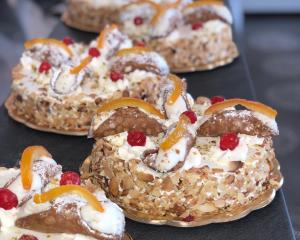 La Bella Sicilia: This authentic Sicilian bakery and gelateria uses the highest-quality ingredients to make items fresh daily, including homemade croissants, tiramisu, cannolis, beignets, cream puffs, eclairs, fresh bread, and more. A selection of gelato by the pint, quart, or gallon is also available.
Kitchen Shoppe: A gourmet superstore with over 20,000 items; offers over 200 cooking classes annually.
Mummert Chocolates: Gourmet milk and dark Swiss chocolate using only the highest quality ingredients.
Exquisite Chocolates of Carlisle: A chocolate boutique featuring some of the finest artisan chocolates from around the world.
West Shore Farmers Market: Tempt your taste buds with a vast selection from over 50 vendors who sell the freshest vegetables, fruits, seafood, meats, cheeses, dried foods, candies, plants, and baked goods.
Nothing Sweeter: Don't be fooled by the size of this small bakery. You will find a variety of delicious handmade baked goods including cruffins, gourmet cupcakes, eclairs, and more.
Brittle Bark: Their most recent brand, Cocoa Creek Chocolates, offers unique truffles and bars made by hand in small batches using premium, globally-sourced chocolates. Shop at Brittle Bark's Mechanicsburg location or stop by Cocoa Creek Chocolates' new location in Camp Hill.
Tastealotta: Try, taste, and enjoy the finest olive oils and vinegars from around the world. You'll also find flavored salts, pepper blends, rubs, and -- of course -- olives. The tantalizing and mouthwatering flavors will inspire you to take your cooking to the next level.