Here are ten Instagram-worthy locations to get the perfect picture of the fall colors. The entire route from Stops 1 through 10 almost creates a loop around the county that covers 102 miles of scenic roads brimming with the beautiful colors of Cumberland Valley's fall foliage. The nearby suggestions at each location allow you to explore even more of Cumberland Valley. Plan to complete the entire route or pick and choose your locations. And remember, the best time in Cumberland Valley for high color is mid-to-late October. The Pennsylvania Department of Conservation and Natural Resources will begin issuing its weekly fall foliage reports the last week in September. The detailed regional reports will continue through October and will be posted on their website.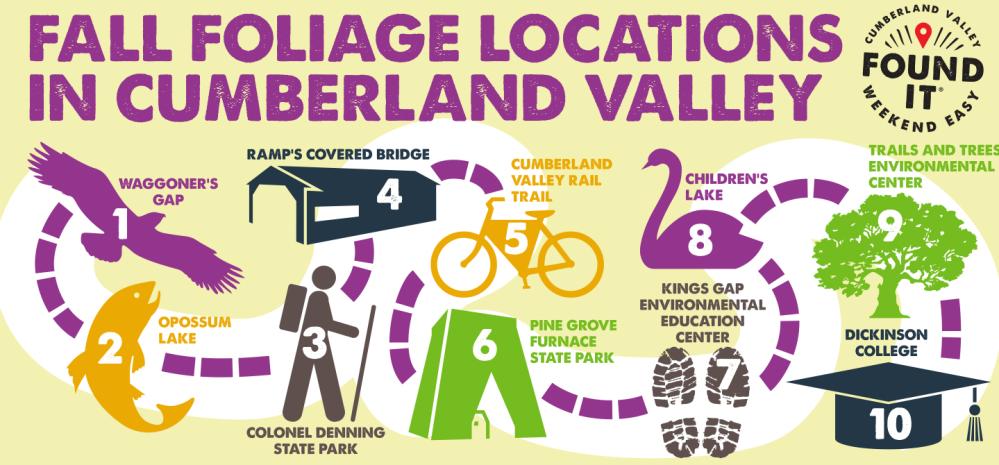 Waggoner's Gap Hawk Watch, situated on the Kittatinny Ridge, sees one of the largest concentrations of raptors in the United States. Two short trails lead to the top of a rocky outcrop where you can enjoy breathtaking views of the Valley. Or, for a longer hike in the woods, access the Tuscarora Trail from the parking lot.
Nearby Location: The Winery at the Long Shot Farm is a great stopping point between Waggoner's Gap and Opossum Lake. Purchase a glass or bottle of their wine and relax while sitting on their deck, which offers amazing views of North Mountain.
Stop 2: From Waggoner's Gap Hawk Watch take PA-74 South and PA-944 W to Opossum Lake. Total: 6.1 miles (11 minutes)
A four-mile trail for hiking and biking winds through woods and fields around this 59-acre lake. In addition to the fall colors, the trail is a great location to continue your bird-watching excursion. More than 140 species have been spotted in and around the lake.
Nearby Location: Meadowbrooke Gourds is nestled in the middle of a scenic 200-acre farm at the foot of the Blue Mountains and is the largest gourd manufacturer in the country. Shop from over 250 handmade gourds, take a create-your-own class, or schedule a behind-the-scenes tour.
Stop 3: From Opossum Lake drive to Colonel Denning State Park via PA-944 West and PA-233 North. Total: 14.3 miles (about 24 minutes)
Colonel Denning is a park of surprises, great beauty, and charm for the sightseer and nature photographer. The 273-acre wooded park nestled on the side of a mountain has a 3.5-acre scenic lake and excellent hiking trails. A strenuous hike on the 2.5-mile Flat Rock Trail rewards you with a beautiful 180-degree panoramic view of Cumberland Valley. 
Nearby Location: This rural section of the Valley provides winding back roads to explore. If you are looking for a rustic location to spend a few nights, try Dogwood Acres Campground, which offers cabin and trailer rentals for those looking for a camping adventure minus the camper.
Stop 4: From Colonel Denning State Park, head to Ramp's Covered Bridge in Newburg via PA-233 South and PA-641 West. Total: 16.2 miles (about 23 minutes)
This is the only covered bridge in Cumberland Valley still in use in its original location. It was built in 1882 and carries traffic across the Conodoguinet Creek. The bridge is located in a scenic country setting. You just might see an Amish horse and buggy riding along the road. 
Nearby Location: Jaymee Lee's Diner offers home-cooked food in a casual, friendly atmosphere with the added bonus of breakfast all day long and a seasonal walk-up window where you can order ice cream.
Stop 5: From Ramp's Covered Bridge, head to Newville Trailhead of the Cumberland Valley Rail Trail via PA-641 East. Total: 7.3 miles (about 12 minutes)
Hike or bike the 13-mile Cumberland Valley Rail Trail from Newville to Shippensburg. This easy out-and-back trail treats visitors to a corridor of woods and shrubs adjacent to farms and grasslands and is another excellent location for bird watching. The trail provides a quiet oasis awash in color.
Nearby Location: Laughlin Mill is another glimpse into the past. The three-story log structure with a water wheel served as a grist mill until 1896 and is one of the most photographed sites in Cumberland Valley.
Stop 6: From the Cumberland Valley Rail Trail, turn right onto PA-233 South to Pine Grove Furnace State Park. Total: 12.5 miles (about 22 minutes)
Enjoy the scenic ride through the Michaux State Forest which encompasses more than 85,000 acres in central Pennsylvania's South Mountain region. Look for oak species, red maple, black birch, and more. Pine Grove Furnace's 696 acres offer wildlife and nature enthusiasts a variety of activities. The Pole Steeple Trail provides yet another opportunity for stunning views of dazzling colors. Or hike along the Appalachian Trail. Photographers will want to capture the beauty of the orange, yellow, and red leaves reflecting along the two lakes at the park. For an authentic trail experience, stay the night at the Ironmaster's Mansion.
Nearby Location: Locally-owned and operated since the early 1950s, Twirly Top is a favorite spot for the locals to get ice cream (open seasonally).
Stop 7: From Pine Grove Furnace State Park, take PA 233-North and turn right onto Pine Road to Kings Gap Environmental Education Center. Total: 10.8 miles (about 23 minutes)
While you are climbing the winding mountain road to Kings Gap, stop at the pull-offs for fantastic views of the Valley. At the top of the mountain, you will find a stunning vista from the back porch of the 32-room, Italian villa-style mansion. 25 miles of hiking trails provide a great opportunity to see the Valley's intense fall colors.
Nearby Location: Across from the entrance to the park, Kings Gap General Store is the perfect place to pick up items for a picnic lunch at the park or to stop for refreshments after a hike.
Stop 8: From Kings Gap Environmental Education Center, follow PA-174 East to Children's Lake in Boiling Springs. Total: 14.3 miles (about 27 minutes)
Stroll around this seven-acre man-made lake surrounded by trees and enjoy a peaceful respite while you admire the lovely historic buildings of the charming village of Boiling Springs. 
Nearby Location: The Appalachian Trail runs along Children's Lake. Follow the white blazes past the historic Iron Furnace, through farm fields, and up South Mountain. After a gradual climb, you'll reach Center Point Knob, the original center point of the Appalachian Trail.
Stop 9: From Children's Lake, take PA-174 East and then PA-74 South to the Trails and Trees Environmental Center. Total: 9.6 miles (about 16 minutes)
Nestled on a hilltop, visitors can enjoy panoramic views of four counties at the Trails and Trees Environmental Center. Five trails meander through a forested area, leading to a stream at the bottom of a ravine.
Nearby Location: Paulus Farm Market exemplifies the spirit of fall with their u-pick pumpkin patch and pumpkin chunkin' cannon. In addition to local produce and homebaked goods, you can also pick up a variety of decorative gourds, cornstalks, mums, and Indian corn.
Stop10: From the Trails and Trees Environmental Center, take PA-641 West to Dickinson College. Total: 12.3 miles (about 24 minutes)
This beautiful, tree-lined campus, with its majestic limestone buildings, is adjacent to historic downtown Carlisle. Stroll along the paths of the Academic Quad and stop for a photo op on the steps of Old West (built 1803) or by the statue of Benjamin Rush, founder of the college and signer of the Declaration of Independence. Or get comfortable in the red Adirondack chairs and savor the glowing fall colors and crisp fresh air. (Photo credit: Joe O'Neill/Dickinson College)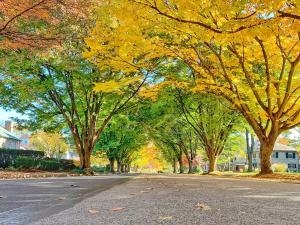 As a bonus, walk a few blocks over to the Mooreland neighborhood, where the tall trees along the sidewalks provide one of the prettiest street views in the Valley. The section on West South Street between Wilson Street and Belvedere Street is particularly spectacular.
Nearby Location: Downtown Carlisle is the perfect location to end your day. Enjoy savory food and delicious drinks at several local restaurants and craft breweries.
Other Suggestions
Take Route 34 through Mt. Holly Springs, up and over the mountains, and into the heart of Adams County apple country as you head toward historic Gettysburg and the Museum & Visitors Center at Gettysburg National Military Park.
On selected dates in October, take a breathtaking two-hour dinner cruise along the Susquehanna River on the Pride of the Susquehanna. The serenity of the river provides the perfect backdrop to see the beauty of Cumberland Valley's fall colors.
Click here for more information about additional outdoor locations to view the changing colors of the fall season.