Outdoor Activities
in Cumberland Valley
Discover and explore the serene and stunning landscape of the beautiful Cumberland Valley. Outdoor opportunities include over 54,000 acres and 200 miles of trails, three state parks, two state forests, and scenic waterways. If your passion is hiking, kayaking, birding, golfing, world-class fly-fishing, biking, seeking out breathtaking views, or simply being out in the sunshine, you'll find it all and more in the Valley. It's ok to want something easy.
In keeping with current guidelines to respond to COVID-19 in Pennsylvania, DCNR has implemented the following measures for its public lands and facilities:
State Parks and Forests
All DCNR lands including trails, lakes, rivers, streams, forests, roads, and parking areas are accessible statewide for recreation. Restrooms are available.
Masks are required to be worn indoors and outdoors if you are away from your home.
State Park and Forest Programs
Outdoor, in-person programs will resume with a limit of 40 participants per program. Masks and social distancing are required.
Virtual and self-guided programs will continue to be offered at parks and forests. All available programs will be listed on DCNR's Calendar of Events.
Large, DCNR-sponsored events remain canceled until further notice.
Visitor Centers, Interpretive Areas, Theaters
State park and forest visitor centers, offices, theaters, and interpretive wings will return to an occupancy limit of 75 percent of capacity.
Masks are required and social distancing and hand sanitizing will be encouraged.
Click here to see the latest updates.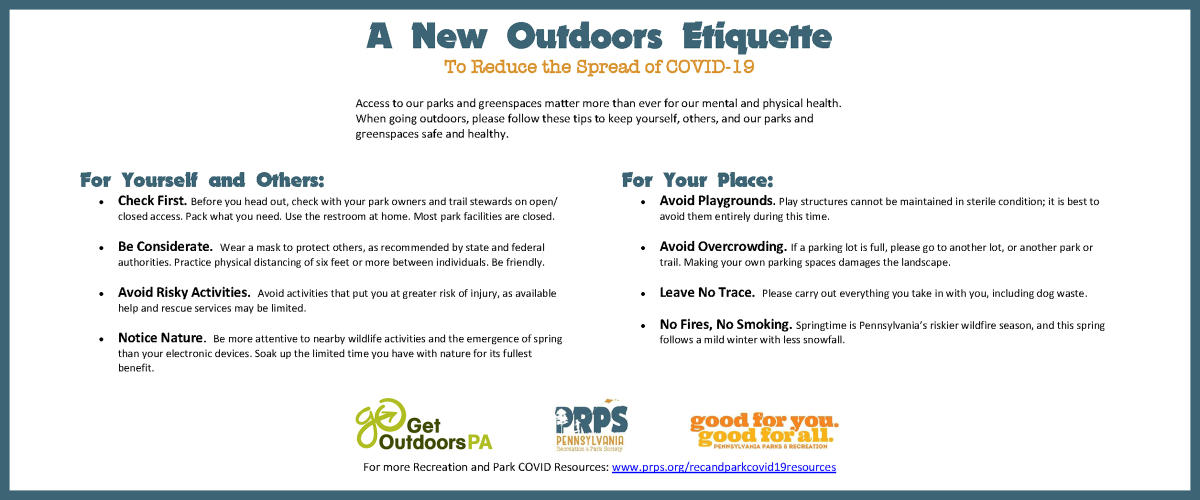 Action & Adventure
Get Outside & Let Loose