Top 10 Historical Sites in Cumberland Valley
The Cumberland Valley is rich in history dating back to before the Revolutionary War. Click here to find additional historical sites, special memorials, and self-guided tours.
Dedicated to "Telling the Army story...one soldier at a time," the expansive campus includes the Visitor and Education Center, the U.S. Army War College Library, the U.S. Army Military History Institute, and the Army Heritage Trail.
This premier history and education center maintains a library, museum, photo archives, education center, museum shop, and the Two Mile House. Sixteen galleries are filled with stories that span 250 years of local history.
The Mechanicsburg Museum preserves four 1800s buildings from the Cumberland Valley Railroad, a log tavern that predates Mechanicsburg, and a collection of items and records important to Mechanicsburg's history and heritage.
Located in a 200-year-old grist mill in Pine Grove Furnace State Park, the Appalachian Trail Museum is the only museum in the country dedicated to hiking. It portrays and preserves the history and the physical, emotional and spiritual human experiences of the Appalachian Trail.
Located on the grounds of the Carlisle Barracks from 1879-1918, the Carlisle Indian Industrial School was designed to assimilate students into the mainstream culture. Today, the site is a National Historic Landmark and many of the school buildings are still standing.
The 12-room stone structure, as it exists today, was erected from 1794-1819 and is now open as an Interpretive & Educational Center. Visitors are encouraged to explore all twelve rooms and use the building and its period contents to experience tavern life in the 18th and 19th centuries.
This former church camp has an unusual history that is linked to the iron industry in the late 18th, 19th and early 20th centuries when the area was a working farm known as Bunker Hill Farm. The history continues with a Civilian Conservation Corps Camp (CCC) during the Great Depression and a secret Prisoner of War Interrogation Camp during World War II.
The Old Public Graveyard was Carlisle's first burial ground. The oldest surviving marker is dated 1757, six years after Carlisle founding in 1751. The site is home to 750 veterans from the Revolutionary War through the Korean War, including 550 Civil War veterans. The graveyard is also the burial ground for Mary Hays McCauly who is better known as Molly Pitcher, recognized for her bravery during the Revolutionary War.
The Fashion Archives and Museum, on the campus of Shippensburg University, maintains, preserves, and exhibits apparel and accessories ranging from the 18th-century to the present. The facility also houses a reference library of vintage pattern books, fashion magazines, and mail-order catalogs.
The Shippensburg Historical Society is dedicated to preserving the town's history and heritage. The museum contains a library of local books, photographs, maps, clothing, artifacts and more.
Find A Room
Call (877) 840-2923 to book by phone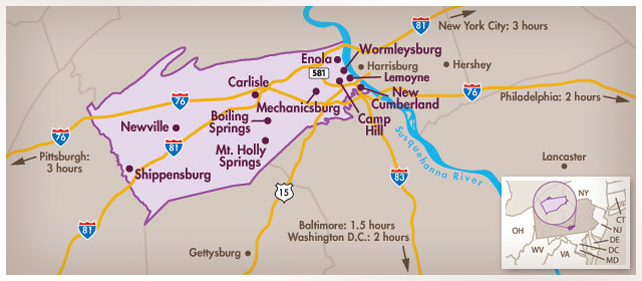 Explore the Valley using the map to the left or find activities and places to stay using the
Interactive Map