Enola PA Overview
Enola's roots hail back to the expansion of railroad transportation, and rail lines still run through the heart of town. Today, it is still a postcard of small-town Pennsylvania, complete with a Shady Lane and an historic one-room schoolhouse. Enjoy a blast from the past at Kristy's Whistle Stop for old-fashioned burgers and ice cream.
If you're looking for a place to spend a relaxing day outside with the kids, stop by the Adams-Ricci Community Park. This isn't your normal park, explore 82-acres of boating, fishing, biking and hiking trails, bird watching, soccer fields, tennis courts, basketball courts, volleyball courts, batting cages, horseshoe pits, picnic areas, pavilions, stage area and the Imagination Station (a massive children's play structure). This park is also home to the Pennsboro Pumpkin Fest, a local favorite!
An urban legend about the name Enola is that the original settlers intentionally picked the backwards spelling of "alone" to discourage others from moving into town.
Named after the four-year-old daughter of a local farmer, Wesley Miller, who sold land to the Pennsylvania Railroad in the 1800's.
Pennsboro Pumpkin Festival (October)
Those looking to relocate to Enola and residents can find helpful information on the East Pennsboro Township website.

Find A Room
Call (877) 840-2923 to book by phone
Cumberland Valley Quick Links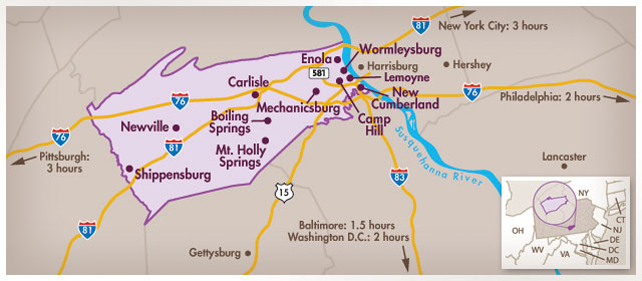 Explore the Valley using the map to the left or find activities and places to stay using the
Interactive Map