New Cumberland PA Overview
When you think of New Cumberland, you might associate it with the Army Depot. But, our southernmost town on the banks of the West Shore was originally a ferry site for early English, Irish, Scottish and German settlers crossing the Yellow Breeches Creek.
Today, a historic iron bridge welcomes visitors to this friendly community. The "Olde Towne Association" is restoring New Cumberland's neighborhoods with brick sidewalks and period decorative details to attract shoppers, tourists, prospective residents and businesses.
Spend a day in town starting with breakfast with the locals at TJ Homestyle then pop in and out of shops, galleries and restaurants. Experience a European twist with an Irish Tea at Oxford Hall Celtic Shop. For even more fun dining establishments and places to shop, view our Downtown New Cumberland trip idea. 
A New Cumberland native son was also part Native American. Peter Chartier, who ran a trading post and served as an Indian interpreter in New Cumberland in the early 1700's, was the son of a Shawnee woman and French fur trader.
New Cumberland Apple Festival (September)
New Cumberland residents and those looking to relocate can find helpful information on the New Cumberland Borough website.
Find A Room
Call (877) 840-2923 to book by phone
Cumberland Valley Quick Links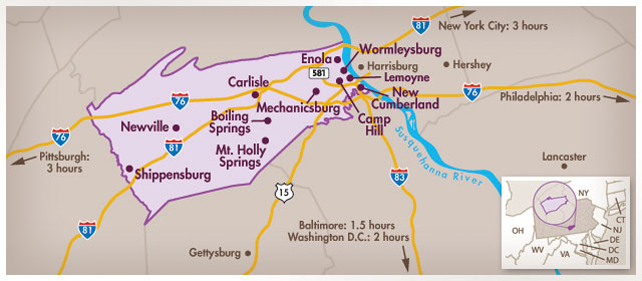 Explore the Valley using the map to the left or find activities and places to stay using the
Interactive Map