Towns in Cumberland Valley
Cumberland Valley's charming downtown areas offer a collection of shopping, dining, and historical experiences waiting to be uncovered. Start your journey at the Cumberland Valley Visitors Center, located in historic downtown Carlisle and at the center point of the Valley. From here, you can reach all of our downtown destinations in no more than 30 minutes along the highways, but you might want to enjoy a more leisurely drive and take the scenic routes instead. Either way, put on your walking shoes and stroll through our downtowns to discover hidden gems during your Weekend Easy getaway. If the timing is right, you might even come across a downtown festival. Read more here to learn about one or two unique locations in each town.
The picturesque, historic district of Boiling Springs is brimming with a scenic resort, world-renowned fly-fishing, and access to the famous Appalachian Trail. The village was recently recognized as one of the 2018 Great Public Spaces by the Pennsylvania Chapter of the American Planning Association.
The town of Camp Hill is located in the lively West Shore area of Cumberland Valley and just two miles from downtown state capital of Harrisburg. Shopping and dining opportunities abound.
At the crossroads of Interstate 83 and U.S. Routes 11/15, Lemoyne is between Wormleysburg to the north and New Cumberland to the south and features a fantastic view of the Harrisburg skyline from Negley Park. The West Shore Farmer's Market opened its doors in 1950 with 26 vendors. Rebuilt after a fire in 1999, it now has more than 50 food vendors on the lower level with specialty shops upstairs and is a must-stop destination while visiting Lemoyne.
This town's motto is "A Good Place to Live," and it must be true, because Cumberland Valley's Mechanicsburg has been attracting residents and visitors since 1807. Learn more about the history of the town at the Mechanicsburg Museum or check out Civil War and More, small gem packed with an eclectic selection of Civil War merchandise and a friendly staff always willing to share their knowledge on local Civil War history. 
Mt. Holly Springs Overview
Mt. Holly Springs draws outdoor and fly-fishing enthusiasts interested in fishing at Mountain Creek or hiking at the 913-acre Mt. Holly Marsh Preserve. The town also shares in a small portion of Civil War history. More than 40,000 Confederate and Union men passed through Mount Holly Springs on their way to Gettysburg. An injured Confederate soldier was left at the Holly Inn, but died several days later. His identity was unknown and he was buried in the local borough cemetery. To this day, his remains have not been identified.
When you think of New Cumberland, you might associate it with the Defense Distribution Center (Susquehanna Installation) which celebrated its centennial in May 2018. The installation's history stems back to 1917, when the United States government purchased 832 acres of farmland and began the construction of the marsh run storage depot.  A ribbon cutting for the depot followed in November of 1918. 
Today, our southernmost town on the banks of the West Shore also features eclectic shopping, casual dining, a craft distillery and soon-to-open brewery.
At the crossroads of Pennsylvania Routes 233, 641 and 533, rural Newville in Cumberland Valley is actually a very old town, with beautifully preserved historic homes, farms and churches. Stop by Laughlin Mill for an Instagram-worthy photo or head to the trail head of the Cumberland Valley Rail Trail for a hiking or biking excursion.
Home to Shippensburg University, this friendly college town is located on our county's western-most border. Founded in July 1730, Shippensburg is the oldest community in the Cumberland Valley and the second oldest west of the Susquehanna River. The town was named after Edward Shippen, whose granddaughter Peggy was the wife of General Bendict Arnold, noted for betraying the Continental Army by defecting to the British during the Revolutionary War. Find out more about the town's history at the Shippensburg Historical Society.
This West Shore community is the perfect place to unwind and enjoy views of the scenic Susquehanna River from one of many award-winning restaurants. Dukes Bar & Grille, Dockside Willies, and RockBass Grill serve up a variety of flavors and offer outside decks for dining al fresco in warmer weather. If you are looking for a river adventure, stop by Susquehanna Outfitters for canoe, kayak and paddleboard rentals.
Cumberland Valley is part of the number one vacation destination in the state of Pennsylvania, Dutch Country Roads, which includes Hershey, Harrisburg, Gettysburg, Lancaster, Chambersburg, Reading and York. Our affordable lodging options make Cumberland Valley an ideal home base while you explore these other locations. 
Find A Room
Call (877) 840-2923 to book by phone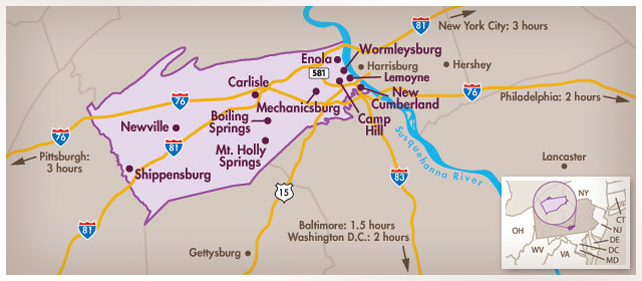 Explore the Valley using the map to the left or find activities and places to stay using the
Interactive Map