Dickinson College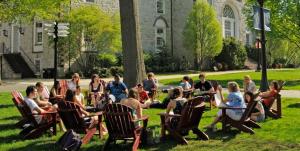 Founded by Dr. Benjamin Rush, a signer of the Declaration of Independence and named after John Dickinson, Dickinson College was chartered in 1783, shortly after the end of the American Revolution. Its purpose was to offer an education that was rigorously rooted in the traditional liberal arts and was, at the same time, innovative, forward-thinking, and ultimately useful. Today, Dickinson continues its strong adherence to its history while working within a contemporary context. Graduates are leaders with a global vision who are engaged in their communities, the nation, and the world. 
The 144-acre campus features five LEED-gold certified buildings and is home to 2,300+ students from 40 states and territories and 43 foreign countries. The beautiful tree-lined campus, with its majestic limestone buildings, is adjacent to historic downtown Carlisle, which offers eclectic dining, shopping, and entertainment options. See below for some suggestions or further explore the restaurants and attractions of Cumberland Valley.
The college recently ranked second nationwide on the list of Princeton Review's "Top 50 Green Colleges." Click here to read more about how Dickinson has been recognized for its commitment to sustainability.
When planning a campus visit, request a Visitors Guide or stop by our Visitors Center at 33 West High Street, Carlisle.