The Susquehanna River
in the Cumberland Valley
The Susquehanna River is the nation's 16th largest river. It begins near Cooperstown, NY, and flows for 444 miles until it empties into the Chesapeake Bay at Havre de Grace, Maryland. The river provides 50% of all the freshwater entering the Bay.
The river serves as Cumberland Valley's eastern border and, at almost a mile wide in some locations, provides abundant opportunities for outdoor recreation, especially during the warmer months.
Boating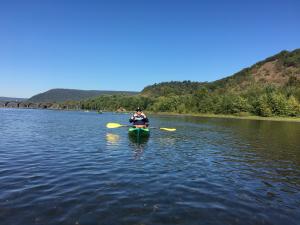 Canoes, kayaks, and motorboats share this waterway. Smaller watercraft work well in the shallow water and among a large number of rocks along this section of the river.
Tips
Know your travel route.
Know your approximate float time (assume 2 mph).
Weather conditions and river levels can change quickly. Know the current level and avoid the river when the predicted level is expected to be over 6 feet. See the National Weather Service for the latest conditions.
Avoid the river after dark.
Do not travel past Harrisburg's City Island to avoid the dangerous low-head Dock Street Dam just south of it.
Boating Access
Starting further upstream will allow you more float time and the opportunity to explore the scenic beauty of this portion of the river along the border of Cumberland Valley.
If you have your own watercraft, here are some suggested access locations:
PFBC Fort Hunter Boat Launch, 5415 River Rd., Harrisburg
Marysville Heritage Park, 3 N. Main St., Marysville -- There is a parking area, access road, and boat launch.
1 Front St., West Fairview (Latitude 40.272149 Longitude -76.914072) – This launch is located just north of City Island at the confluence of the Susquehanna River and the Conodoguinet Creek. There is a parking area. 
Wormleysburg North Access (Latitude 40.25808 Longitude -76.90175) -- There is an access road and launch but no parking.
Wormleysburh South Access (Latitude 40.25112 Longitude -76.89246) -- There is an access road, boat launch, and parking area. This is also the location of Susquehanna Outfitters (see below).
City Island – There is a launch ramp on the south end of the island. This is a busy location that sees a lot of recreational boat traffic.
A popular route is Marysville to West Fairview. At approximately 6 miles long, paddlers will float under the Rockville Bridge, the longest stone arch bridge in the world, past McCormicks Island (a good stopping point for a picnic), and view (from a distance) the birds nesting on Wade Island, considered to be Pennsylvania's largest multi-species rookery. The trip takes about 2 to 4 hours.
If you need to rent watercraft or are interested in the convenience of a guided trip, here are two suggestions.
Blue Mountain Outfitters (BMO), in Marysville, rents canoes and kayaks and will transport you via shuttle to your access point and back (starting and ending at BMO). The use of their shuttle service is required with boat rentals. You cannot self-carry. If you have your own equipment, they will also shuttle privately-owned boats. Read more about their rental information, suggested itineraries, and to find helpful tips to prepare for your trip.
Susquehanna Outfitters offers one, two, or three-hour boat rentals from their site in Wormleysburg (across from City Island); three-hour boat rentals with shuttle to the West Fairview launch; or six-hour boat rentals with shuttle to the Fort Hunter launch. They also offer a number of guided floats along the Susquehanna River, including full-moon floats and Wednesday night workouts.
Fishing
Anglers fishing along this stretch of the Susquehanna River can catch muskies, walleye, panfish, catfish, and carp. This portion of the river is considered to have some of the best smallmouth bass fishing in the eastern United States. It's best to fish around sunrise or sunset but you will find fish biting at all times of the day.
A fishing license is required of any person over the age of 16. Click here for more information including cost and where/how to purchase. One-day, three-day, and seven-day tourist passes are available. 
Birding
The Appalachian Audubon Society notes that the Susquehanna River is a major flyway for waterfowl, gulls, terns, swallows, and other birds and the West Fairview, Marysville, and Fort Hunter boat launch areas noted above are birding hotspots.
Spring brings a large number of waterfowl in full migration including herons and egrets. With a good pair of binoculars, you can also find thrushes, warblers, orioles, and more. During the summer months, cormorants and tree swallows are common. Birds of prey such as eagles, hawks, osprey, and owls, are visible along the ridges of the Valley through much of the year.
Rarities seen at the West Fairview boat launch area include Harlequin Duck, Least Tern, Franklin's Gull, Long-billed Dowitcher, Willet, and Connecticut Warbler. rarities seen along the section of the Susquehanna River that can be viewed from both Fort Hunter on the east shore and Marysville on the west shore include Pomarine Jaeger, Red-necked Phalarope, and Common Black-headed Gull.
Family Fun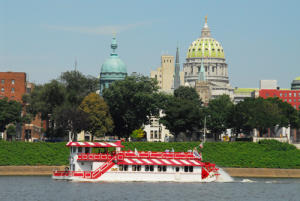 City Island – located in the middle of the Susquehanna River between Wormleysburg and Harrisburg – is a 63-acre site offering fun activities for the entire family. On this picturesque island, you can
play a game of miniature golf with panoramic views of the river and the Harrisburg skyline
take a ride on the Pride of the Susquehanna, one of only six authentic paddlewheel riverboats remaining in the country
enjoy a baseball game as the Harrisburg Senators, a AA affiliate of the Washington Nationals, take the field
ride the City Island railroad or carousel
relax with a private carriage ride
travel along the walking and biking paths
re-energize with a meal at Café Huey, where you can enjoy indoor or outdoor dining
Kids will love the playground area and there is plenty of room for them to run around. If you are interested in exploring Harrisburg, stroll across the Walnut Street Bridge and into the heart of downtown.
The island is easily accessible by car from Cumberland Valley and offers two parking lots and a parking garage. Parking is free after 11 am on weekdays. There is a parking fee for baseball games, during holiday weekends, and during special events in Harrisburg.
Susquehanna River Map
The Susquehanna Greenway Partnership is a great resource to learn more about the Susquehanna River and the outdoor recreation opportunities along the entire length of the Susquehanna Greenway corridor. Their website provides an online, interactive map with helpful information about access points for fishing and boating, as well as nearby hiking opportunities along the river.