Have you ever wondered what the birds see as they soar across the rolling landscape of Cumberland Valley? If so, you can catch a glimpse at
Waggoner's Gap Hawk Watch
, located along Route 74 on the border between Cumberland and Perry counties. Whether you are interested in experiencing the hawk migration that takes place each year from August through December or just taking a leisurely hike, you'll be sure to find stunning views from the top.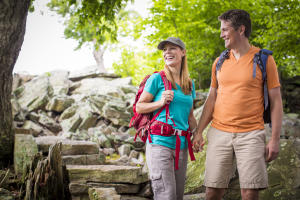 Waggoner's Gap Hawk Watch is situated atop Blue Mountain and is one of seven hawk watch sites along the Kittatinny Ridge. This extraordinary ridge boasts 185 miles of forests stretching from the Delaware River to the Mason-Dixon Line. The ridge serves as a roadmap for the tens of thousands of hawks, eagles, and falcons that migrate each fall. Lesser numbers also follow the ridgeline north in the spring. Due to its significance as a premier raptor migration corridor, the Audubon Society has named Kittatinny Ridge as one of six global Important Bird Areas in the state.
Audubon has been involved with the site since 2000, although hawk migration statistics at Waggoner's Gap date back to 1952. Hike the short trail to the top of the rocks and you will find avid bird watchers recording hawk sightings, snapping photos or just enjoying the view. There are sixteen species of birds that are counted each year, including Turkey Vultures, Coopers Hawks, Sharp-Shinned Hawks, Broad-Winged Hawks, Red Tail Hawks, Golden Eagles, and Bald Eagles. Visit during the last two weeks of September for peak migration counts, where over 5,000 Broad-Winged Hawks have been spotted in just one day!
If you're not a birding enthusiast, the site is still worth the visit as it offers stunning views. Although you'll feel totally remote standing at the peak of the rocks, you are just a short, 15-minute drive from downtown Carlisle. The vista, rising 1,535 feet above the Valley, is a gift, allowing you to unwind and enjoy the natural beauty of the Cumberland Valley. If you're lucky enough to enjoy repeat visits through the years, you'll be able to see a bird's eye view of how our landscape develops and changes.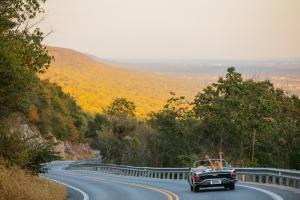 The site is family-friendly and a fun, informative hike for school-aged children. The trailhead is well developed and includes a history of the site, while an interpretive marker for each species of bird counted is located along the trail. If the younger hikers in your group aren't quite ready to navigate the rock outcrop, veer to the right at the top of the trail and visit the picnic area instead. You'll still be rewarded with a spectacular view, and can enjoy the picnic tables and rock amphitheater. Best yet, you can easily leave Carlisle, hike the trail, enjoy a picnic lunch and return back to town in just two to three hours.
It is important to note that the Hawk Watch is only open from August 1 - December 31 each year. Find more information, including links for finding current and past migration numbers,
here
.