When you mention fishing the Cumberland Valley, most fishermen are familiar with the Big Three — Yellow Breeches Creek, Big Spring Creek, and LeTort Spring Run—legendary fly-fishing waters, indeed. But did you know there are plenty of uncrowded honey holes nearby where anglers can reel in trout consistently? Here are four excellent but lesser-known fishing spots within easy reach of Cumberland Valley visitors.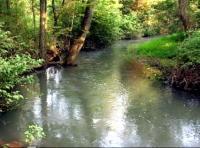 While not as generously stocked as other southcentral Pennsylvania streams, Green Spring Creek near the town of Newville can still deliver energetic brown and rainbow trout fishing. Try using a variety of dry flies including sulfurs and tan caddis, as well as a mixture of nymphs—BWOs and red worms have produced great results. Note: this is a Delayed Harvest Fly Fishing Only area.
One of the Approved Trout Waters that allows trout harvesting, Mountain Creek is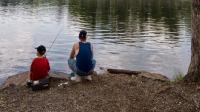 stocked each fall with brown and brook trout, and rainbows have also been known to make an appearance. Vacationing fly anglers should try green and tan caddis for lively fishing. While at the park, stay long enough to fish for perch and bass at Laurel Lake.
Little Juniata River
Thanks to the annual stocking of brown trout by the state of Pennsylvania, as well as the protected "All-Tackle Catch and Release" area on a section of the Little Juniata, the brown trout population on this scenic river provides a satisfying sport for fly fishermen.
Take up the challenge on the "Little J" near towns like Huntingdon and Pemberton in May during the sulphur hatch. For winter fishing, blue-winged olives and midges are your best for midday brown trout action.
Conewago Creek
This freestone creek as it flows through Adams County is known for stocked rainbow trout. The regs here are Catch and Release Fly Fishing Only and anglers can try their luck year-round. Fill your box with midges, nymphs, and woolyburgers, but don't be afraid to also bring a selection of streamers to sharpen your skills.
Coming to fish in South Central Pennsylvania not only promises world-class fly fishing action, but also offers a chance to stand in the middle of a rural stream surrounded by unforgettable mountains, forests, and valleys. Take the time to drink your fill of the lush beauty of the Cumberland Valley, and you'll begin to understand why fly anglers make the trek year after year.
Now that we've established that Pennsylvania's Cumberland Valley is a fly fishing paradise, why not plan a trip soon? You can purchase your Pennsylvania fishing license and then plan to join the country's best fly fishermen to battle for the big ones. 
Joe Laing has worked in the travel industry for over 20 years.  He has been exploring the outdoors most of his life and enjoys spending time camping throughout the United States. Joe has also been involved with the RVIA's Go RV'ing committee, campground associations, and many travel industry associations.