LeTort Nature Trail
.
About the Trail
The LeTort Nature Trail is a 2.3 mile out-and-back trail that traverses two municipalities. Following a small section of the Old South Mountain Railroad bed that stretches from Carlisle to Mount Holly Springs, most of the trail winds along the LeTort Spring Run.
A Trail for Everyone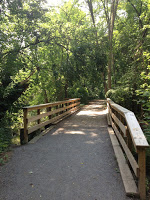 The Nature Trail is great for kids and adults. It is mostly flat and provides many opportunities for wildlife spotting and general wellness.
ADA parking is found at the LeTort Park trailhead. The trail, although not paved, is also ADA accessible and there is an ADA fishing dock located near the park.
History of the Trail
LeTort Spring Run was named after James LeTort, the first European to settle in Cumberland County. LeTort set up a trading post between 1713 and 1719, and operated it for over 20 years. Later industry along the trail included tanneries, mills and a distillery and a modern day quarry. Interpretive signage along the trail speaks more to James LeTort, industry along the spring and the South Mountain Railroad.
Landscape of the Trail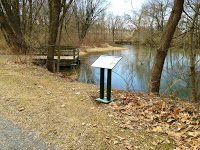 One of the most unique aspects of the trail is that it winds through a variety of settings, showing the evolution of industry and life in Cumberland County. Starting in LeTort Spring Park, the trailhead soon plunges into a wild setting, feeling far-removed from the town with birds singing and wildlife scurrying about. Within a mile you pop out on Bedford Street and walk along the residential street. You reenter the woods and approach an I-81 overpass, followed by Lamberton Middle School's student garden and you will be able to hear Union Quarry long before you see it. In between these spots on the trail you will be surrounded by woods and the LeTort Spring Run.
Birding on the Trail
The variety of habitats along the trail (aquatic, marsh and wooded) make LeTort Spring Run Nature Trail a prime place to see waterfowl like Great Herrings, Mallards and Canada Geese, and other species like woodpeckers, Black Crows and migrating wobblers.
Fishing on the Trail
Many people associate the LeTort Spring Run with
fly-fishing
. Known for wild and wily brown trout, this stream boasts 20+ inch trout. These fish are large because they're intelligent and hard to catch, even for the most experienced fly-fishermen, making fishing this stream a bucket-list experience for many.
Future of the Trail
The trail has been maintained by the LeTort Regional Authority since 1973. This group has made many improvements to the trail to maintain and enhance the experience of the many walkers, bikers and anglers using the trail. One of these improvements was the installation of interpretive signs, with more planned in the coming years. Native plants are being added to the trailheads and new maps are being developed. Long term goals include improving connections to other regional trail facilities including the Cumberland Valley Rail Trail.