Founded in 1750, Cumberland Valley is steeped in history – with museums, historical sites, and markers and monuments to the past. Yes, George Washington really did sleep here for a week in 1794 on his way to Western Pennsylvania to quell the Whiskey Rebellion; Olympian Jim Thorpe was a student at the Carlisle Indian Industrial School; and US President James Buchanan studied at Dickinson College, which was founded by Benjamin Rush, a signer of the Declaration of Independence.
Molly Pitcher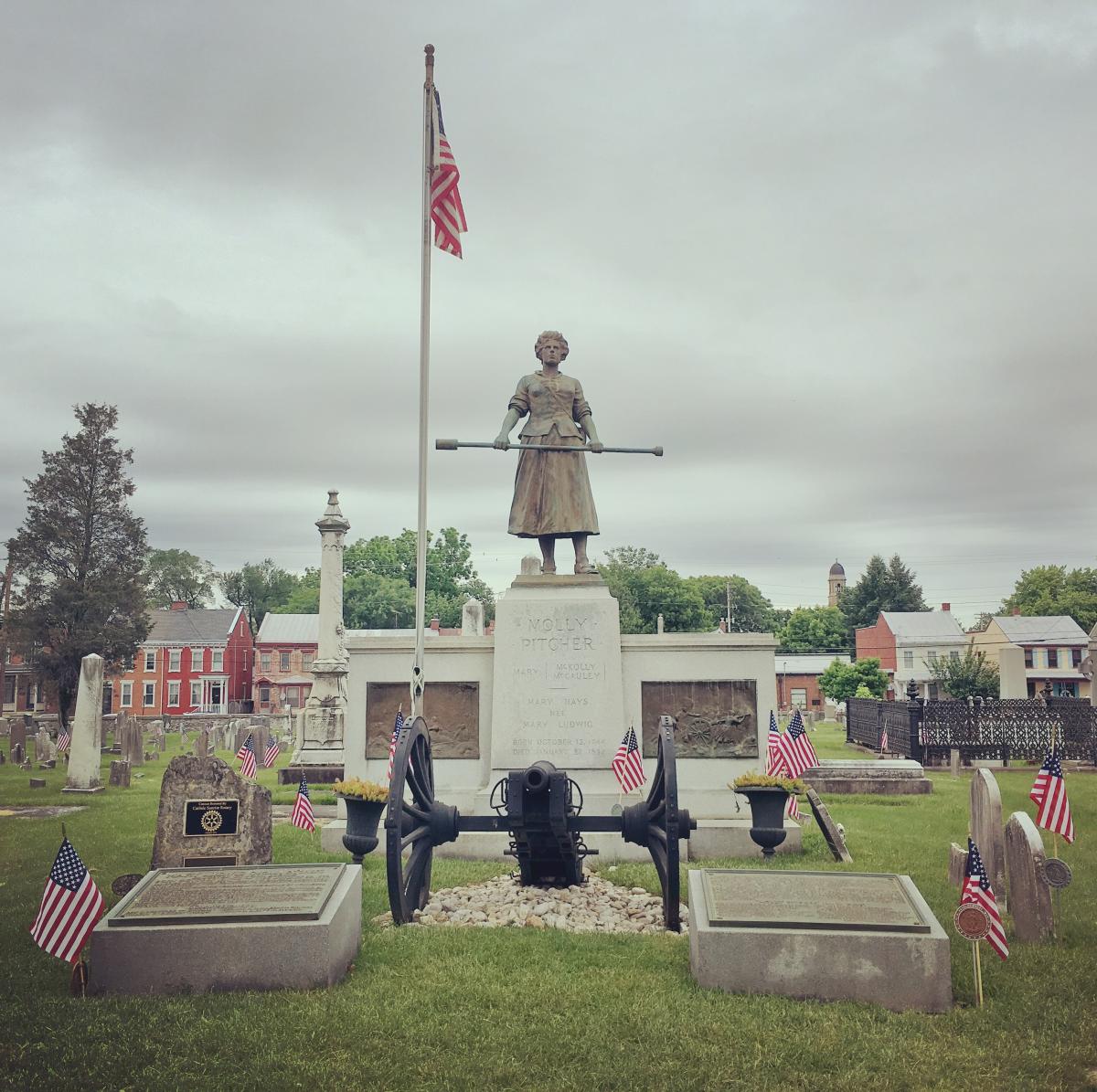 Perhaps one of our most famous residents was Mary Hays McCauley, otherwise known as Molly Pitcher. Molly was born on October 13, 1754. Like other women at the time, she followed her husband, William Hays, after he enlisted in Thomas Proctor's Artillery as a gunner during the Revolutionary War. These women worked alongside the men and helped with cooking, sewing, and cleaning, among other tasks. They also cared for those injured in battle by carrying water to the wounded and dying. When Molly's husband was hurt at the Battle of Monmouth in New Jersey, she supposedly took his place at the cannon. While there is no documented evidence to support this claim, Molly did receive a pension of $40 per year awarded to her by the state for "her services during the Revolutionary War." Today, a water pitcher owned by Molly (although not the one she used in battle) is often displayed at the Cumberland County Historical Society, which obtained it from her great-great-granddaughter, Mary E. Wilson.
After the war, Mary and her family settled in Carlisle. She became a widow in 1786 and remarried, but her second husband was no longer living with her by 1810. She died in 1832 while living with her son in a building on the corner of North and Bedford Streets. Two Carlisle newspapers ran her obituary but neither mentioned that she fired a cannon during the war. She was buried in what is today known as Carlisle's Old Public Graveyard. Over the years, the burial site has been improved. A proper tombstone was installed in 1876. The cannon, flagstaff, and flag were added in 1905 and the large statue was added in 1916.
Molly Pitcher Brewing Co.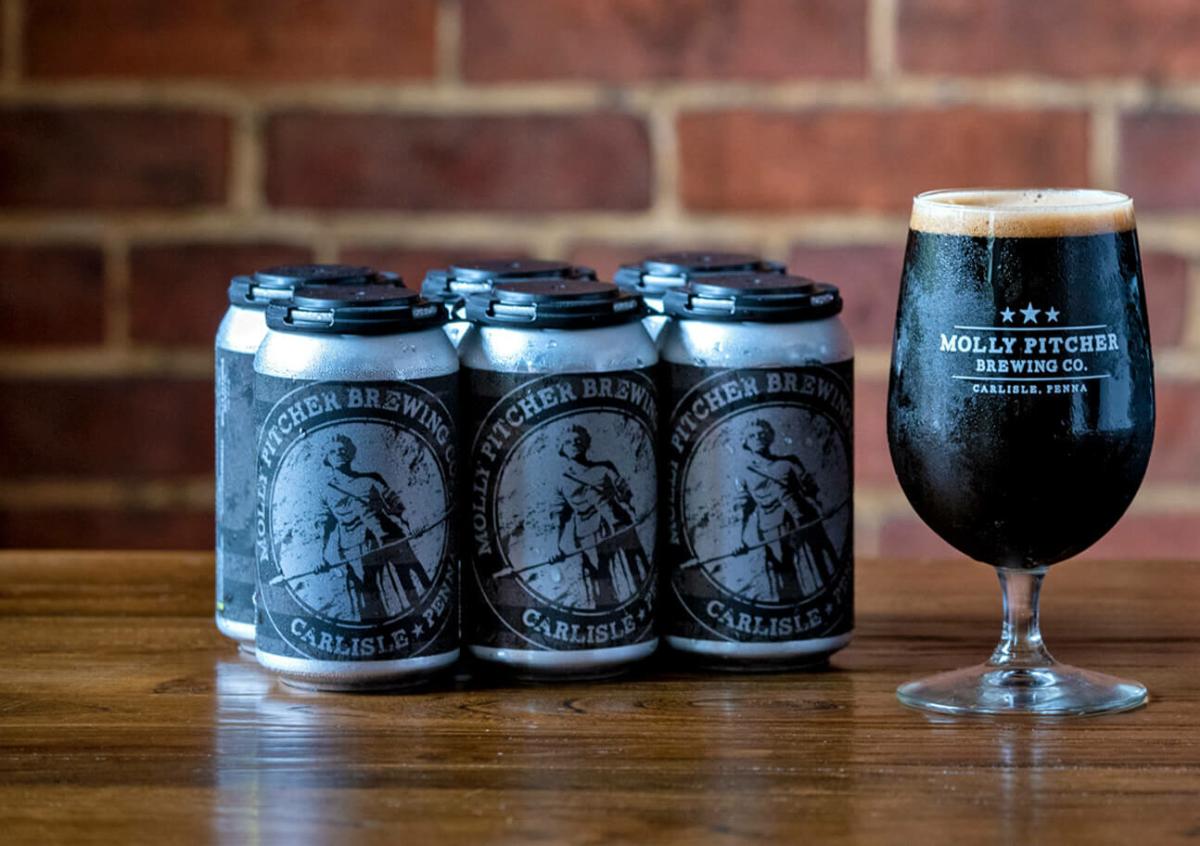 Today, the memories of this early patriot and hero also live on at Molly Pitcher Brewing Co. According to Cassie Fourlas, the bar manager, the brewery's owners are from the Carlisle area and grew up learning about Molly Pitcher, including school field trips to visit the local graveyard where Molly is buried. When starting their venture, they wanted to pick a name that reflected their "hometown pride and focused on this community." They knew that many locals were familiar with Molly's story and they continue to be surprised by the number of visitors from outside the area who know about her as well. Cassie says that it was a "happy coincidence" that the original location for their brewery and taproom was just steps from the Old Graveyard and Molly's statue. She notes that they started off brewing traditional English and American style beer with "little twists," and stuck with a Revolutionary War theme to name the beers and decorate the taproom. The taproom has since moved to a larger location a few blocks away and the selection has expanded considerably but the beer continues to be brewed in the original location near where Molly is buried. When you stop by the taproom, enjoy a Patriot Pale Ale, Cannonball Kolsch, or Black Powder Stout and raise a glass to this extraordinary woman.
(Note: Thanks to the Cumberland County Historical Society for sharing their information with us about Molly Pitcher. For more information on Molly and the early history of Cumberland County, be sure to visit the historical society museum just around the corner from the taproom.)