This area is packed with great little diners and mom-and-pop restaurants that serve up wonderful breakfasts. Whether you're a local or here for the weekend, I would definitely recommend visiting one (or all) of these for a filling start to your day.
Here's my top 10 list! Find your own favorites by browsing all the restaurants that serve breakfast here.

1. Valley Bistro - This casual restaurant is one of my new favorite go-to breakfast spots. With creative twists such as Red Velvet Pancakes and Fruity Pebbles French Toast, you'll be sure to start the day off right. They have a number of vegetarian and gluten-free options as well.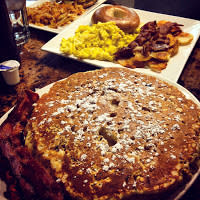 2. Diener's Restaurant - Another go-to of mine, Diener's has the best granola pancakes. They are ridiculously large but equally tasty. With breakfast served all day, this homey spot is a must stop as well.

3. Fay's Country Kitchen - There's a pancake for everyone here! Choices include my favorite, the Hawaiian (coconut and pineapple), peanut butter cup, peach buckwheat, and the list goes on.

4. Cornerstone Coffeehouse - If I want to feel a little healthier, I head to Cornerstone for their homemade granola or an egg white sandwich with avocado and tomato. And, as the name implies, they have really great coffee beverages as well.

5.  The Grazery - This restaurant is another great option for fresh and healthy choices. Everything is made from scratch in small batches. Some favorites include the Tropical Chia which is a chia seed pudding with banana, toasted coconut flakes, and dark chocolate shaving and the Avocado Toast Aphrodite with tomato, feta, oregano, olive oil, and balsamic glaze.

6. West Shore Farmer's Market - This is a favorite of mine because of the huge selection. Whatever you're in the mood for, you can find it at the market. From mini sticky buns and donuts to real-deal breakfast sandwiches from a BBQ place, it's all good here.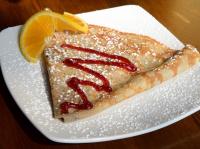 7. Helena's Chocolate Cafe & Creperie - For something a little different, stop by Helena's for sweet or savory crepes and fancy baked goodies.

8. Brew Crumberland's Best - Stop by this spot in New Cumberland for homemade granola or baked oatmeal. If you're in a hurry they have a convenient drive-thru.

9. Square Bean - Two breakfast highlights at their downtown Carlisle location are the western omelet and the loaded breakfast quesadilla. Or keep it simple with a coffee and scone.

10. Maplewood Farm Market - This local favorite in Shippensburg is known for its produce and flowers, but their small restaurant serves appetizing breakfast items. Get the MTO Egg Sandwich on a pretzel roll with a side of hash browns. Dine-in or order to go.