According to the Brewers Association, Pennsylvania produces 3,719,475 barrels of beer -- ranking the state 1st in the country (2018 statistics). In Cumberland Valley, we continue to do our part to contribute to that statistic with a number of new breweries and other craft beverage locations expected to open soon. Here's what you can look forward to. Come visit and check out our booming craft beverage scene.
Hemauer Brewing Co.
This artisanal craft brewery offers both traditional-styled and unique-flavored ales and lagers. Produced in nearby Dillsburg, their motto – "Pouring liquid art, one pint at a time" – will come to full fruition in the spring of 2020 with the opening of their taproom in Mechanicsburg. Guests can look forward to trying creations such as the "Dilled," an APA with a distinct dill flavor.
Highway Manor Brewing
Highway Manor's beers are available throughout the state and soon fans will be able to enjoy their sour and wild ales at their new taproom in Camp Hill. They produce their unique barrel-aged sours from a propriety house yeast that dates back to the 1800s.
Wolf Brewing Co.

The husband and wife team who own Wolf Brewing Co. (assisted by their brew dog, Archer) hope to open their new 8,000-square-foot brewery and taproom in Mechanicsburg by the end of 2020. The brewery will be a part of Market Square at Landmark Legacy Park, which is under construction off Route 114/South Market Street in Mechanicsburg. The location will include a kitchen serving "comfort food with a gourmet twist," with indoor seating for 120 guests, an outdoor patio and lawn for yard games. Since 2011, Wolf Brewing has earned 120 awards from all 50 states with more than 55 different beers.
The Watershed Pub
Brought to you by the creators of The Millworks in Harrisburg, The Watershed Pub is centrally located in Camp Hill's walkable downtown shopping district. The tasting room will sell good food, craft beer, and Pennsylvania wine and spirits. The building dates back to the 1830s and will retain many of its unique architectural features.
Big Hill Ciderworks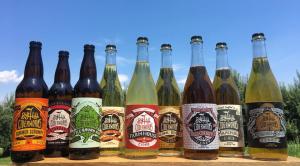 Located in the scenic South Mountain region of Cumberland Valley, the owners take pride in their "tree to bottle" philosophy. They grow, press, ferment, and bottle their ciders onsite. Big Hill has built a strong reputation in Pennsylvania since its founding in 2013 and its ciders can be purchased in restaurants and at retail locations throughout the state.  Utilizing traditional, time-honored cider-making methods of slow fermentation, barrel aging and wild yeast fermentation, the ciders showcase a distinct flavor profile, unique to the orchards and the region with modern, traditional, and sour options created from blending different apple varieties. You won't find any added sugars, sweeteners, colors, or flavorings added to Big Hill's offerings. Future plans include the addition of an onsite retail space where guests can enjoy sipping and savoring their favorites. The tentative opening date is Summer 2020.
SpringGate Winery & Beer Garden, The Crossroads at Arcona

Visitors to Cumberland Valley may be familiar with SpringGate's Vineyard Estate and Farm Brewery in nearby Harrisburg or with their tasting room at SpringGate Walden in Mechanicsburg. In 2019, SpringGate also opened a pop-up location in the Crossroads at Arcona. The response was overwhelming and once again SpringGate will expand in Cumberland Valley with a new permanent location in Arcona, right beside THEA, in Summer 2020. In addition to their extensive wine menu, guests will enjoy spacious indoor and outdoor spaces; a simple local menu including signature items from THEA; and an inside stage to host live music.
More Locations Coming Soon…
Great Trails Distilling, Carlisle
Totem Pole Ranch & Vineyard, Carlisle
Back Porch Brewing, Carlisle
Seve-N-Dots, Carlisle: Currently serving some of the best handmade pizza in Carlisle. Seve-N-Dots hopes to open an in-house brewery and beer garden.
In the meantime, the current locations along our Beer Trail continue to produce inspired craft beverages for every taste. Pick up a passport, keep earning stickers, and look for some new prizes coming soon.