Part of Cumberland Valley's charm is the mixture of walkable downtowns, easy-to-navigate outdoor trails, and bucolic farms dotted in between. Did you know that Cumberland Valley has over 20,000 acres of preserved farmland? This land provides residents and visitors with ample access to fresh produce and dairy, farm-fun activities, and scenic views.
A fun farm activity I look forward to is the u-pick flowers at Paulus Farm Market. The fields usually open in July and will remain open until a frost sets over the Valley. (NOTE: This year, 2021, the fields were full of lush blooms a little bit early and opened at the end of June.) Let the staff know you are there to pick flowers and, for a nominal fee, you will receive a bucket to fill to the brim and take home with you. If you bring the bucket back next time you pick flowers, you'll receive a discount! You can bring your own pruning shears or rent a pair for a small fee.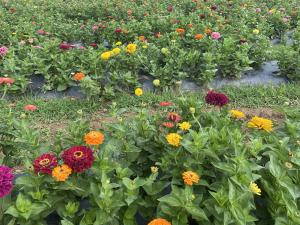 Make sure to wear sturdy shoes, as the flower fields are at the edge of the farm. On the way to the flowers, you will pass many friendly farm animals and the children's play area. The rows between flowers are uneven but mowed and easy to walk through. I like to go in the morning before it gets too hot, so expect to find some wet grass too. There are bugs and bees, so bring your bug spray and keep the bees in mind if anyone in your family is allergic.
I was greeted with a stunning array of flowers including zinnias, snapdragons, coneflowers, and more ready to be picked. My photos really don't do the field any justice. I think the buckets must be magic, because every time I thought it was full, I was able to squeeze in a few more! I was able to make three large arrangements, two small arrangements, and still had enough left over to gift to my neighbors from just one (very full) bucket.
A few tips for flower cutting:
Consider what containers you have at home. I didn't have enough vases, so I also used my teapot, antique glasses, and even a shot glass to display my flowers.
Cut the stems longer than you need so you can cut them down later.
Consider cutting a mix of already-bloomed and ready-to-bloom flowers to help extend your bouquet lifespan.
Once you get home, strip leaves and cut stems at an angle.
Place taller flowers in the back of the arrangement, or middle, if it will be seen from all angles. Fill the front or sides with the shorter flowers.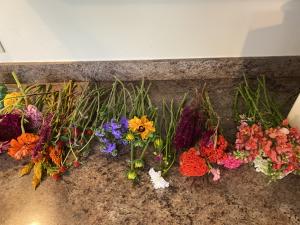 In addition to the u-pick flower fields, Paulus Farm Market also has a lot of other fun activities too. In the summer, enjoy a cooling treat from the Cow-Lick Ice Cream truck. Choose from a cone or dish of soft-serve, a tasty ice cream float, or a decadent sundae. Be sure to sign up for the FREE digital Ice Cream Trail passport and your scoops could earn your prizes. Summer also means that the greenhouse is overflowing with vegetables, herbs, flowers, and planters. And, for little ones, the farm animals and outdoor play areas are always a hit.
Paulus Farm Market has plenty of fun in other seasons as well. Spring means u-pick strawberries and fall offers u-pick pumpkins. If you visit in the fall, you can also enjoy hayrides, a pumpkin cannon, a corn maze, and more.
And year-round, the market has fresh produce, meats, pasta, canned goods, a deli, wine, and ready-to-cook meals. They even have their own meal subscription plan named The Farmer's Plate!
Paulus Farm Market is just one of many farms in the Valley. See a full list, as well as a list of all of the markets that offer u-picks.