During the cooler months we all dream of relaxing by the pool or splashing around with friends and family. One of the easiest ways to beat the summer heat is jumping in the water. Luckily, the Valley has some great swimming holes, including community pools and lakes.
State Parks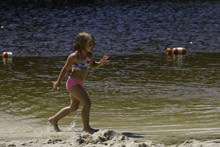 The ocean may be far away, but beautiful freshwater and sandy beaches aren't. Doubling Gap Lake at Colonel Denning State Park offers fresh, cool water for swimming as well as a beach perfect for enjoying the sun or playing in the sand. The 3.5-acre lake also presents a scenic mountain backdrop and offers a relatively easy hiking trail through the woods around the lake. It is open from 8 a.m. to dusk. 
Pine Grove Furnace State Park offers two great swimming locations. Much like Doubling Gap Lake, Laurel Lake features a sandy beach and mountain backdrop. Laurel Lake spans 25 acres and is open from 8 a.m. to sunset. Fuller Lake is also located in Pine Grove Furnace State Park and has lifeguards on watch from 11 a.m. to 7 p.m. daily from Memorial Day weekend through Labor Day weekend. Both lakes open in early May and close at the end of September. Pine Grove's other offerings include hiking, biking, and fishing.
Swimming at Laurel and Fuller Lakes in Pine Grove State Park and Doubling Gap Lake at Colonel Denning State Park resumed on Saturday, June 6, at 50% capacity with mitigation efforts in place (including social distancing and wearing face masks when not in the water). Click here for additional updates from DCNR.
Little Buffalo State Park, in nearby Newport, features a state-of-the-art swimming pool with depths of up to five feet, two waterslides, and a sprayground. The pool has an ADA-accessible ramp and is open weekends only beginning Memorial Day through the second weekend in June, daily through mid-August, and weekends through Labor Day. Hours are 11 a.m. to 7 p.m. NOTE: The pool at Little Buffalo State Park will be opening for the season on 6/13/20. Due to COVID-19 social distancing and mitigation requirements, pool area capacity will be limited to 50%. Re-entry of the pool will not be guaranteed due to capacity. Spray features and slides will be closed until further notice. Possession of a mask is required and recommended to wear when not in the water.
Community Pools
If you're more into diving boards and slides there are some fantastic options around Cumberland Valley for you to check out.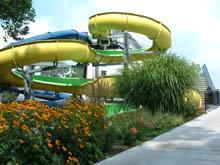 The Boiling Springs Pool located on Mountain Road offers four pools, three waterslides, and a full-service snack bar. Certified by the American Red Cross swimming lessons are available. In 2020, the pool opened on May 30. Click here for a complete set of guidelines including face coverings, social distancing, attendance/capacity, use of restrooms, snack bar, slides, benches, picnic tables, and pool accessories. Highlights: 
Everyone must have a face mask or covering.
Face masks or coverings need to be worn when entering or leaving the facility.
Face masks or coverings need to be worn when in our common areas (the areas around the gate, bathrooms, and snack bar) and also while using the bathrooms or waiting for items from the snack bar.
We recommend that you wear your face masks or coverings when you are not actively swimming for your safety and that of others.
Face masks and coverings should not be worn in any of the pools. This is an increased risk. If at any time, while wearing your face mask, you feel nauseous or light-headed, please remove your mask and keep your distance. We are concerned about heatstroke and other complications.
Family groups from the same household are permitted to congregate together, but these individual groups must maintain the 6' social distancing protocols from other groups and individuals. Markings will be in place to help you identify distancing.
Another great pool location is the Hampden Township Pool. The 550,000-gallon pool features a 120-foot waterslide. Other park features include a tot pool, spray ground, concession stand, and pavilion. Swimming lessons, Deep Water Aerobics, and other classes are offered at the pool. NOTE: In 2020, the Hampden Township Pool will re-open on June 27 and close on September 7. The pool will be open to members only, although both residents and non-residents can purchase a membership. Guest passes will not be allowed. Pool members will be encouraged to practice safe social distancing while visiting the pool. Use of the waterslide, sprayground area, and climbing wall will not be allowed while Cumberland County remains in the Yellow phase. Members will be required to wear a face-covering while visiting the snack bar and when using the restroom. Hand sanitizer will be made available at the entrance to the bathhouse, however, members are encouraged to bring their own sanitizer as well. Safe social distancing signs will be posted throughout the facility and announcements will be periodically broadcasted to remind members of their responsibilities.
The Carlisle Community Pool is situated on 3-acres and offers a large "z-shape" main pool ranging from three to 12 feet in depth and featuring a newly-renovated giant twisting water slide, Aqua Climb wall, lap swimming area, and diving board; two large shade shelters; and grass space for activities and sunbathing. Young children can enjoy a wading pool with a teacup water feature. A fenced-in recreational area includes a lighted pavilion with 8 picnic tables, 2 charcoal grills, basketball, volleyball, and shuffleboard. Drinks and food are available from the concession stand and lounge chairs are available to rent. Non-resident rates are available. NOTE: The Carlisle Community Pool announced on June 8 that they will remain closed for the 2020 summer season. Splash pads at Carlisle's Memorial Park, Biddle Mission Park, and LeTort Park in the near future.
The Mechanicsburg Area Community Swimming Pool touts a 22-foot tall water slide and opens Memorial Day weekend, with daily operations beginning June 7. Non-residents are welcome. NOTE: The pool is closed for the 2020 season.
The Shippensburg Pool offers a water slide, baby pool with dewdrop fountain, and a concession stand. The pool is open Memorial Day weekend through Labor Day weekend but is closed during school days. Non-resident rates and pool rentals are available. NOTE: As of June 5, The Shippensburg Pool has not yet announced an opening date for the 2020 season.
The Camp Hill Borough Municipal Pool is open Memorial Day weekend and then re-opens the first weekend in June and remains open daily until Labor Day. Non-resident rates are available to those who live in Lemoyne Borough, Wormleysburg Borough, Hampden Township, Lower Allen Township, and East Pennsboro Township. NOTE: In 2020, Camp Hill Borough Council has decided to limit membership and daily admission this summer to Borough residents only due to capacity limits according to CDC guidelines. The pool will re-open on June 19 if the county moves into the green phase by that time. New rules and regulations will be posted online.
The Lemoyne Community Swimming Pool is open from Memorial Day weekend daily through Labor Day weekend but is not open when school is in session. The pool features a water slide and other fun features. NOTE: The pool will be open for the 2021 season. More details to follow. This decision was not made lightly. Restrictions in place during the yellow and green phases of the Governor's re-opening plan and stringent safety guidelines issued by the CDC and the PA Department of Health played an important role in the decision.