Cumberland Valley offers a variety of scenic biking routes and trails that will delight casual riders and experienced cyclists alike. From leisurely creekside paths to strenuous forest trails, cyclists can choose short trips to day-long excursions. Here are five favorites.
Cumberland Valley Rail Trail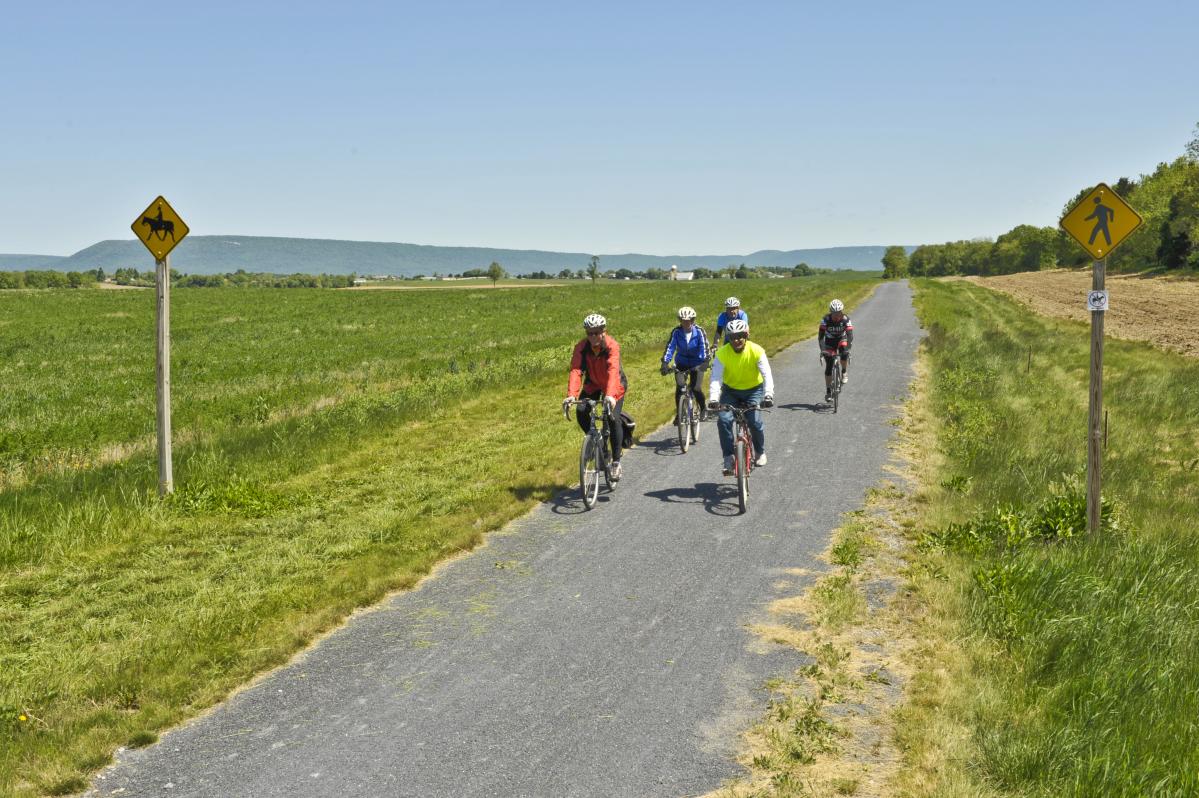 The popular Cumberland Valley Rail Trail is a family favorite thanks to its mostly flat surface, ideal for younger children, beginning cyclists, or those looking for a more leisurely ride. The 13-mile out-and-back trail follows the former Cumberland Valley Railroad bed, traversing wooded areas and scenic farmland between Newville and Shippensburg. A shaded picnic area in the village of Oakville offers a pleasant rest stop. The trail has a crushed limestone surface except for paved sections for the first mile from Shippensburg Station to Shippensburg Township Park and a 1/2-mile section at the Newville trailhead. NOTE: You will share the trail with walkers, hikers, and horseback riders.
There are two separate stand-alone sections that do not connect to the man trail. A 2-mile section in the village of Greason offers unobstructed views of both the North and South Mountains, defining features of the Cumberland Valley landscape. The Allen Road Mile is connected to the western terminus of Carlisle Borough's West End Trail, providing a connection to the campus of Dickinson College and downtown Carlisle.
Trailheads with parking are available at Shippensburg Station, Shippensburg Township Park, Oakville, Newville, Springview Road (for the Greason section of the trail), and Allen Road (for the one-mile section of the trail). Restrooms are available at Shippensburg Station, Shippensburg Township Park, and Newville.
Carlisle Borough Bicycle & Pedestrian Trail Network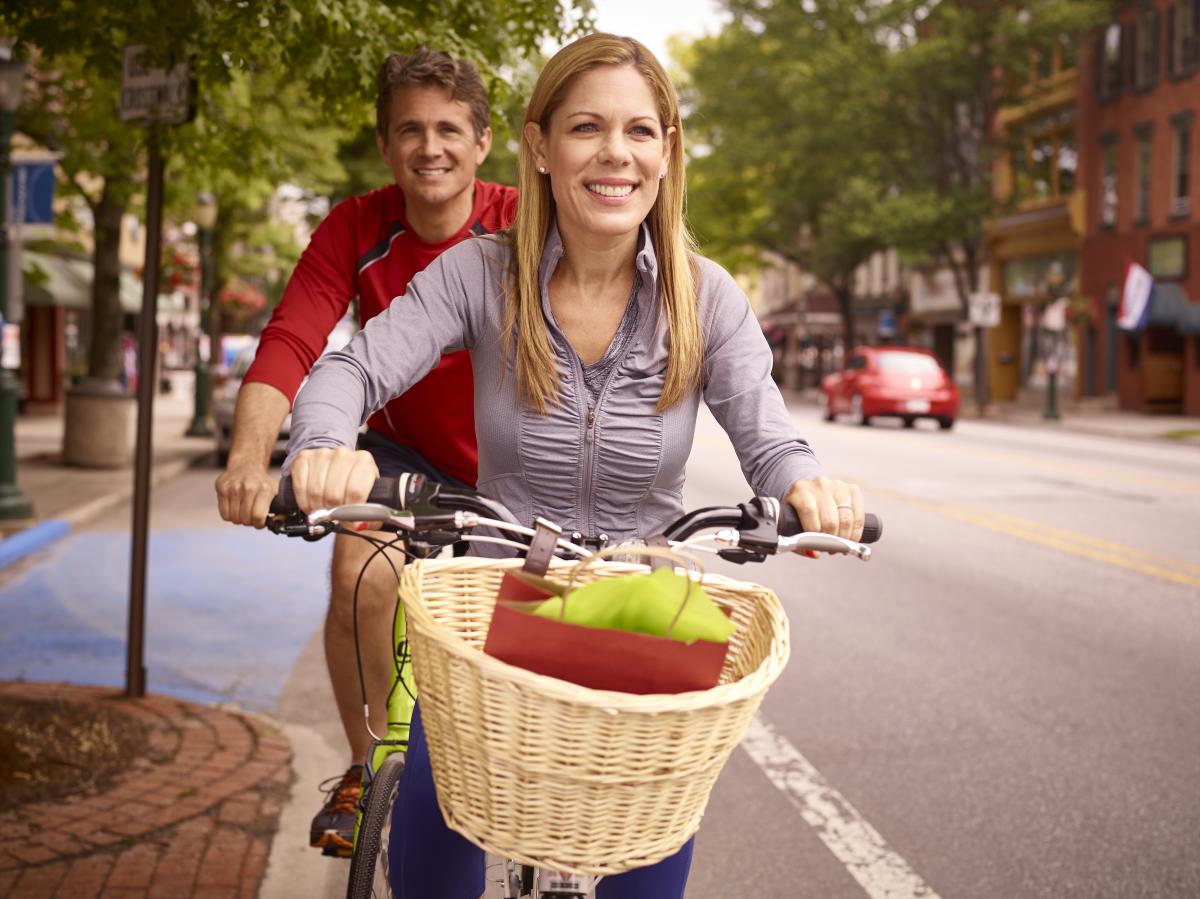 Travel through tree-lined Carlisle along a 15-mile network of trails that connect all 18 Borough parks. The route consists of on-road and off-road travel and is marked with green bike route signs and sharrow road markings. Start at any one of the parks to link up to the trail network. Two good starting points: Dickinson Park, which features a 2.1-mile off-road trail linking to Valley Meadows and Forbes Path trails, or the West End Trail on Allen Road, a combination of on-street and off-road cycling that connects to the Allen Road Mile of the Cumberland Valley Rail Trail.
Cumberland County Biker-Hiker Trail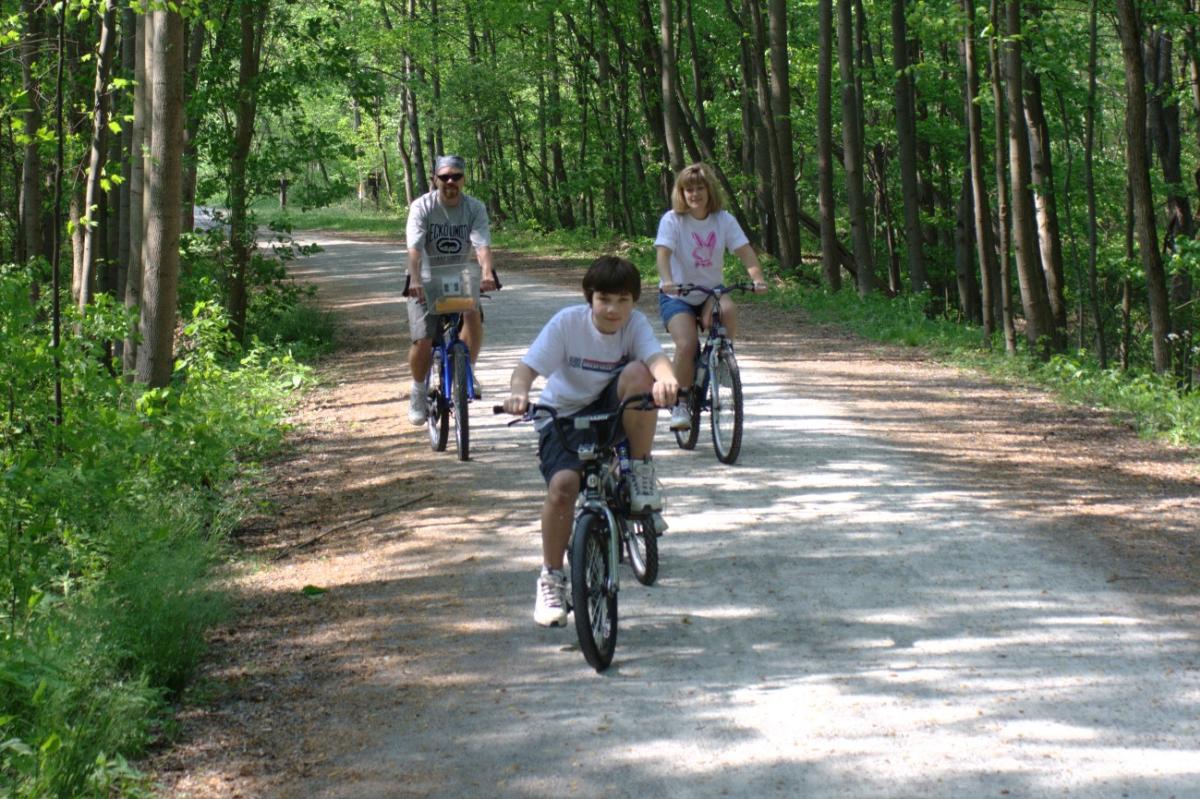 This 2-mile trail connects Laurel and Fuller Lakes in Pine Grove Furnace State Park and was once the railroad bed of the South Mountain Railroad. The trail surface is crushed limestone or paved. Part of the route shares the Old Railroad Bed Road with vehicles.
In warmer weather, pack a bathing suit to cool off with a swim and then follow up with a lake-side picnic. The on-site general store at the park is a great place to stop for ice cream. Or bike along Pine Grove Road for 4 miles to arrive at Twirly Top, a 1950s-era drive-in restaurant open seasonally from April through October. Order an ice cream, a meal, or both, and enjoy at the outdoor picnic tables.
LeTort Spring Run Nature Trail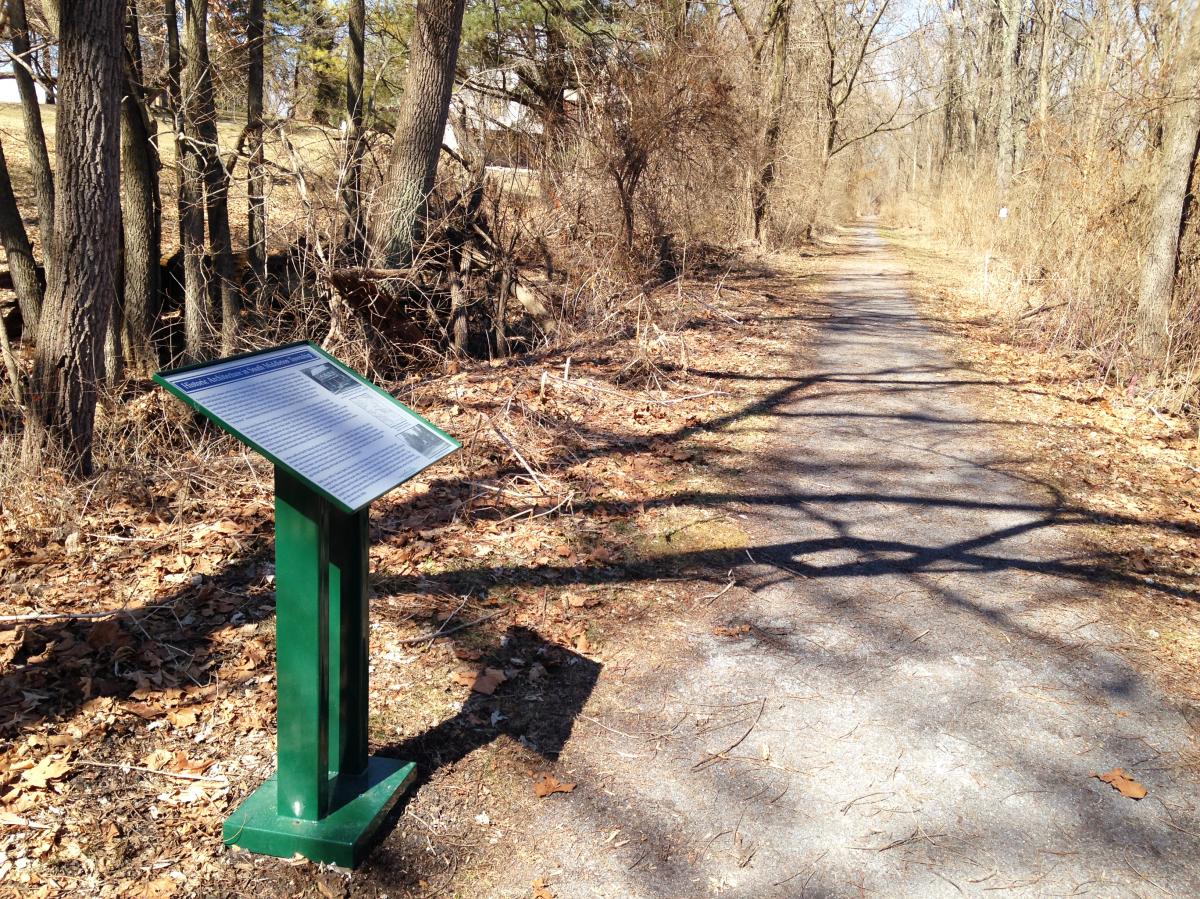 This easy 2.5-mile trail follows an abandoned railroad line and winds along the famous LeTort Spring Run. The wooded landscape and the slow-moving creek feel a world away, even though it's located in downtown Carlisle. The trail is 8 to 10-feet wide on an all-weather stone surface, except for a short section traveling along South Bedford Street. The trail has several access points, including LeTort Park, Bonnybrook Road, and South Spring Garden Street.
Angler's Access Trail @ Opossum Lake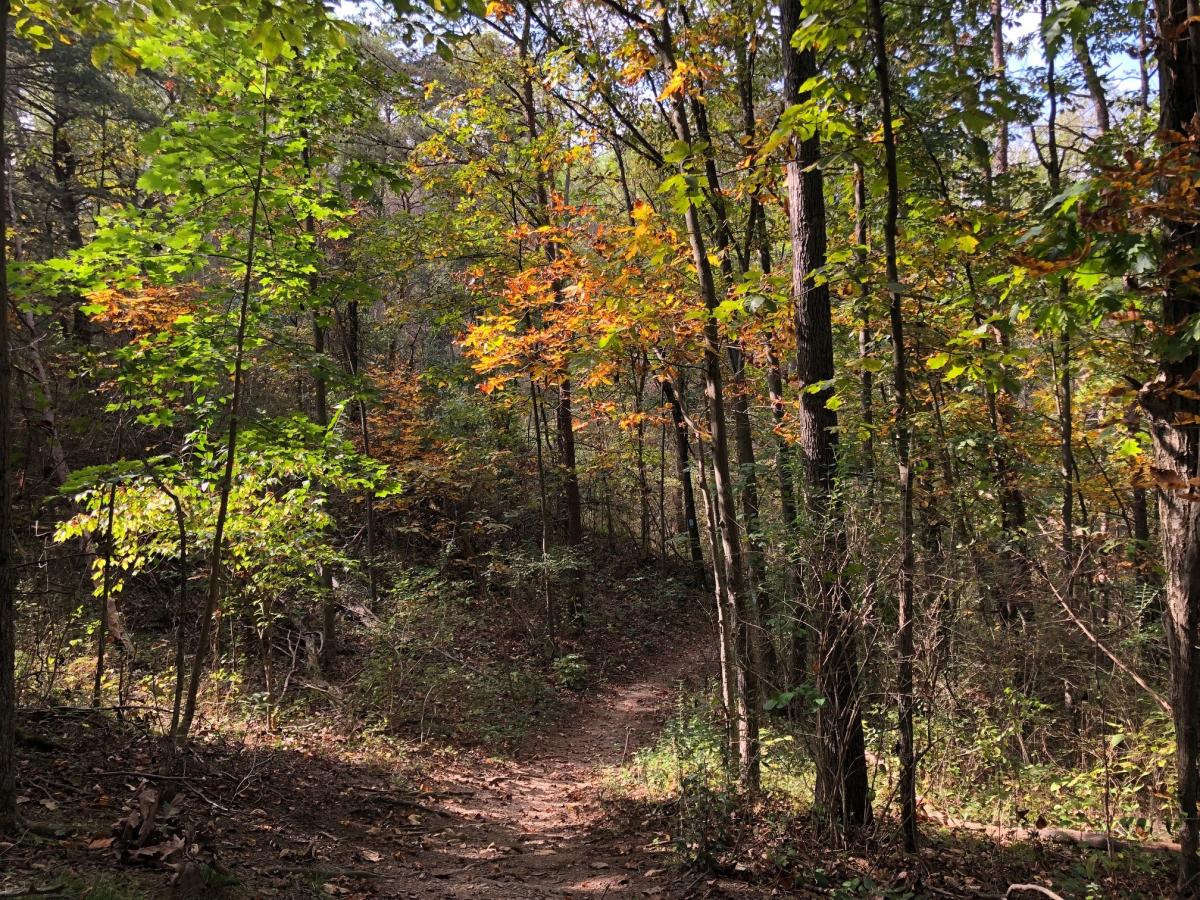 Mountain bikers will love traversing the 4-mile trail around Opossum Lake. Steep climbs, bumpy terrain, and small bridges make this trail a fun challenge. Along the way, you'll be treated to an adjacent habitat of fields and woodlands, where more than 140 species of birds have been spotted. Mountain bikers can find almost 40 miles of marked shared-use trails in Michaux State Forest, offering varying degrees of difficulty.
Other
If you seek longer rides (from 10 to 50 miles), check out our on-road bike routes that take you through Cumberland Valley. Choose from more than ten suggestions and download the cue sheet for turn-by-turn directions. Explore rolling back roads dotted with fields, cruise through suburban centers, or follow the Susquehanna River.
Whether you are seeking a short or long ride, easy or difficult, grab your helmet and hit our bike trails. Your next adventure awaits in Cumberland Valley.