Roundtop Mountain Resort has been a mainstay in Central Pennsylvania for over 50 years. The reason for their continued success? Turning their traditionally winter-focused ski resort into an all-year-round experience for families. When most think of Roundtop Mountain Resort, skiing down the slopes probably comes to mind. Don't be mistaken, Roundtop certainly offers great options for skiing and snowboarding, but they want you to know that's not all they offer.
Play in the Snow
For those who don't ski or snowboard, snow tubing tickets at Roundtop are available all day. This fun activity will still give you and the family some outdoor time without the need for a ski pass. 
There are 10 large tubing lanes for ages 5 and older serviced by a covered Magic Carpet lift. The runs are 800' long and have a vertical drop of 80'. For children ages 4 and under, there is a special Kiddie Tubing area designed for the smallest guests.
If you'd like to try skiing or snowboarding, you shouldn't feel intimidated. Roundtop is a great place to learn and offers lessons for all skill levels. The slopes range from easy to extremely difficult and include a terrain park and a vertical drop of 600' with a top elevation of 1,355'. If you plan to ski during the 2020/2021, it is highly recommend that you purchase an Epic Day Pass which offers savings versus the purchase of lift tickets and gives you priority access to securing the days you would like to ski or ride. Due to reduced capacity this season, if you choose not to purchase an Epic Day Pass, expect lift tickets to be limited on high demand days throughout the season. 
When you are ready to warm up or need to refuel, Roundtop has several dining options. They have updated the menus with ready-to-go hot and cold food options at the quick-service restaurants. Fireside Pub & Grill and the Main Lodge Food Court now offer Time to Dine – a convenient way to help you plan your meals, so you can enjoy skiing and riding without worrying about the lunch rush. To see availability and book a mealtime, simply access Time to Dine through EpicMix app or click here. Time slots open daily at 7 a.m. The deck bar and coffee shop are closed. Packaged beer and wine are available but the full-service bar is closed.
Roundtop is scheduled to open on December 11, 2020, for the 2020/2021 winter season. Face coverings will be required in every part of the operation, including while loading and riding on chairlifts and in gondolas, inside all buildings, and during all ski and snowboard lessons. No one will be permitted on the mountain without a face covering. Cloth neck gaiters are allowed. Face coverings are not required during the physical acts of skiing or snowboarding if the guest is maintaining a proper physical distance. Click here to learn about all the safety measures implemented during the winter season. Reservations are required to ensure social distancing requirements. Pass Holders will get priority access. 
Even if Mother Nature does not cooperate, Roundtop's state-of-the-art snowmaking system ensures snowy slopes with the best snow conditions in the region. 
Soak Up the Sun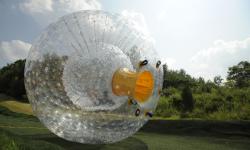 When the snow starts to melt, Roundtop doesn't slow down. They ramp up their spring and summer activities and mountain adventures. The warmer weather brings an adventure park, zip line canopy tour, paintball, day and residential camps for kids, and facilitated team-building at the ropes course. Mountain Adventures, open from Memorial Day to Labor Day, includes the OGO ball (Roundtop is one of only three locations in the United States where you can experience rolling down a hill inside this 11-foot inflatable ball), interconnected climbing features, a water slide, and the longest ziplines on Roundtop property. The Vertical Trek zipline canopy tour features 10 of Roundtop's zip lines, a Tarzan swing, bridges, cargo nets, and a boulder field. Adventure Camps are Roundtop's exciting summer camps for children that range from day camps to residential camps. Kids get to enjoy the outdoors while remaining physically active and forming lasting friendships. Last, but not least, facilitated team-building at the ropes course is perfect for any group seeking to understand both inter and intra-personal communication better.
Year-Round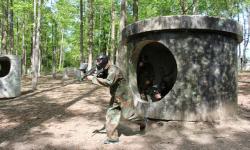 Throughout the year, Roundtop also features one of the largest paintball operations in Central Pennsylvania with 11 fields and a retail shop. Groups ranging from children's birthday parties to bachelor parties can take advantage of this exhilarating good time. The really great thing about Roundtop is that all the experiences you can have you are participating and actively engage each participant. Nothing at Roundtop is passive, allowing you and the whole family to get outside and enjoy the beauty and adventure only the outdoors can offer.