A play on words has never tasted so sweet! The Cumberland Valley is home to the midway point of the 2,180-mile Appalachian Trail. This famous trail includes some famous traditions. Historically when thru-hikers pass near the midway point they will stop at the Pine Grove Furnace General Store (located in Pine Grove Furnace State Park) and chow down on a half-gallon of Hershey's ice cream.
It might seem like an easy feat for a thru-hiker, some known to burn around 5,000 calories a day while hiking the famed Georgia to Maine footpath. However, the brick of ice cream can still be considered a "challenge" for most.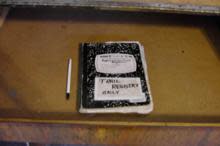 What do hikers walk (or hike) away with? A commemorative wooden spoon stamped with "Member of the Half Gallon Club" and the sweet smell of success. 
Visitors to the Pine Grove Furnace General Store can enjoy flipping through the composition notebook filled with hiker tales of attempted and finished half-gallons. Some brag they could "still eat a cheeseburger" while others dream of "sleeping it off on the trail." 
While visiting Pine Grove Furnace State Park plan a stop at the Appalachian Trail Museum, the only museum in the country dedicated to hiking. This museum highlights the unique stories of the trail and the people that have traversed it. You will learn about interesting people like Grandma Gatewood who was the first solo female hiker to complete the entire trail at age 67. 
This museum also features examples of A.T. shelters and thru-hiker memoirs. If you stop by on the right day you can mingle with the thru-hikers in the lounge area.