Every year we come to Carlisle to visit family and escape the Texas heat!  While temperatures in Texas soar towards 105 daily and the lakes, creeks, and beautifully landscaped yards begin to dry up we are in Pennsylvania enjoying temperatures in the 80's and 90's and participating in outdoor activities that don't involve swimming!  We love it but somehow our trip always includes a trip to swim at Laurel Lake.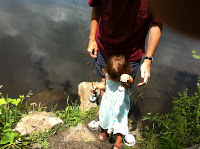 This family friendly, convenient location is the perfect swimming hole when we just can't stand another day without a dip. The water is always COLD and my husband teases me for not usually spending much time actually in the water.  I'd rather hang in the sand building castles or rivers to be tended to or smashed depending on the will of my 2 year old.  The kids don't mind the temperature, and neither does Dad. 
The swimming area is great, the facilities are clean, there is almost never a crowd, and when we are done swimming we either rent a boat for a spin around the lake, break out the fishing poles, or head to the Twirly Top for ice cream on the way home. 
From Carlisle it is only a 20-minute drive so the kids can't even get bored in the car and we can ride home in our suits!  For me, any trip that doesn't need to involve packing a lunch and extra clothes means I'm in!