A short 15-minute drive from downtown Carlisle, Laurel Lake provides the perfect respite from the oppressive summer heat. Located in Pine Grove Furnace State Park, the original 25-acre lake was deliberately created in 1830 to provide water power for the nearby iron forge. (Click here to learn more about the history of Laurel Lake.) Today, the cool water and sandy beach combine with a scenic mountain backdrop to provide a peaceful refuge away from the stress of everyday life.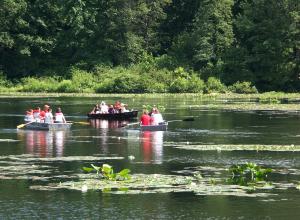 The water at this family-friendly swimming hole is always COLD allowing you to easily beat the heat during the most scorching dogs days of summer. Get comfortable on your favorite beach chair or settle down on a blanket in the soft sand. If you get hungry, snacks and drinks are available from the concession stand located next to the lake. (The building also features restrooms.) Or you can stock up on food and drinks at the Pine Grove General Store. There are plenty of picnic tables and charcoal grills nestled among the trees by the lake if you need a break from the sun.
When you are done swimming, rent a boat or kayak to take a spin around the lake, break out the fishing poles, or put on your hiking boots and explore some the park's trails, including a section of the iconic Appalachian Trail. (The halfway point of the A.T. is located in the park.)
For the perfect ending to your day, hop in the car for a quick 10-minute drive to Twirly Top. In operation for over 65 years, this local favorite offers some of the best soft serve ice cream around.
A few tips:
Swim at your own risk. There are no lifeguards on duty at Laurel Lake. The beach at nearby Fuller Lake has lifeguards.
The Department of Conservation and Natural Resources urges caution because of extreme depths and cold subsurface waters of the lake.
Cell phone coverage is spotty or non-existent in many sections of the park.
Be sure to check out the park's schedule of events during your visit. They host numerous programs and guided walking tours.
There is no entrance fee for the park or lake. (There is a cost for boat rentals.)
Weekend Easy
After unwinding amidst the quiet, natural beauty at Laurel Lake and Pine Grove Furnace State Park, continue your Weekend Easy escape with an overnight stay at a nearby hotel or a more intimate B&B. If you're feeling more adventurous, bring a tent and set up at the park's campground or rent the historic, two-story Paymaster's Cabin if you are looking for more modern conveniences. (Reservations are recommended.)