Mother's Day is just around the corner. Don't let this holiday get away from you! Cumberland Valley's collection of unique gift shops, candy stores, and delicious restaurants can help you plan the perfect day for your Mom, grandmother, aunt, or other significant women in your life.
Mother's Day Gifts
Cumberland Valley is filled with boutique shops where you can find the perfect thoughtful gift for your Mom. Here are a few suggestions to point you in the right direction. Find a complete list of more than 200 local stores where you'll find a treasure trove of one-of-a-kind items.
For the Outdoor Lover & Nature Enthusiast
Help your mom stay hydrated for those day-long adventures with a new insulated water bottle from TCO Outdoors. They offer many in-store and online options, including a variety of Yeti products.
Earth Artisan & Outfitters features earth-based fine art, photography, goods & gear for the home, garden, and trail.
For the Bookworm
If your mom loves books, chances are she already has her favorites purchased and stacked high somewhere in the house. Instead, surprise her with a coffee mug, tote bag, or t-shirt that celebrates her love of reading. There are several options available at Whistlestop Bookshop.
For the Wine Lover
Castlerigg Wine Shop features an extensive variety of wines from Seven Mountains Wine Cellar. You'll find dry reds, dry whites, sweet wines, fruit wines, and fortified wines. The shop also offers a great selection of wine-related merchandise.
For the Gardener
Spring is the time for plants, plants, and more plants, and you can find a wide variety of Ashcombe Farm and Greenhouses – from houseplants and herbs to annuals and perennials and more. Or purchase gardening supplies such as gloves, boots, or a watering can.
For the Cook
With over 20,000 items, The Kitchen Shoppe is the perfect location for fun or practical gifts. This gourmet superstore is the place to go for kitchen gadgets, bakeware, cutlery, cooking utensils, housewares, and more.
#SelfCareSunday
Mother's Day is on a Sunday, and if you can't be with your Mom in person, send her a gift so that she can pamper herself.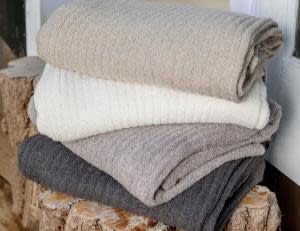 At Susan's Treasures, you'll find Barefoot Dreams, a super soft luxury line of loungewear, robes, and blankets (pictured) that will leave your Mom feeling calm and refreshed. Items can be purchased in-store or online.
Glitz Soap Co. sells handmade, small-batch cold process soap bars, hair care, body butter, lip scrubs and lip butter, face creams, masks, scrubs, and more. Better yet, products are vegan and eco-friendly. They also have a second location in downtown Carlisle.
No Common Scents in downtown Carlisle is also an artisan bath and body shop filled with a variety of organic & natural hand-made soaps, lotions, scrubs, lip balms, bath bombs, soy & coconut-based candles, as well as shampoo and conditioner bars, including our own lines.
For the Coffee Lover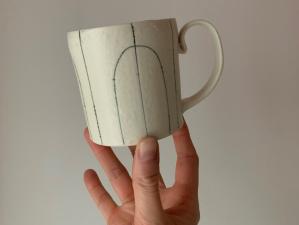 Pick up a beautiful handmade ceramic coffee mug from K. Olson Ceramics (pictured)  in Carlisle. Next to K. Olson, you'll find Pat Craig Studios, which sells a variety of novelty mugs and hand-warmer mugs.
One Good Woman's extensive selection of coffee beans that are purchased worldwide and roasted in small batches. Here you'll find light, medium, and dark roast coffees plus flavored coffees in regular or decaf. In addition to their fresh coffee, they carry many accessories such as carafes, French presses, and coffee grinders.
For Every Mom
You can't go wrong with a fresh flower arrangement, and Blooms by Vickrey creates artistic floral arrangements that will please and delight the recipient.
Candy
Nothing says "I love you" quite like chocolate, and Cumberland Valley's artisan chocolates are sure to please and surprise. In addition to their normal offerings, many of these locations have special items for Mother's Day. 
At Macris Chocolates in Lemoyne, create your Mom's favorite assortment of candies from a bulk showcase offering more than 100 varieties of chocolates, including nougats, jellies, toffees, pretzels, and more. Boxed chocolates and custom gift baskets are also available.
Mummert Chocolates in downtown Carlisle features a display case with 36 varieties of assorted chocolates that will tempt the taste buds and satisfy any sweet tooth cravings. These delicious treats can be purchased by the piece, allowing you to try an assortment of the 36 varieties, including toasted coconut, peppermint patties, cordial cherries, buttercreams, raisin clusters, almond butter crunch, and assorted hand-roasted nuts. Pre-packaged options are also available.
Exquisite Chocolates, right around the corner from Mummert Chocolates, offers gourmet confections that are a work of art and sells some of the finest chocolates from around the world.
Are there even more options for chocolate in the Cumberland Valley? You bet. We suggest stops at Georgie Lou's Retro Candy, where you can find some of your childhood favorites, and the Lindt Chocolate Factory Outlet, where you will be greeted by a huge selection of Lindt's truffles.
Dining
Stay away from the chains this year and take Mom somewhere different and special at one of Cumberland Valley's many local restaurants. Find some suggestions below or browse from more than 300 dining options. Check each location's social media page for brunch or dinner specials and reservation information.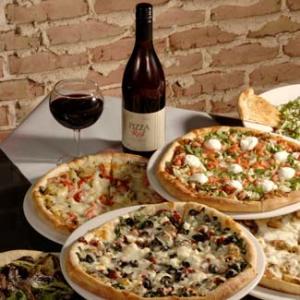 Introduce your palate to a variety of delicious culinary styles from around the globe at restaurants all located within a few short blocks of each other in historic downtown Carlisle. From Belgian to Indian to Japanese, you'll find authentic dining experiences sure to please every palate.
The unique restaurants in the Mechanicsburg, Camp Hill, and West Shore communities offer great menu items, delicious desserts, local beer, and artisan cocktails. 
If you want to keep the day much more casual, check out the Cumberland Valley Beer Trail. You'll be delighted with specialty tastings and unique pairings of locally crafted beer, wine, spirits, and cider at more than 30 locations. Even better, sign up for our free digital passport and start earning prizes. 
Things to Do for Mother's Day
Whatever your Mom's interests are, there's sure to be an event that she would enjoy. Check out what's happening in the Cumberland Valley during Mother's Day weekend.