A Fly-Fisher's Paradise
Home of renowned fly-fishermen like Ed Shenk, and known for famous fly-fishing streams including the Yellow Breeches Creek, LeTort Spring Run and Big Spring Creek, fly-fishermen have been traversing the Cumberland Valley since the 18th Century. Our scenic streams range from all-tackle Approved Trout Waters to fly-fishing only and no-harvest sections. This area is rife with Class-A Fly-Fishing waters - the highest qualify in the state for wild trout fly-fishing.
Discover what makes Carlisle a Trout Town in the article that appeared in American Fly Fishing magazine by clicking the link to the right.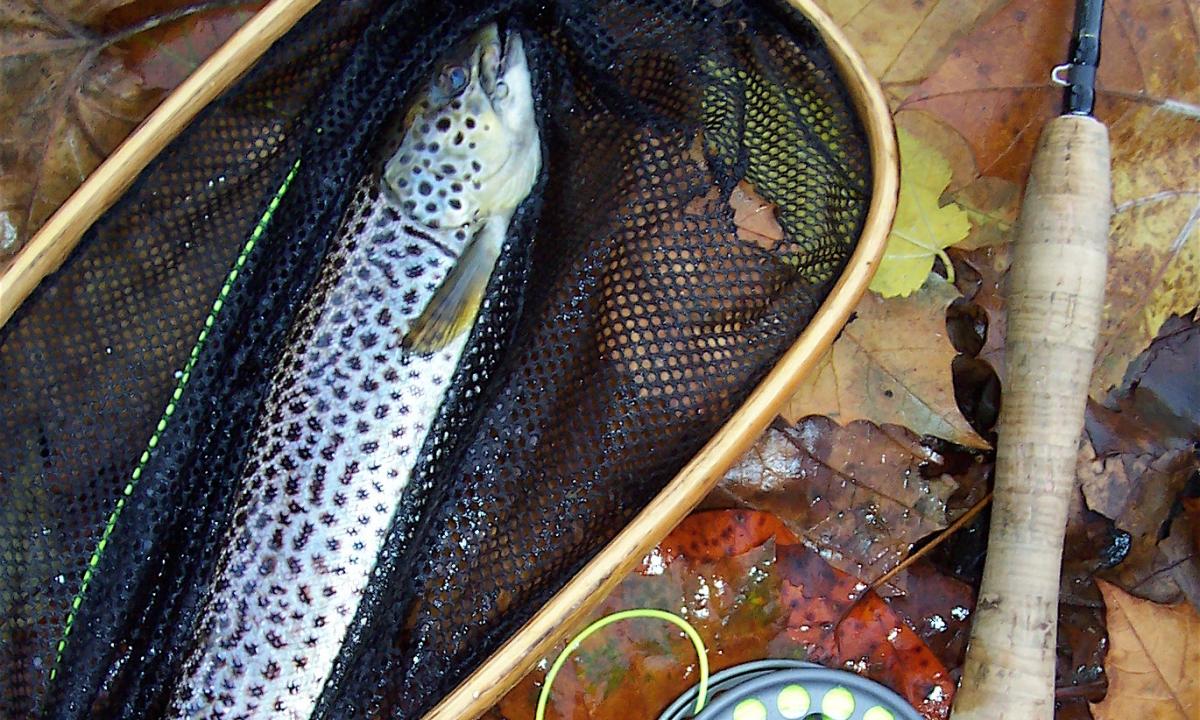 Our pristine waters are a rare gem among the historically polluted waterways of the East Coast. Geographically, our fertile soil and limestone bed concentration has made the waters suitable for a multitude of healthy fly hatches, specifically mayflies and caddisflies, which help keep our trout well-fed and large. Spring-fed streams (lovingly referred to as lime-stoners, due to the type of stone influencing the waters) keep a fairly constant year-round temperature of 56 degree water temperature, ideal for wild, breeding populations of trout, and year-round fishing opportunities. Fishermen especially enjoy fishing in May, when the fish bugs are most active, and October, when fall foliage is at its peak beauty. Despite these fishing peaks, fly-fisherman can be spotted at popular streams all through the year.
Fishermen can expect to find three types of trout in Cumberland Valley streams: brook, brown and rainbow. Brook trout are commonly thought of as the prettiest of the three types of trout, and are the Pennsylvania State Fish. Brown trout are the predominant trout found in our waters. Although they are not a native fish, both wild and stocked can be found. Rainbow trout are usually stocked, and tend to be the largest of the three types of trout and the easiest to catch.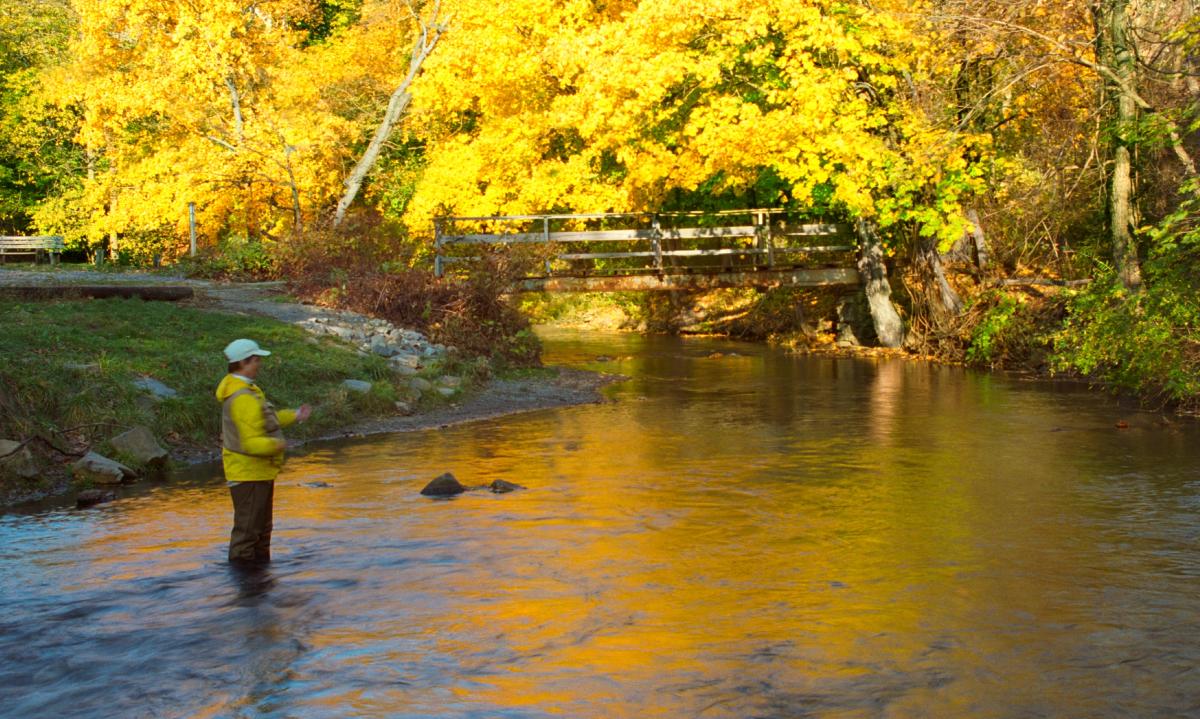 The Yellow Breeches Creek, is famous for stocked brown trout. Before heading out, be sure to check the most current fly-fishing report. 
Boiling Springs is a great scenic town that welcomes fly-fishers and nature explorers of all kinds. Fishing is available in Children's Lake, located at the center of the town. There is also a popular run off of Children's Lake with accessible parking near the Carlisle Iron Works Furnace. While in Boiling Springs, fishermen should not miss Gerald W. Putt Gallery, where they can find prints of wildlife, including trout, created by an award-winning nature and wildlife artist. This town is also a designated Appalachian Trail Community, home to the Appalachian Trail Conservancy and offers many hiking opportunities.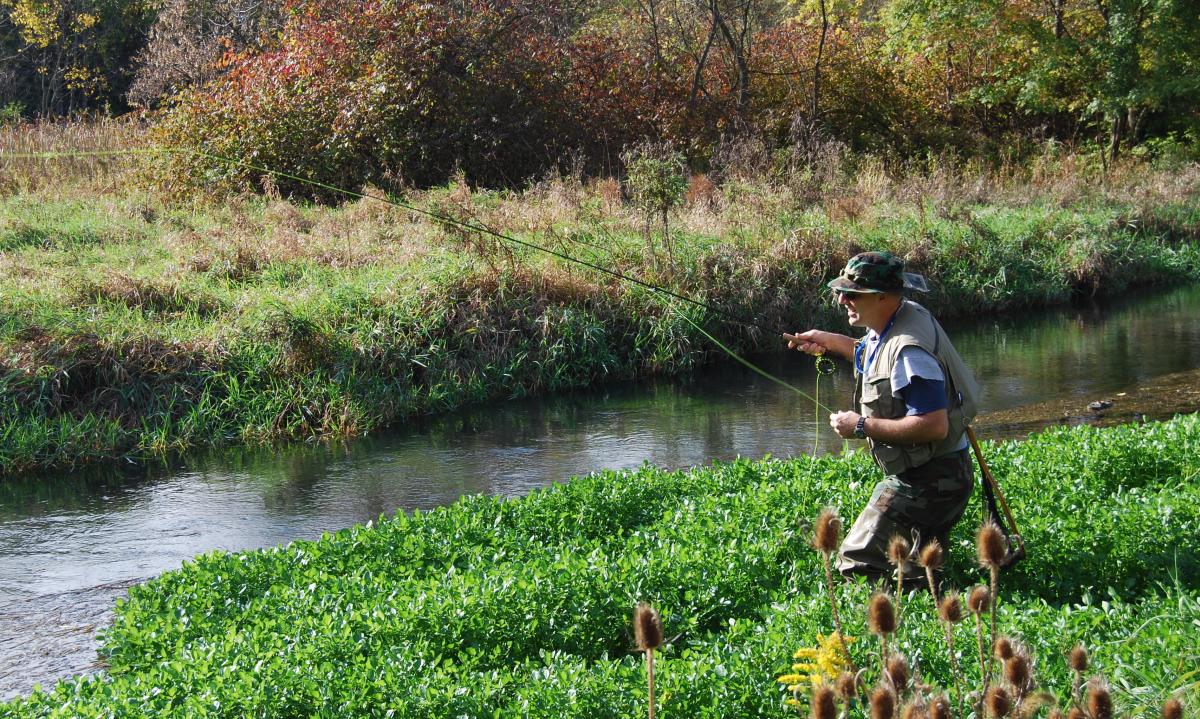 LeTort Spring Run is considered by some to be the most challenging stream in the world to fly-fish in, and was prominently featured in the book Fifty Places to Fly Fish Before you Die by Chris Santella. Fishermen come from around the world to try and reel in a big, wild and colorful brown trout, but the nature of the stream means they are smart and have many places to hide. The section from Bonneybrook to LeTort Park is specifically fly-fishing only waters. Fishermen near LeTort Park can also enjoy the LeTort Spring Run Nature Trail, which features interpretive signage highlighting industry along the LeTort Spring Run. See a LeTort Spring Run Fly Fishing video with fly-fishing tips from a Cumberland Valley resident.
This iconic stream was also the first stream featured on the companion TV series to the book Fifty Places to Fly Fish Before You Die. You can watch the episode here.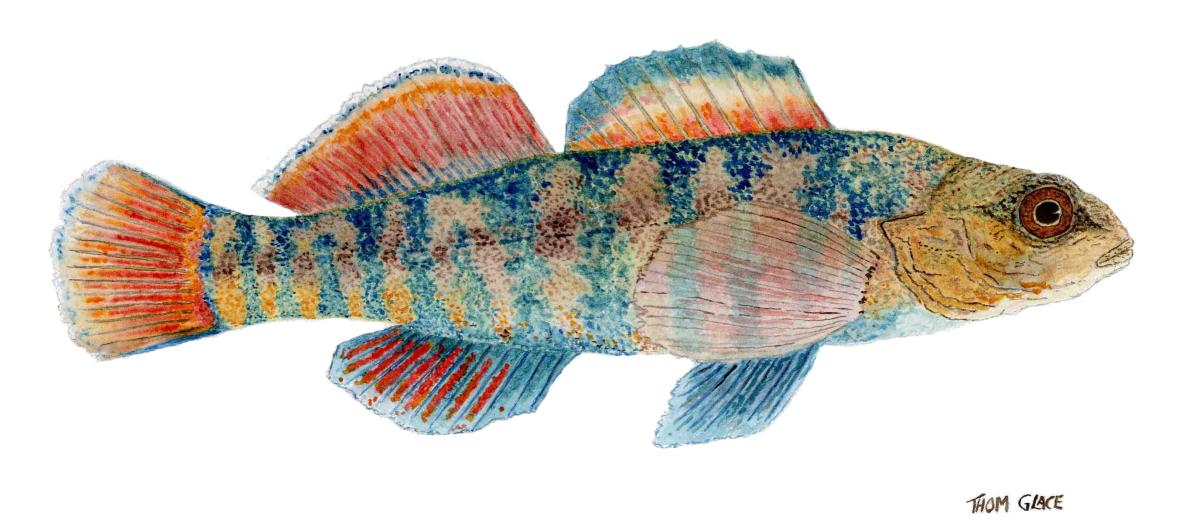 Big Spring Creek is an excellent spot to fish for wild and stocked trout. While wild brown trout are uncommon in this stream, visitors can choose to visit nearby Huntsdale State Fish Hatchery where they can learn about trout stocking and enjoy watching the huge trout that live in decorative ponds surrounding the hatchery. There is also a variety of informative brochures and booklets that can be picked up at the hatchery.
Big Spring's true claim to fame is its healthy population of native brook trout living among large and wild rainbow trout. There are only a handful of waters in Pennsylvania that support sustainable wild rainbow trout populations, and Big Spring combines those unique features with ample supplies of cress bugs and other invertebrates that make for large and healthy fish. Wild populations of trout are largely found near the headwaters, while the lower sections provide excellent stocked fishing opportunities.
Perhaps one of the most appealing qualities of Cumberland Valley streams are their close proximity to each other. Anglers can easily fish a variety of world-class limestones in one weekend, and still have time for other activities like sampling craft brews from Market Cross Pub or Appalachian Brewing Company.
Planning your fly-fishing trip is also easy to do in Cumberland Valley. Simply book a guide, like Tom's Fly-Fishing Service, and get out on the water. Ample parking and access points can be found on the Official Cumberland Valley Map (look for the brown F symbol). More streams, outfitters and angling points of interest can be found on our Fishing Page. More information on Cumberland Valley can be found in the variety of online travel guides. Finally, compare rates and find availability using the Cumberland Valley Booking page.
2017 Fishing Streams and Regulations
April 1, 2017, Opening Day of Trout Season: Big Spring Creek, Children's Lake, Doubling Gap Lake, Fuller Lake, Green Spring Creek, Middle Spring Creek, Mountain Creek, Opossum Lake, Yellow Breeches Creek
Trout Stocking: View trout stocking by county.
Year-Round Fishing: Laurel Lake, Mountain Creek (from Adams County line downstream to the backwaters of Laurel Lake)
Catch and Release Fishing: Yellow Breeches Creek - 1.17 miles; 0.17 miles of the Unnamed Tributary to Yellow Breeches Creek (from the outfall of Children's Lake to the confluence with Yellow Breeches Creek at Boiling Springs) and 1.0 mile of Yellow Breeches Creek from the confluence with the Unnamed Tributary at Boiling Springs downstream to the vicinity of Allenberry
Catch and Release Fly-Fishing Only:
Big Spring Creek - 1.1 miles; from 100 feet below the source (Big Spring) downstream to the Nealy Road Bridge 
Green Spring Creek - 1 mile; from mouth upstream to near confluence with Bulls Head Branch
LeTort Spring Run - 1.7 miles; from 300 yards upstream of bridge on T-481 (Bonnybrook Road) downstream to the Reading Railroad Bridge at the southern edge of LeTort Spring Park
Find A Room
Call (877) 840-2923 to book by phone
Cumberland Valley Quick Links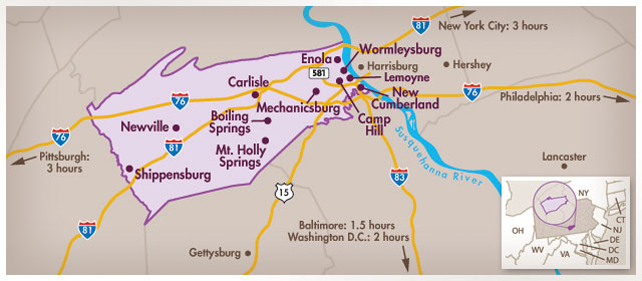 Explore the Valley using the map to the left or find activities and places to stay using the
Interactive Map