Whether you are a fan of thin crust, deep dish, stuffed crust, or even anchovies, the pizzerias and restaurants in Cumberland Valley give you plenty of choices for this mouthwatering favorite. Here are some highlights, along with must-try menu suggestions based on taste tests by our staff.
In addition to pizza, these locations also offer wraps, sandwiches, calzones, strombolis, hot and cold subs, appetizers, wings, and more. Check their social media for daily specials and hours of operation.
Click here to check out our full list of pizzerias.

Camp Hill
Nikoli's Pizza (3904 Gettysburg Rd.): Authentic Italian-American pizza, specialty hoagies, fresh bread made daily, and sauces inspired by "Nonna" means that you will find the perfect slice.
Nikoli's Famous Italian Style: An Italian sub meets pizza with their signature recipe. This creation features salami, provolone, ham, lettuce, tomato, onion, and oil.
Vito's Italian Ristorante (1150 Lowther Rd.): The owner and chef of this restaurant grew up in Italy and honed his cooking skills in several European countries. In addition to a nice selection of specialty pizzas, this restaurant is one of only a handful in the area making and selling its own wine.
Cowboy: Grilled steak, ranch dressing, BBQ sauce, and mozzarella cheese.

Carlisle
Miseno's Ristorante (598 W. High St.): Within walking distance of the Dickinson College campus in Carlisle, Miseno's is a favorite with the students, their parents, and the locals. 
Bambinos: They have 12", 14", and 16" pizzas for larger groups, but if you want something smaller but still filling or you want to mix and match, order the Bambinos. With almost 20 varieties, everyone can find their favorite flavor. 
Pizza Grille: With locations in Carlisle, Lemoyne, and Camp Hill, this casual restaurant offers an interesting and delicious selection of pizza in 8- and 10-inch sizes, with crust options including regular, whole wheat, and gluten-free. This smaller size makes it perfect for ordering a few pizzas to share since there are nearly 30 different flavor combinations to choose from!
Grilled Vegetable: This combination almost makes pizza feel healthy! Featuring grilled zucchini, yellow squash, roasted red peppers, caramelized onions, garlic olive oil, parmesan, and mozzarella, this tasty pizza reminds you of grilling and summer.
Seve-N-Dots Publik Pizza Place (40 E. Louther St.): Brick-oven pizzas made with a special sauce recipe are the highlight at this small restaurant, but locals rave about the pierogi pizza, one of their 12 specialty pies. Seve-N-Dots also offers artisan homebrews and is a participating location on the Cumberland Valley Beer Trail.
Pierogi Pizza: Creamy garlic mashed potatoes topped with caramelized onions, American, Cheddar, and Mozzarella cheeses.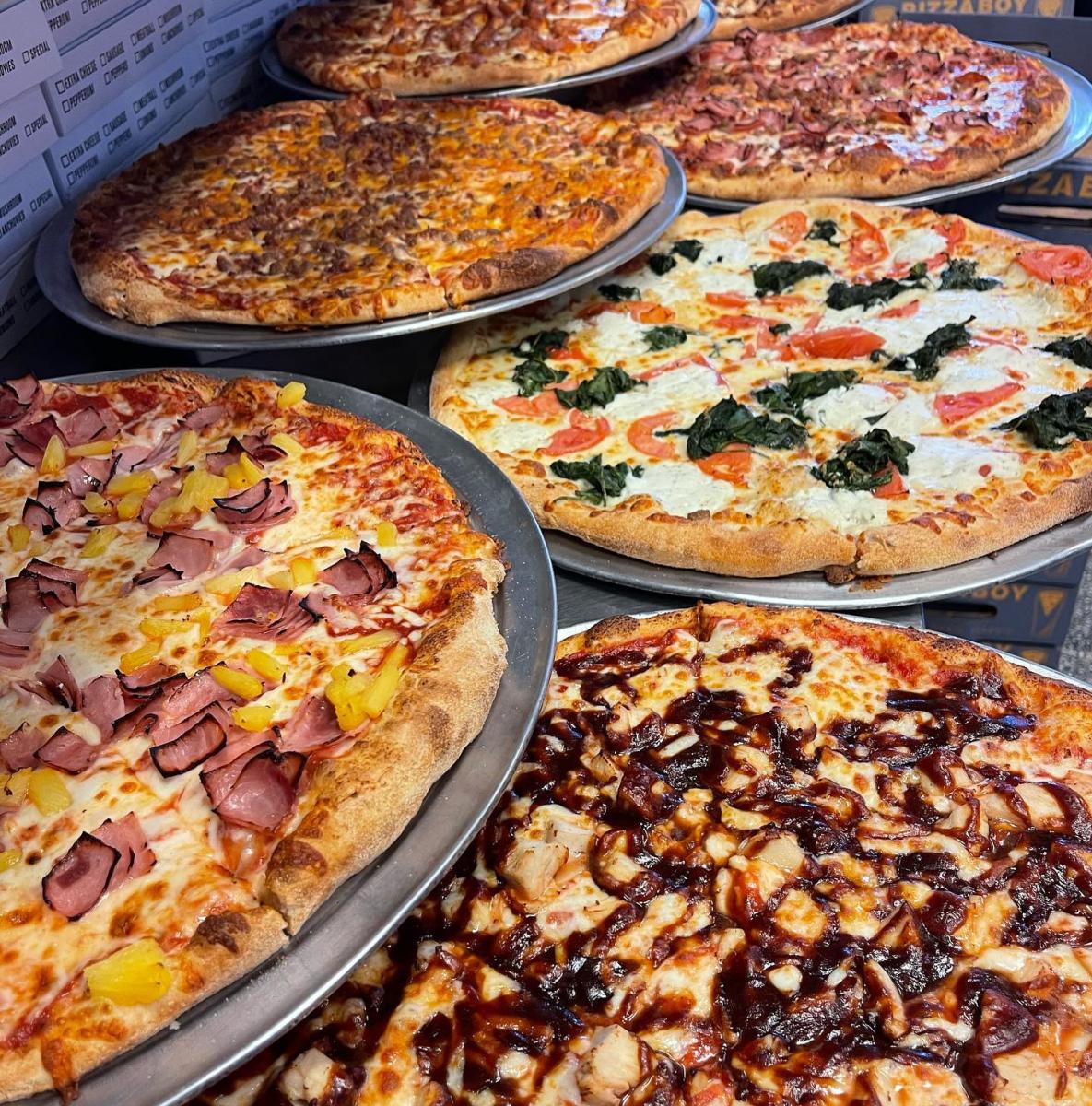 Enola
Al's of Hampden (2240 Millennium Way): "Pizza. Beer. Happy." Al's of Hampden has an extensive pizza menu with specialty, white, hand-tossed, and stuffed options. Al's also has the largest draft and bottled beer selection in the area, including 20 to 30 choices from their own on-site brewery (Pizza Boy Brewing Company). They are a participating location on the Cumberland Valley Beer Trail.
Hot, Hot, Hot: Pepperoni, Bell Peppers, Jalapeno Peppers, Onions & Fresh Garlic 
Jigsy's Brewpub & Old Forge Pizza (225 N. Enola Rd.): Jigsy's offers several house-brewed craft beers, and their menu includes gourmet pizza, specialty pizza, and old forge pizza. This unique style – born in Old Forge, PA, in Northeast Pennsylvania -- has a thick crust that is crispy on the bottom with a chewy center. These rectangular pizzas are ordered by the "tray" and served by the "cut," not by the slice.
Old Forge Pizza: Choose from traditional red, single-crust white, double-crust white, broccoli double white, or tomato and garlic double white.

Mechanicsburg
Amore Pizza (1430 Markethouse Ln.): Located in the community of Arcona, the owners of Amore Pizza value "quality over quantity," but you still get almost 20 different pizza options either as a personal size or a family size. Treat yourself to Nutella Pizza for dessert.
Paisano: Prosciutto, pepperoni, sausage, fresh mozzarella, and Reggiano parmesan
Home Slice at Walden (111 Walden Way): Located in the community of Walden, Home Slice makes its pizzas using fresh, premium ingredients and authentic Italian flavors. The menu features ten different choices, including options for a cauliflower crust.
Getting Chickie Wit It: Pulled chicken, pickled red onions, and scallions topped with cheddar & BBQ sauce
Jo Jo's Pizza & Pasta (107 W. Main St.): In business for over 50 years, Jo Jo's is located in the heart of downtown Mechanicsburg and has a second location in Mechanicsburg, conveniently located off Route 15 (2210 Aspen Dr.). They have an extensive menu with a nice selection of both red and white pizzas.
Tuscano Pizza: This is Jo Jo's best-selling specialty pizza made with homemade ricotta cheese sauce and topped with mozzarella, spinach, artichokes, and Roma tomatoes.
Lemoyne
Casero's Pizza (West Shore Farmers Market, 900 Market St., Lemoyne): Casero's Pizza may have limited hours, but they are one of Central PA's best-kept secrets. Offering the area's most authentic thin-crust New York Style pies, their pizzas are made from scratch using original family recipes and baked in very hot ovens. Their menu features red and white pizzas, or choose from various toppings to build your own.
Jed's White: Italian cheeses, garlic, basil, and olive oil