Cumberland Valley is a cyclist's dream, with miles of trails along scenic roads, rail trails, and mountain paths. The Valley and its towns are bike-friendly, and our rolling hills and landscapes offer nice ride options to connect one town to another. Viewing all our routes with cue sheets and directions is a great place to get started. 
Our region is also a craft brew destination,  with new local hotspots always popping up. For a full brewery experience, follow the Cumberland Valley Beer Trail. For a unique experience, plan a getaway filled with enjoyable cycling and microbrew tastings.
Shippensburg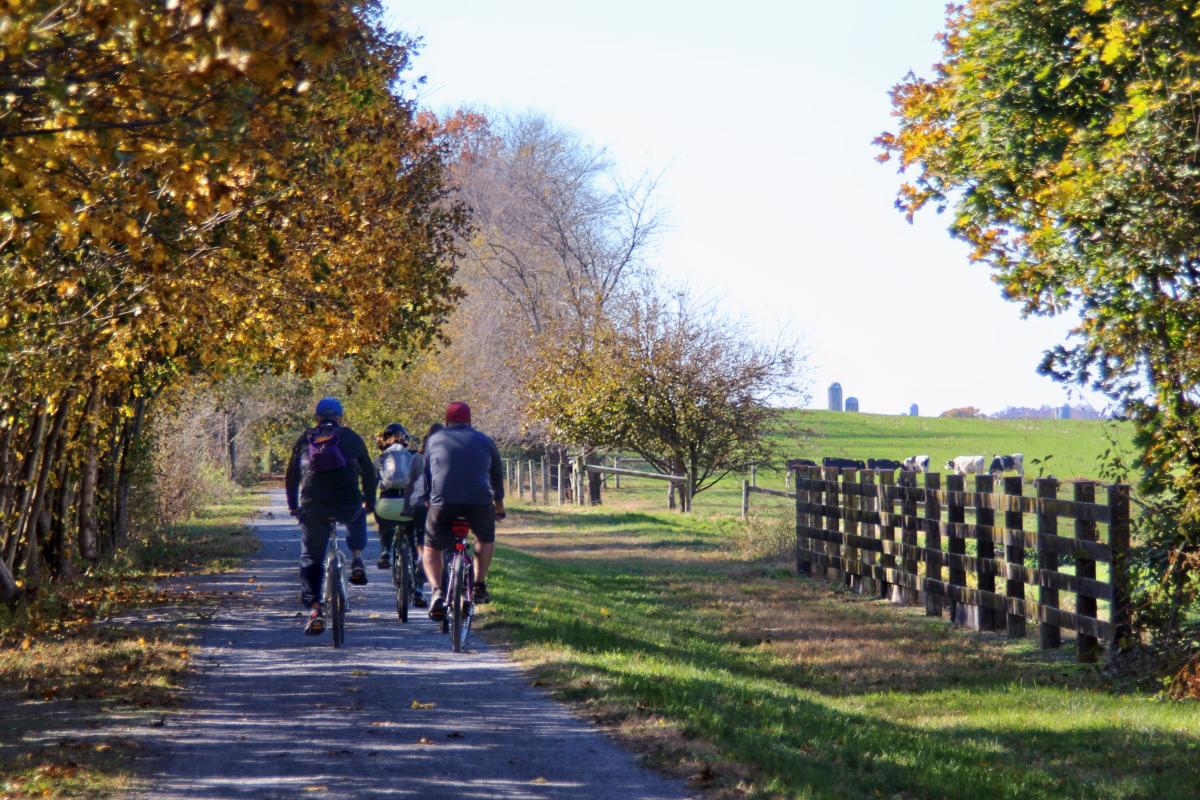 Cycling
Start your bikes and brews adventure in Shippensburg. This historic town has one of the trailheads to the 13-mile Cumberland Valley Rail Trail that runs from Newville to Shippensburg. This designated National Recreation Trail is also great for wildlife and history enthusiasts. Interpretive signage details the area's agricultural and Civil War significance, while the farmland allows for gazing at rolling hills and wildlife. 
Shippensburg Station connects the business district of Shippensburg, located two blocks from the trail's end, and the campus of Shippensburg University. Shippensburg Station is also home to the Cumberland Valley Railroad Museum, located inside a restored 1956 Penn Central 50-foot boxcar. Here visitors can explore artifacts representing the histories of the Cumberland Valley, Penn Central, and Conrail Railroads and exhibits that depict how these railroads affected the region. A second rail car will feature the soon-to-open Contrail Museum.
HINT: Merv's Bike Shop in Shippensburg offers daily and weekly bike rentals. They can also assist with your bike maintenance needs.
Brews
Plan an out-and-back ride to finish in Shippensburg, and check out these local favorites for a cold one.
Arooga's Grille House & Sports Bar: Besides a menu of wings, pizzas, sandwiches, and much more, Arooga's bar area also features a variety of beer options, including happy hour specials and growlers to go. 
Appalachian Brewing Company: Choose from a selection of seasonal and craft beer, plus more than 20 ABC beers on tap daily. They also have a creative menu of burgers, pizzas, steaks, and more. Shippensburg ABC is also home to the King West Art Collaborative on the 2nd floor. King West Art Collaborative is a gallery and community gathering space that hosts established and emerging artists and musicians and showcases photography, mixed media, sculptures, and painting. 
In Newville, Whiskers Brewing Co. features specializes in drinkable, light-bodied lagers and ales with lower ABV and bitter. There are 12 beers on tap, brewed on the premises.
Carlisle

Cycling
Carlisle moved to become a bike-friendly town several years ago by adding bike lanes and signage throughout the downtown. Enjoy a ride through this charming town by following the Carlisle Bike & Pedestrian Trail. You'll roll past restaurants, shops, galleries, historic sites, and beautiful architecture.  
HINT: Cole's Bicycles in Carlisle sells several accessories and can assist with maintenance or repairs.
Brews
Carlisle is also known for its great hangouts and local brewpubs. Thanks to a recently approved ordinance, visitors are allowed to take their beer, wine, or spirits with them in a non-breakable container while strolling downtown. 
Mechanicsburg

Cycling
There are three planned routes that allow for easy biking that start in the town of Mechanicsburg. Take the route from Mechanicsburg to Boiling Springs for a leisurely ride on scenic roads. The Mechanicsburg to McCormick Road Loop includes rural roads and a few steady climbs, and the Mechanicsburg North Loop will take you past views of mountains and creeks. 
Brews
After a day of biking the quiet roads leading to and from Mechanicsburg, settle in for a brew at these locations.
Appalachian Brewing Company: The menu and drinks are similar to the Shippensburg location but with the addition of their on-site 15-barrel brewing system, which is second in size to only their main Harrisburg location. The Mechanicsburg site also houses ABC's "Soda Works," the manufacturing and bottling facility for their popular line of sodas. 
T.J. Rockwells: This local favorite is slightly off the beaten path, but once you find it, you'll keep returning. They have an extensive draft list, over 60 bottled beers, and a menu offering pub favorites. Join the "mug club" to have your special beer mug waiting for you every time you visit. 
Cold Springs Inn Brewing Company - Located only three miles from T.J. Rockwell's, Cold Springs takes full advantage of its scenic location along the Yellow Breeches Creek with a large outdoor deck where you can their craft beer, wine, and spirits. (NOTE: They are open seasonally from spring through late fall.)
West Shore
Cycling
Take a long ride from Carlisle through the West Shore Communities and into Harrisburg. Although this ride is along a busier road, it will lead you right past lots of great places to stop and check out, including shops and restaurants. You can also enjoy a residential ride leading you through two parks and busier streets from Camp Hill to New Cumberland. 
HINT: Holmes Cycling in Camp Hill offers repairs, bike rentals, and accessories.
Brews
Relax after these rides with a brew on the West Shore area of Cumberland Valley. 
Al's of Hampden: Home to great pizza and the Pizza Boy Brewing Company, Al's in Enola has over 100 beers on tap. You're sure to find a new favorite at this spot.
Brewhouse Grille: Brewhouse in Camp Hill features a variety of bottled beer and beer on tap, along with a menu full of American favorites. Enjoy a cold one at the outdoor bar and deck area.
Plan Your Getaway
With all these great riding options and breweries to check out, you'll want to stay the whole weekend. Browse our collection of hotels and B&Bs, or order a free visitors guide to help you plan your visit.
Click here to read more about 5 Favorite Biking Trails in Cumberland Valley.