Purple Lizard Maps is an independent cartographic design firm dedicated to making beautiful maps of beautiful places for people who want to get the most out of their recreation. They immerse themselves in the landscapes and communities they map, which results in creating a detailed map that shows all the options in the area open for public access by foot, bike, horse, motor, air, or water. This allows visitors to really connect to the places they explore. They recently completed the Michaux Lizard Map, which covers the northern region from Shippensburg to Mount Holly Springs and south to Biglerville and Waynesboro. With fantastic biking and hiking trails -- including 40 miles of the Appalachian Trail, four state parks, cross-country skiing trails, great climbing crags, back roads, dirt roads, and more, the Michaux area is an explorer's dream. Here they tell part of their story while on a 3-mile journey to explore Camp Michaux and Sunset Rocks.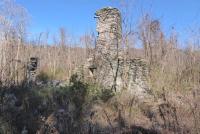 The adventure begins at the parking area at the intersection of Bunker Hill Road and Michaux Road, northwest of Pine Grove Furnace State Park. There are a few parking areas here, but we suggest the lot that sits directly in front of a historic crumbling barn wall (pictured right). From this parking area, we wanted to head east towards Halfway Spring and Sunset Rocks. We considered walking north on Michaux Road to intersect with the Appalachian Trail and then following this to Halfway Spring, but on this particular day, we decided to follow a few short paths from this barn structure downhill to Bunker Hill Road. We then followed Bunker Hill Road, which is gravel and has very little car traffic, to a gate and intersection with the Appalachian Trail. 
Sunset Rocks Trail & Little Rocky Ridge
We found the famous white blazes of the Appalachian Trail and turned right along the path towards Toms Run. The Appalachian Trail is easy to follow here, with a fun bridge crossing Toms Run. We quickly found the Sunset Rocks trail after crossing Toms Run. The blue blazes on boulders acting as a barricade for the old road and the obvious trail sign made this turn hard to miss. Sunset Rocks Trail was wide here before beginning to climb gently uphill towards Little Rocky Ridge. The climb became a bit steeper as we gained the ridge, but we weren't deterred as we were excited about the upcoming vistas.
The blue-blazed trail leads up to a small saddle of Little Rocky Ridge. Our Michaux Lizard Map highlights the trail heading east (right) toward Michaux Road, but explorers could also turn left (west) here for more vistas along Little Rocky Ridge. Blue blazes continue left for a while but eventually end. Exploring by foot is allowed anywhere along this ridge but be careful not to lose your way as there are some steep cliffs along the edges of the ridge. There are several spectacular sweeping vistas that overlook Michaux State Forest and Pine Grove Furnace State Park to the southeast. Fall and winter offer some majestic viewsheds! This ridge is filled with large boulders that are ideal for scrambling and rock climbing. Although this section of trail is only about a mile long, it can be a bit slow going because of all the rock hopping. Most of the steep rock crags can be bypassed by those uncomfortable with rock scrambling. With that said, small children and pets may need to be carried or hoisted around some of the larger boulders. The rocky ridgeline disappears, and the trail mellows out again as it descends toward Michaux Road. The trail winds around a leased camp and then shares a dirt driveway until it exits onto Michaux Road. We turned north (right) on Michaux Road and headed back to our parking area.
Appalachian Trail & Camp Michaux
Those who want to experience more of the Appalachian Trail and an Appalachian Trail Shelter Area can reference the Michaux Lizard Map and follow the west section of Sunset Rocks Trail, which leads to Toms Run Shelter. From here, head north on the AT until it crosses Michaux Road again, then simply road walk back to your parking area. This alternative route adds about 3 miles to the loop described above.
Before we jumped back into our car, we visited the site of Camp Michaux, which surrounded our parking spot. This area has just too much history to fit on our Lizard Map, but thankfully the Cumberland County Historical Society offers a self-guided walking tour sheet that explains the history that occurred on this site. History buffs and Appalachian Trail enthusiasts will also want to stop at the Appalachian Trail Museum in Pine Grove Furnace State Park on the drive home. The museum is open seasonally, beginning in April. Call ahead to check the hours of operation.
Find out where to purchase Purple Lizard maps in the Michaux and Southcentral Pennsylvania regions. For more information about other Purple Lizard maps or to read additional adventure blogs, go to PurpleLizard.com.