The smell of your favorite flower or the sound of a hummingbird are all easy reminders of how beautiful spring and summer are, especially after record-setting low temperatures and a snowy winter season. Cumberland Valley's garden shops, farmers markets and home décor stores have everything you need to get your yard, recipes and house ready for the new season.
Garden Centers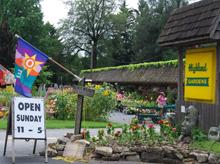 Ashcombe Farm & Greenhouses - Ashcombe's expansive greenhouse, garden and floral centers, and produce and food sections are a must-stop for residents and visitors any time of year, but particularly in the warmer months. Stock-up on garden supplies, plants, and homemade treats. Ashcombe's was recently named one of Today's Garden Center's "Revolutionary 100". 906 West Grantham Rd, Mechanicsburg
Highland Gardens - This family-run gardening center recently expanded to a five-acre growing location. With over 1,500 kinds of perennials and everything you need to have a successful growing season, stop by Highland Gardens before starting your picturesque outdoor garden. 423 South 18th St, Camp Hill
Maplewood Produce and Greenhouses - Maplewood in Shippensburg is a produce market and greenhouse selling vegetables, melons, berries, tree fruit, pumpkins, deli items, preserves, cider, eggs, dairy products, baked goods (Fri. & Sat. only), honey, flowers, herbs, bedding plants, seasonal turkeys, made-to-order hoagies, Christmas trees and bulk foods. 8564 Old Scotland Rd, Shippensburg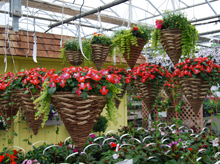 Oak Grove Farms - Oak Grove Farms operates a farm and country store, while also being a Community Supported Agriculture (CSA) farm, where supporters pay for 10 sessions in advance and are able to pick up their own items. Oak Grove offers baked goods and fresh produce, as well as hanging baskets. 846 Fisher Rd, Mechanicsburg
Paulus Farm Market - While fun in any season, Paulus Farm Market's open air facility is the perfect afternoon adventure for the entire family this spring and summer. Paulus' selection of plants, gardening supplies, and hanging baskets is ideal for the growing season. Enjoy the variety of fresh fruits, vegetables, deli items, and baked goods while the kids play with the barnyard animals. 1216 South York St, Mechanicsburg
Stauffer's of Kissel Hill - Stauffer's has a few locations around Central Pennsylvania and many resources to make your outdoor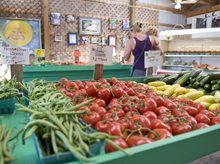 dream décor a reality. The staff will help you design the layout of your inspired home and outdoor concepts. Stauffer's also offers free "How To Talks" on great gardening tips. 51 Gettysburg Pike, Mechanicsburg
Farmers Markets
Find more fresh flowers, fruits and vegetables at the collection of farmers markets spread throughout Cumberland Valley. View a complete list of farms, markets and wineries. You can also follow the Fresh Picked Fun trip idea for even more delicious goodies. 
Farmers on the Square - Hanover & High Sts, Carlisle; Hours: Wed 3-7 pm
Adams-Ricci Farmers Market - Adams-Ricci Community Park, Enola; Hours: 1st & 3rd Thurs of the month from 3-6 pm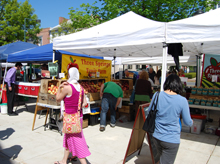 West Shore Farmers Market - 900 Market St, Lemoyne; Hours: Tues 8 am-3 pm (select vendors only); Fri 8 am-6 pm; Sat 8 am-2 pm
Buttonwood Gardens - 980 Waggoners Gap Rd, Carlisle; Hours: Mon, Tues, Fri 10 am-5 pm; Thurs 10 am-6 pm; Sat 9 am-4 pm
Carlisle Country Market Farmers Market & Specialty Shops - 1446 Holly Pike, Rt #34, Carlisle; Hours: Thurs-Sat 7 am-4 pm; Farmers Market: Fri 7 am-4 pm, Sat 7 am-2 pm
The Country Butcher Shop - 286 McAllister Church Rd, Carlisle; Hours: Tues-Wed 9 am-6 pm, Thurs-Fri 9 am-7 pm, Sat 8 am-5 pm
Hollabaugh Brothers Fruit Farm & Market - 545 Carlisle Rd, Biglerville; Hours: Mon-Thurs 8 am-6 pm, Fri & Sat 8 am-5 pm, Sun 12-5 pm
Garden Gate Farm Market - 1560 W Trindle Rd, Carlisle; Hours: Mon, Tues, Thurs, Fri 9 am-6 pm, Sat 9 am-5pm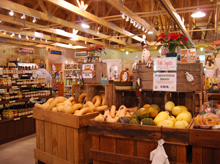 Kline Road Gardens - 107 Kline Rd, Shippensburg; Hours: Mon-Sat 7 am-8 pm
Shippensburg Auction Center - 1122 Ritner Highway, Shippensburg, Hours: Tues, Thurs & Fri 9am-sold out
The Farmers Market on 4th - 400 Bridge St, New Cumberland, Hours: Sat: May-October, 9am-1pm
Events/Classes
Whether you have a green thumb or are just starting your first garden, these classes are a great way to learn more about flowers and growing your own food.
Ashcombe Farm & Greenhouses - Ashcombe presents a variety of classes throughout the year, but spring and summer classes are great for any gardener. Some events require pre-registration.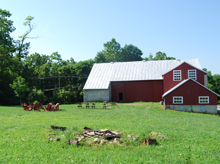 Dickinson College Farm - Dickinson provides events during the spring and summer designed to educate on local farm resources. A few events are even tailored for children to understand sustainable food practices. Dickinson also hosts week-long "D.I.G (Discover, Inquire, Grow) camps at their farm for a different age groups throughout the summer.
The Rosemary House -The Rosemary House is one of the oldest herb shops, with events throughout the summer. Discover herb gardening or enjoy tea pairings at their many events. The Rosemary House will also be a part of the Mechanicsburg Earth Day Festival and Mechanicsburg's Art and Wine Walk.
Penn State Master Gardeners' Events - The Penn State Ag Extension has a number of seminars and online webinars available on topics ranging from sustainable growing to water quality. They also host an annual Plant Fest & Sale. These events are often hosted by the Penn State Master Gardeners who also hold events at the Cleve J. Fredricksen Library.
Find dates, times and more details on our Events Calendar.
Home
While spring and summer are great times to prepare and focus on the outside garden, don't forget about your indoor space. Places like Blooms by Vickrey, The Whimsical Poppy, and Pealer's Flowers can help you put together a floral arrangement for your home or find specialty décor items that aren't offered anywhere else.