Spend some time in Cumberland Valley and you may notice that it echoes with sound.  From the South Mountain to the Blue Mountain, you will catch every musical rendering from classical orchestra to bluegrass and most genres in between.
Music with a View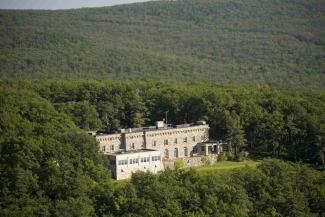 If you are seeking a unique music venue, look no further than the Valley's outdoor assets. King's Gap Environmental Education Center features monthly concerts during the warmer months that take place at the top of a four-mile long winding road in front of the Mansion. Just outside of downtown Carlisle, visitors can be entertained by the variety of musical acts that perform most Sundays from June through August at the amphitheater in Thornwald Park. Or, take to the water, and catch a Blues Cruise, Jazz Cruise or Party Cruise on the Pride of the Susquehanna.
Surround Sound
A more traditional concert experience can be found in Cumberland Valley theaters. The H. Ric Luhrs Performing Arts Center is the home of a range of performances each year, culminating into the annual Festival Series which features three symphony concerts. The art-deco Carlisle Theatre has been entertaining guests since 1939 and hosts a variety of musical acts and even a free community musical during Summerfair.  The Playhouse at Allenberry is nestled against the scenic backdrop of the Yellow Breeches Creek where guests can see Broadway productions and musical performances. The Little Theater of Mechanicsburg and Oyster Mill Playhouse offer a chance to see community members try their hand, and best singing voice, at unique and quirky musicals.
Festivals and Events
There are a variety of annual festivals and events featuring live music happening throughout the Valley each year. The Harrisburg Symphony Orchestra performs a number of free summer concerts around Fourth of July, including ones at Dickinson College and Lemoyne's Negley Park. Dickinson College also hosts the annual Bluegrass on the Grass Festival, which has been a summer staple for over 20 years. And, the Appalachian Trail Music Festival in Boiling Springs promises a great afternoon of live music against the backdrop of scenic Children's Lake.
You can also find live music year-round at many of our restaurants, breweries, and wineries.
With all of the great live music options available, you might have trouble deciding which location to visit first.  Check out the Cumberland Valley event calendar and sort by live music & concerts to find what's playing this weekend.