Cumberland Valley Restaurants
Whatever brings you to Cumberland Valley, you will need to stop and eat! Introduce your palate to a variety of delicious culinary styles -- from delectable Cumberland Valley comfort foods to flavors from around the world. Whether it's sweet or savory, spicy or mild, healthy or indulgent, use the search feature below to find the flavor you're craving.
We also have all of your favorite fast food and chain restaurants. Whether it's Starbucks, Chipotle, Red Robin, Panera, or Chick-Fil-A, these locations offer convenient service when you know exactly what you want.
It's now even easier to enjoy gathering at our local restaurants with relaxed restrictions taking effect on April 4. Please note that mask-wearing and social distancing are still required.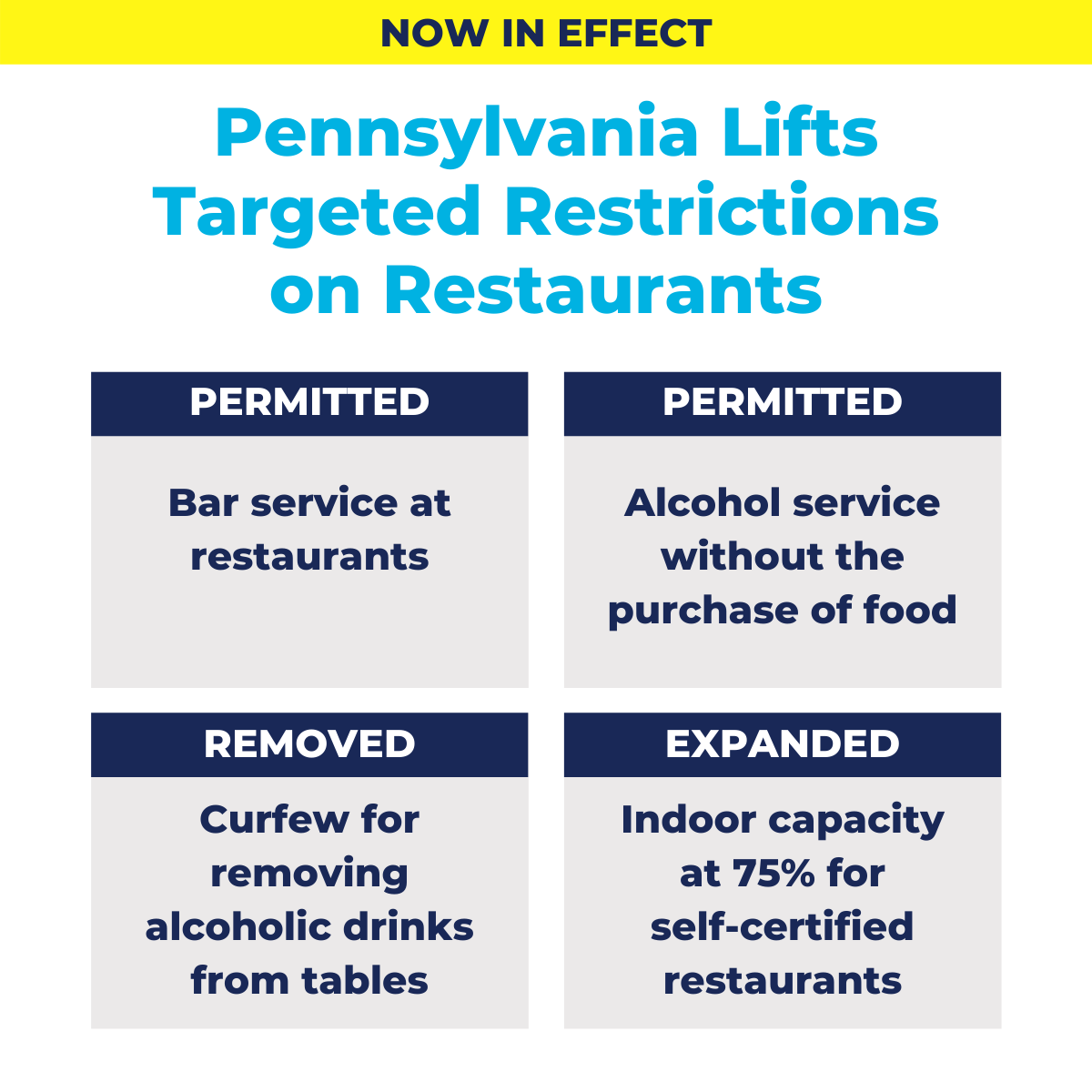 Cumberland Valley Restaurants FAQ
Are restaurants open for in-house dining?
Effective 4/4/21: Restaurants can resume bar service, allow alcohol service without the purchase of food, and once again sell alcohol after 11 p.m. Restaurant capacity will increase to 75% if they complete the state's self-certification. Restaurants that don't self-certify will be capped at 50% of occupancy, 
1/4/21 Update: The limited-time mitigation orders issued on December 12 expired on January 4, 2021. Mitigation efforts will revert to the earlier orders originally released on Nov. 23, 2020. 
In-person indoor dining is permitted at 25% or 50% for self-certified restaurants. This applies to businesses in the retail food services industry, including, but not limited to, bars, restaurants, breweries, wineries, distilleries, social clubs, and private catered events.
On-site alcohol sales are permitted through 11:00 pm. No alcoholic beverages are allowed after midnight.
Update 9/21/20: Governor Wolf has announced that beginning on September 21, 2020, restaurants may increase indoor occupancy to 50% of capacity. Restaurants will ​commit to strictly complying with all public health safety guidelines and orders through an online self-certification process.
Restaurants that self-certify will appear in the Open & Certified Pennsylvania searchable online database of certified restaurants across the commonwealth. Consumers will be able to access this database helping consumers make more informed choices about the food establishments they are patronizing and instilling confidence that they can dine safely.
In addition, restaurants serving alcohol must end alcohol sales by 11 pm. Other targeted mitigation efforts put in place for bars and restaurants on July 16, 2020, remain in effect, including:
A prohibition from conducting operations unless the facility offers sit-down, dine-in meals, or is serving take-out sales of alcoholic beverages. All service must be at a table or booth; bar service is prohibited.
Alcohol only can be served for on-premises consumption when in the same transaction as a meal.
Take-out sales of alcohol for the purposes of off-site consumption are permitted subject to any limitations or restrictions imposed by Pennsylvania law.
Non-bar seating in outdoor areas (i.e. tables or counter seats that do not line up to a bar or food service area) may be used for customer seating.
Social distancing, masking, and other mitigation measures must be employed to protect workers and patrons.
Are masks required for in-house dining?
Yes, state regulations require guests to wear masks to enter or move around the building.
A strengthened masking order effective as of 11/20/20, requires indoor dinging guests to wear masks even when sitting at their table except when eating.
Is outdoor dining available?
Yes. Even with the arrival of the colder winter month, many locations continue to offer outside dining (with heating) as an additional option. In many instances, takeout, curbside pickup, and delivery remain available. Please check individual websites and social media channels to confirm hours of operation.
Learn more
Help support your favorite Cumberland Valley restaurants. Learn how
Travel Blog
The restaurant features a strong emphasis on locally-sourced foods and sustainability. Menu items include "simple and honest" food such as Mason Dixon Crabcakes, The Molly Burger,...
Learn More
Featured Experience
Located inside Comfort Suites in historic downtown Carlisle, 1794 The Whiskey Rebellion serves up a strong emphasis on locally-sourced foods and sustainability. Jeff Utzman, the Executive Chef, is dedicated to using as many local farms, bakeries, florists, and other partners that he can. So much so, that in the summer months, 92% of the food on the menu is from 32 miles away or less. Jeff and his team are about getting back to the roots of the food we eat and how it should be treated and prepared. Whether's it's their farm-to-table menu items or the farm-to-shaker cocktails featuring Pennsylvania Whiskey, at 1794 guests will find an authentic experience that offers a menu that expresses the roots of the community.
#CarryOutPA
If you want to enjoy your favorite food from your favorite Cumberland Valley restaurant, check out the options for takeout (curbside pickup) or delivery. Whether you need a family meal or you are just craving a dessert, our Cumberland Valley restaurants are going above and beyond. Their creative menus are sure to please even the pickiest eater. Or find out more details about many of the restaurants in Carlisle, Camp Hill, Mechanicsburg, and the West Shore by heading over to our blog.