The Cumberland Valley Arts Association (CVArts) is a group comprised of artists and gallery owners committed to showcasing the rich heritage and ongoing growth of fine arts and crafts in Cumberland Valley. The Association encourages visitors to explore the Valley's vibrant local arts scene at these charming shops featuring a mix of traditional handcrafts, cutting-edge artists, and an eclectic selection of treasures. 
Cumberland Valley is the perfect year-round Weekend Easy destination for lovers of art. Plan your handmade adventure now and your family and friends will be thrilled to receive a one-of-a-kind gift that will be cherished for years to come. Or, purchase the perfect memento for yourself.
These are just a few of Cumberland Valley's cultural gems. Find a complete list of the Association's member locations.
Be sure to check with each location for their most up-to-date hours. Masks are required and social distancing is still in effect. Many stores provide online ordering and curbside pickup. 
New Cumberland/Lemoyne
Tickle My Senses in New Cumberland showcases one-of-a-kind gifts and jewelry, home decor, kitchenware, and garden art in mediums including ceramics, glass, wood, mixed media, and metals from over 125 local, regional, national artists. 
Art & Soul Gallery, located inside the West Shore Famers Market, features a variety of media from local, national, and international award-winning artists.
Mechanicsburg
Mechanicsburg is home to several inspiring galleries and shops. Be sure to also include a visit to the Mechanicsburg Museum Association for a peek into the town's history.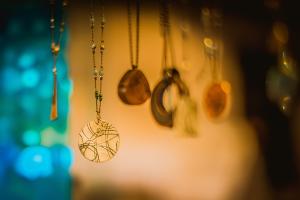 Brain Vessel (The Gallery) features investable art and unique gifts, including playing cards, dice, coasters, prints, framed artwork, and jewelry. The sensory experience is enhanced by the presence of the Teafinery where guests can find premium hand-blended & organic teas, raw cane, beet sugars, local central PA honey, and infusions.
Brittle Bark's artisan desserts include its exclusive brand, Cocoa Creek Chocolates, with unique truffles and bars made by hand in small batches using premium, globally-sourced chocolates. Carefully selected ingredients are added to enhance and highlight the chocolate's distinctive flavors. Throughout the year, they also offer a variety of chocolatier classes.
Hershey Violins gives visitors a chance to witness the Old World process of crafting, repairing, or restoring violins and violas.
Pure Gallery offers fine art, custom framing, and artisan-made gifts at a variety of price points for every budget.
Carlisle
Historic downtown Carlisle features many wonderful attractions for the art lover all within easy walking distance of each other. Start your day at the Cumberland Valley Visitors Center, located inside History on High-The Shop. Before or after shopping, take a tour of the free museums at both the Cumberland County Historical Society and the nearby US Army Heritage and Education Center. Then, complete the day with a stop at one of downtown's many restaurants.
Carlisle Arts Learning Center offers a fabulous visual arts experience that showcases a variety of exhibits that engage the audience. The center also houses a sales gallery with handcrafted items and fine art and jewelry by local artists. If you are looking for a hands-on experience, try one of their art classes.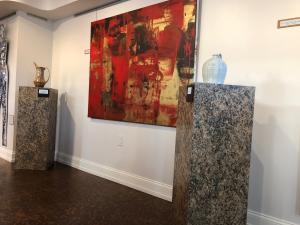 The Penny Gallery at The Pond is named for its one-of-a-kind floor made from 140,000 pennies that were glued in place one at a time. The gallery features art exhibits.
At American Artisan Gallery, you can purchase a unique assortment of arts and crafts fashioned by American artists from throughout the country. You'll be sure to find the perfect pieces among the ever-changing mix of beautifully crafted items. 
the greatest gift provides a warm and welcoming atmosphere that showcases the handcrafted work of over 90 artists.
Create-a-Palooza's art and activity studio offers family-friendly fun with paint-your-own pottery, canvas painting, or glass painting. 
History on High is the museum shop for Cumberland County Historical Society and hosts the Cumberland Valley Visitors Center. It sells a unique selection of gifts, artwork, and books and is the perfect location to purchase a memento from your visit to Cumberland Valley.
Feathers in the Nest, located in a quiet alleyway, is a vintage and home decor store with a constantly-changing selection of awesome finds and unique items.
Outside of downtown Carlisle, be sure to check out Meadowbrooke Gourds, where gourds grown onsite are handcrafted into beautiful home decor, and Mulberry Hill Farm, which sells small-batch hand-dyed yarn and wool fabric, hand-carved wood birds & farm animals, applique patterns, and many handmade gift item
Boiling Springs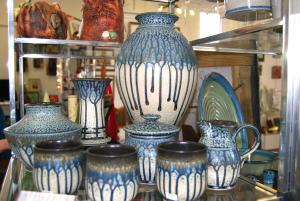 The picturesque town of Boiling Springs features the beautiful spring-fed Children's Lake and plays host to the annual Foundry Day Arts & Crafts Festival held on the first Saturday of June.
Village Artisans Gallery, housed in a renovated circa 1875 brick church, offers a wonderfully eclectic selection of traditional and contemporary fine American crafts and art.
By appointment only, metalledwith studio featured botanical metalwork jewelry inspired by nature and crafted by hand. You'll find original, wearable art made in and from Pennsylvania. 
Weekend Easy
Make Cumberland Valley the perfect  Weekend Easy destination when you combine your trip to our specialty shops with nearby historical sites, wineries, and microbreweries, Our hotels, B&Bs, and resorts are ready to welcome you!