Cumberland Valley features abundant and fertile farmland, with 43% of the county designated for agricultural use, supporting 1,400 working farms. It's no surprise that residents and visitors relish the taste of locally grown produce, dairy products, and meats, which can be found at roadside stands, weekly farmers' markets, or even at grocery stores sourcing local produce.
For a unique experience, visit one of the Valley's weekly and monthly farmers' markets, sourcing a variety of goods in an open-air shopping event. Or, attend a food festival, celebrating the season's bounty with food, entertainment, craft vendors, and more. Or embark on a journey along the seasonal Cumberland Valley Farm Fresh Trail where you'll find a variety of retail farm locations, u-pick fields, and farm attractions. Check in at participating locations and earn prizes while exploring delightful farm fun experiences.
However you slice it, you'll find a bushel of fun in Cumberland Valley.
Farmers' Markets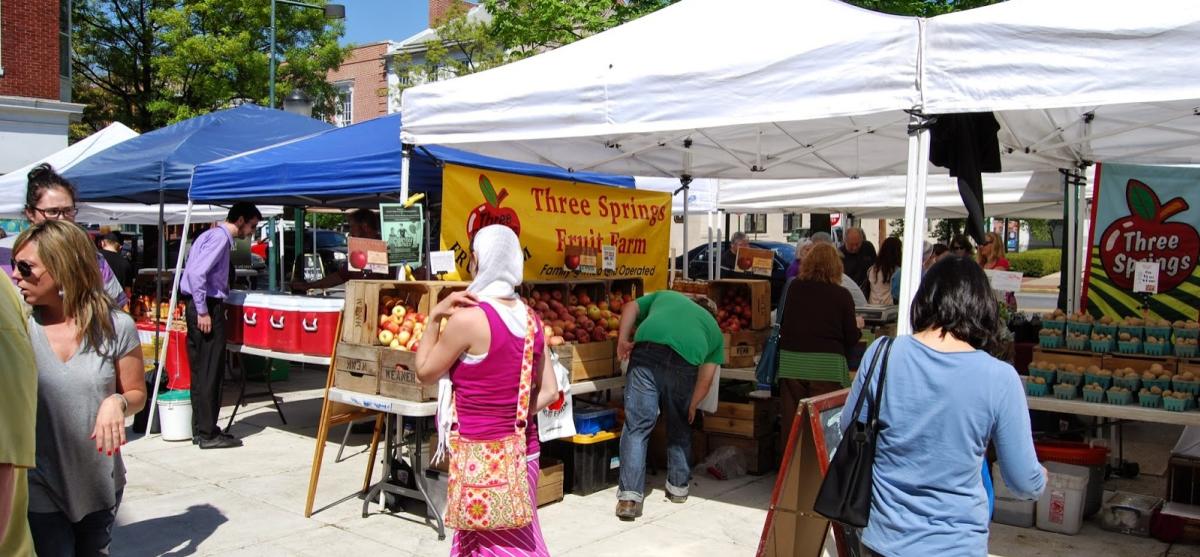 Check off more on your list than just produce when you visit a weekly or monthly farmers' market. Many markets source their vendors locally, offering produce, dairy products, meat, prepared foods, artisan goods, and more. With markets scheduled for almost every day of the week, you can support Cumberland Valley's farmers no matter when you visit. TIP: Check the hours of operation. Many locations are open seasonally. 
Tuesdays
The market features 10+ regular and guest vendors furthering the #ThriveHere promise by providing the community with access to fresh seasonal produce and foods, supporting greater well-being, and promoting healthy eating choices.
Address: 2000 Chestnut St., Camp Hill
Hours: Tuesdays, 3 pm to 7 pm, from mid-May through mid-October.
Wednesdays
With more than 20 vendors, you can find all your fresh food needs at this robust market, including brick-oven bread, pasture-raised meats, gluten-free bakery items, award-winning gourmet cheeses, seasonal produce, and more. Other treats include gourmet popcorn, locally-made hard ciders and wines, hot sauces, and guacamole.
Address: Hanover & High Sts., Carlisle
Hours: Wednesdays, 3 pm to 7 pm, from May through October and 2 pm to 5 pm from November through April.
Thursdays
Adams-Ricci Farmers Market features over ten vendors selling fresh homegrown produce, farm-raised meat & poultry, homemade baked goods, honey, prepared foods, wine & more.
Address: Adams-Ricci Community Park, Enola
Hours: Thursdays, 3 pm to 7 pm, from the third Thursday in May through the last Thursday in October.
Thursdays
Vendors at this small market offer fresh, seasonal produce, canned goods, wine, bread, candy, flowers, dairy products, desserts, nuts, soaps & lotions, craft beer, and more. Farms must be located within a 90-mile radius of the market.
Address: 180 Airport Rd., Shippensburg
Hours: Thursdays, 3:30 pm to 6:30 pm, from early May through mid-October.
First Fridays
Join the Newville Historical Society for a curated marketing featuring artists, farmers, gardeners, bakers, and crafters from Newville and the surrounding area. Find handcrafted items, including cheeses, soaps, oils, veggies, baked goods, flowers, plants, and herbs. Local musicians and historical talks and demonstrations are also scheduled.
Address: 69 South High St, Newville
Hours: The First Friday of each month, 3 pm to 6 pm from May through October.
Fridays & Saturdays
Upon entering this expansive indoor market, the delicious scents that greet you will make your mouth water. Over 40 food vendors sell everything from meats and cheeses to homemade dog treats, fresh fruits and vegetables, gourmet coffee, baked goods, and soft pretzels. Lunch-to-go options include Mexican cuisine, crabcakes, sushi, pizza, and bbq. Upstairs, specialty shops sell gifts, jewelry, antiques, artwork, and more.
Address: 900 Market St, Lemoyne
Hours: Fridays from 8 am to 5 pm and Saturdays from 8 am to 2 pm. 
Saturdays
Farmers Market on 4th in New Cumberland is a great way to start off your weekend. Vendors offer seasonal produce and flowers, plants and hanging baskets, organic jams and jellies, apple butter, cider, baked goods, and more.
Address: 400 Bridge St., New Cumberland
Hours: Saturdays, 9 am to 1 pm, from the beginning of May through the end of October.
Saturdays
The new downtown market features handmade artisan items, flowers, plants, and local foods.
Address: 10-16 E. King St, Shippensburg;
Hours: Saturdays, 8 am to 12 pm, from June 10 through September 30, 2023.
Saturdays
You'll find locally grown produce, plants, and handcrafted items at this small market hosted by the John Graham Public Library.
Address: 9 Parsonage St., Newville
Hours: Saturdays, 9 am to 12 pm from May through October.
Saturdays
This open-air market is home to over 15 vendors with an eclectic variety of produce, baked goods, dairy products, wine, honey, and more.
Address: 227 N. Baltimore St, Dillsburg
Hours: Saturdays, 8 am to 12 pm, from May 6 through November 25, 2023.
Sundays
Browse up to 500 vendors selling everything from produce, plants, baked goods, home goods, clothing, and more on the grounds of the Williams Grove Historical Steam Engine Association.
Address: 1 Steam Engine Hill, Mechanicsburg
Hours: Sundays, 6 am to 2 pm, year-round, weather permitting.
Food Festivals

Cumberland Valley hosts a variety of exciting festivals and events that showcase different interests such as cars and artisan crafts. And there are numerous where food takes center stage and visitors celebrate the harvest of crops like corn, pumpkins, and apples. Here are some upcoming featured events. For a full list of events happening this week, browse our online calendar.
August 15-19, 2023
Cumberland County Ag Expo
The annual agricultural fair features dairy and animal exhibitions, shows, 4H presentations, children's activities, tractor pulls, food, music, and more.
Address: 433 Shippensburg Rd, Newville
August 26, 2023
Shippensburg Corn Festival
Celebrating its 42nd year, guests will enjoy more than 250 craft and antique vendors, plus food booths selling corn in every available form.
Address: King St, Shippensburg
August 26, 2023
Cherry Bounce Festival
Celebrate all things cherry at Dills Tavern with live music, hands-on activities, and historic demonstrations.
Address: 227 N. Baltimore St, Dillsburg
August 26-September 3, 2023
Annual Steam Show
Visit the Williams Grove Historical Steam Engine grounds for this annual celebration featuring tractor parades, tractor pulls, farming demonstrations, sawmill demonstrations, ironsmith demonstrations, train rides, vendors, live music, and kids' activities.
Address: 1 Steam Engine Hill, Mechanicsburg
September 22-23, 2023
Celebrate all things tea at this unique festival! Held in an herb garden, the festival features guided tea tastings, samplings, merchants, informative programs, music, and more.
Address: 120 S. Market St, Mechanicsburg
September 23-24, 2023
Visit Meadowbrooke Gourds' 200-acre farm to see the sunflowers in full bloom! Activities include food trucks, sales, artisan craft vendors, live music, food trucks, and free sunflower picking.
Address: 125 Potato Rd, Carlisle
September 30, 2023
Apple treats are the name of the game at the New Cumberland Apple Festival! Over 70 food vendors and 200 craft vendors offer family-friendly offerings, complete with scarecrow making.
Address: 517 Front St, New Cumberland
October 1, 2023
This annual fall festival includes hayrides, pumpkin painting, pumpkin bowling, a mum walk, food trucks, an apple cider press, and more.
Address: 500 Kings Gap Rd, Carlisle
October 7-8, 2023
The annual Pumpkin Fest features over 100 vendors, games, a car show, great entertainment, and many pumpkin-flavored treats!
Address: 100 E. Penn Dr, Enola
October 20-22, 2023
Find live pumpkin carving, food trucks, craft vendors, live music, hay rides, and more at this annual festival.
Address: 10131 Possum Hollow Rd, Shippensburg
October 27-29, 2023
Train rides, tractor pulls, and a car show anchor this annual event, which also includes pumpkin painting, apple launching, hayrides, live music, kids' activities, and more.
Address: 1 Steam Engine Hill, Mechanicsburg