Nature beckons in the form of picturesque trails, scenic mountains, rolling fields, and country roads that weave through the rich landscape of the beautiful Cumberland Valley. Take a deep breath and savor the quiet moments as you discover scenic overlooks, pretty parks, and historic sites while exploring the great outdoors. Without the distractions of buzzing electronics and mundane to-do lists, we invite you to reconnect with nature during your Weekend Easy in Cumberland Valley.
Hiking & Biking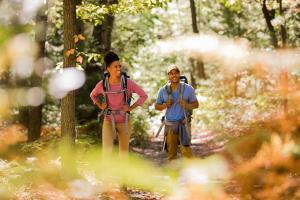 Take on 46 miles of the famed 2,186-mile Appalachian Trail. AT journeys in Cumberland Valley include the midway point of the trail in Pine Grove Furnace State Park, the only museum in the country dedicated to hiking, the designated AT community of Boiling Springs, a hiker hostel, and more. Our portion of the AT offers easy-access points and convenient parking, making it perfect for day hikes or an overnight trek.
Hiking options don't end with the AT. Find more great hiking hot spots by viewing our Top 10 Hikes list or the Day Hike Sampler trip idea. Hiking opportunities in Cumberland Valley range in length, difficulty, and terrain. If you're looking for a rewarding hike with sweeping views try Pole Steeple or Flat Rock trails.
Bring the bikes and explore miles of trails including the 13-mile Cumberland Valley Rail Trail or trails through Michaux State Forest. You can even explore bike-friendly downtown Carlisle by following the pedestrian and bike map. The Valley offers 17 other bike routes that lead you through our charming towns and backroads. Each comes with cue sheets and directions. 
If you are seeking a guided mountain biking adventure, Sacred Rides Michaux offers rides tailored to your abilities and that will get you off the beaten path. Read more to read more about some of our other lesser-known trails and parks. Adventure Explorations will help plan a guided half-day or full-day cycling adventure and even provide handmade road bikes imported from Italy.
Water Trails & Fly-Fishing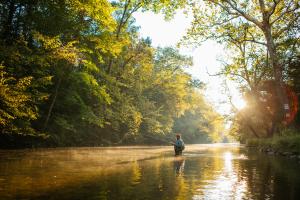 The Valley has a collection of water trails and boating locations that offer a relaxing respite. Get out on the water and unwind as you kayak along the Yellow Breeches Creek, Conodoguinet Creek, or the Susquehanna River.
This area is also a flyfisher's paradise with some of the world's most sought-after fly-fishing hotspots. Flyfishers from all over travel to our waters to fish at the Yellow Breeches, LeTort Spring Run, and Big Spring Creek Greenway. Learn more about fly-fishing in Pennsylvania and the Cumberland Valley with a visit to the Pennsylvania Fly Fishing Museum.
Need extra supplies? Stop by TCO Outdoors for all your fly-fishing needs including quality equipment, tying materials, and clothing. You can also schedule half-day and full-day guided fly-fishing services.
Bird-Watching
Bird-watchers love the Valley because there are many great locations and outcrops to see and hear a variety of birds. Waggoner's Gap Hawk Watch is a must-see and is one of the best sites along the Kittatinny Ridge, in the East to see Golden Eagles, and in PA to watch the fall hawk migration. The Audubon Society recently named Kittatinny Ridge as an Important Bird Area, recognizing it as being globally important for the conservation of bird populations.
Make It a Weekend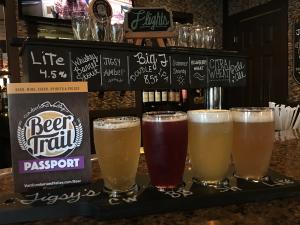 When you're ready to relax from all this outdoor adventure, unwind with a cruise along the sparkling Susquehanna River or sip PA wines or enjoy craft brews along our Cumberland Valley Beer Trail.
Plan your outdoor adventure to include a unique event happening in Cumberland Valley. Our collection of group hikes, music events, and festivals are the perfect complement to your outdoor getaway. View the full calendar.
Cumberland Valley's dining options include more than 20 restaurants in downtown Carlisle, waterfront hotspots, and favorites in Mechanicsburg, Camp Hill & the West Shore. You can also sort and browse all restaurant locations and types here.
With all these great things to explore in Cumberland Valley, you'll want to stay the whole weekend. Lodging choices range from downtown hotels and charming bed and breakfasts to the luxurious Allenberry Resort. Find all your lodging options.