Pennsylvania's Cumberland Valley is right at the midway point of the famous Appalachian Trail, but it's at the top of the list for naturally picturesque spots. This Pennsylvania getaway, just a two- to three-hour drive from Philadelphia and Washington, D.C., is a picture-perfect destination for snapping selfies alongside mountains, wildflowers, and scenic valleys.
If you want to get away to some of the most Instagram-worthy photo spots in the country, you've #FounditinCV. Here are just a few of the most breathtaking backdrops for shareable snapshots that will dazzle your eyes and rake in the likes.
Colonel Denning State Park
Anyone who loves mountain pictures has a must-see spot at Colonel Denning State Park, which is surrounded by spectacular mountains and features a forest swimming spot at Doubling Gap Lake. This 273-acre woodland park can inspire your social media feed with hiking photos on the Doubling Gap Trail, waterfall shots, unbelievable wildlife pictures, and of course, dog photos at this dog-friendly park.
Flower Fields
You'll find fields of photogenic flowers while strolling through Cumberland Valley's Kings Gap Environmental Education Center or along the Cumberland County Biker/Hiker Trail at Pine Grove Furnace State Park. Or snap (and take home!) a few flowers from Oak Grove Farms and Paulus Farm Market. September is primetime for sunflowers, which can be found in abundance at Meadowbrooke Gourds and the nearby Warehime's Pumpkin Patch.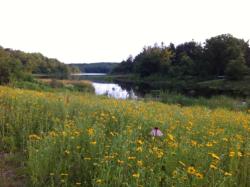 Roots Cut Flower Farm
No ordinary flower shop, Roots Cut Flower Farm is a 3.5-acre all-flower farm that's perennially full of beautiful blooms. It's only open to the public on open farm days, and for pop-up shops, but on those days, you can take in its truly spectacular floral beauty.
Waggoner's Gap
A high-altitude hike at Waggoner's Gap shows a 180-degree panorama view that is the height of photo opportunities. Bird watchers will also want to spend some serious time at Waggoner's Gap Hawk Watch, home to giant annual hawk migrations and a nesting spot of golden eagles and bald eagles.
Michaux State Forest
A combined three state parks make up Michaux State Forest, full of gorgeously photographable lakes and creeks. You're hiking on the Appalachian Trail through part of this forest and otherwise being treated to the unmissable sights of panoramic valley views, rare regional vegetation, and unique rock formations that a picture can describe better than a thousand words.
Appalachian Trail
There are 46 miles of the famed Appalachian Trail in Cumberland Valley, and our region is indeed the midpoint (and the flattest section!) of the trail. You'll find some unbeatable vantage points for photos while hiking the Cumberland Valley section of the trail.
Opossum Lake
Opossum Lake is big, with 59 square acres maintained by the Commonwealth of Pennsylvania for the public to enjoy fishing and boating.  And you can get some fantastic Opossum Lake photos while hiking, kayaking, or watching the birds.
Army Heritage Trail
This one-mile outdoor trail at the U.S. Army Heritage & Education Center provides visitors with the opportunity to get up close to a Huey helicopter, an M-18 Tank Destroyer, and other exhibits and large artifacts related to U.S. Army history. 
Cumberland Valley Restaurants
Nothing's better for Instagramming than a freshly served plate of food, and Cumberland Valley restaurants, brewpubs, and wineries offer ample opportunities. Or Instagram your beer while checking in at passport locations along the Cumberland Valley Beer Trail.
It's an easy trip from many major eastern U.S. cities, with a range of places to stay. So strike a pose toward a Cumberland Valley getaway, where unforgettable moments reveal themselves all the time, and you can always capture the perfect shot with #nofilter.
Cumberland Valley provides year-round opportunities for the perfect photo but really dazzles in the fall. Read more about our Instagram-Worthy Fall Foliage Locations.
Plan your #WeekendEasy adventure at visitcumberlandvalley.com.